EAST RUTHERFORD, NJ - "It's about time."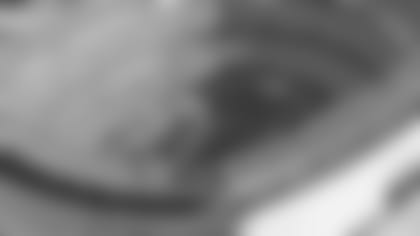 John Mara expressed that succinct opinion this morning about a Super Bowl being played in the New York/New Jersey metropolitan area. NFL owners yesterday voted to play Super Bowl XLVIII in the New Meadowlands Stadium in February 2014. The game is tentatively scheduled for Feb. 2.
"This region has a rich and deep connection with the game of football going to back to 1925, when we started playing games at the Polo Grounds," said Mara, the Giants' president and chief executive officer. "We've had a lot of great championship games here - the Sneakers Game (in 1934), the '56 game, the '58 game and several games in the old Giants Stadium. Football has always been a very, very important part of the fabric of this area.
"I think to bring the biggest game here - it's about time it comes here. I think it's going to be a great event for New York and New Jersey. We're going to make it a very memorable experience for everybody."
"I remember five years ago, the design team, the architects, Woody, John Mara and I were sitting at the first of many design conferences," said Giants chairman and executive vice president Steve Tisch. "Woody was sitting next to me and he leaned over and said, 'This is going to be the home of a Super Bowl.' And I looked at him and smiled and said, 'I think you're right.' He said, 'Everyone is going to ask why, and our answer is going to be why not?' I think that's the spirit we (had) when we partnered up and developed the stadium and it was clearly the spirit in Dallas yesterday (when the owners meetings were held). Thirty other owners saw how a true partnership works.
"In the spirit of two successful partnerships, I want to pledge to the states of New Jersey and New York a great partnership has been brought together today. We will continue to work … to make this the most memorable Super Bowl of all times. We made history yesterday and we will continue to make history right through Super Bowl Sunday 2014."
Mara and Tisch were joined at a stadium news conference by several other dignitaries and other men who were influential in delivering to the Meadowlands the first Super Bowl to be played outdoors in a cold weather venue. They included Giants treasurer Jonathan Tisch, Jets owner Woody Johnson, governors David Paterson of New York and Chris Christie of New Jersey and head coaches Tom Coughlin and Rex Ryan. Jonathan Tisch and Johnson were the co-chairs of the joint Giants/Jets bid to bring the game here, entitled, "Make Some History." The region was selected on the owners' fourth ballot, turning aside South Florida (eliminated in the second round) and Tampa.
The bid committee now becomes the host committee for Super Bowl XLVIII, charged with raising perhaps $40 million to fund the game and the week of events leading up to it.
"The NFL has done a very good job of turning what historically was a one-day event into weeks and weeks of buildup," Jonathan Tisch said. "Our presentation includes using venues that are well-known and located in the state of New Jersey and New York City. Now that we have morphed from a bid committee to a host committee we've got to secure those venues, we've got to ensure our plans in terms of parties, working with the NFL, the NFL Experience, the commissioner's party all have to be planned. We'll be working with the very competent staffs of the state of New Jersey and New York City. That's going to be the role of the host committee.
"There is history in this, because we've done it for the Grammys, we've done it for the Republican convention, the Democratic convention - we've done it for so many other events. But they're now like the opening act for the largest event in the world, which will be housed in this building."
Many reporters asking questions at the news conference seemed most concerned with the potential for stormy or frigid weather, either the week leading up to the game or on Super Bowl Sunday. But none of the men on the podium seemed concerned. Both Paterson and Christie talked at length about New York and New Jersey's track record in clearing snow from area roads. Their attitude was simply, "We've dealt with snow many times before and if it snows that week, we'll deal with it."
Johnson, meanwhile, continues to express hope that the conditions are far from ideal on the day of the game. He did so when a reporter used the words "snowing and 20 degrees" and "blizzard" when asking a question.
"Everything you just said sounds like good news to me - I guess it depends on your point of view," Johnson said. "I think Gov. Paterson put it very well (when he said), 'It's the unexpected events that make our life experiences really great,' and that includes football. The games that I remember and the games that were talked about were (those played in bad weather)."
"There will be so many contingencies and plans and preparations," Steve Tisch said. "For all the what-ifs, I think there will be answers, as Gov. Christie alluded to. We're prepared to deal with the elements. I don't think the fans are going to be at all affected by the weather. Our fans, the Jets fans, all the NFL fans that are going to be in this area for a week and on that Sunday of the Super Bowl, I think they're going to love it. I think they're going to love it regardless of the weather, because there's going to be so much energy, spirit, excitement and passion."
The prospect of playing a Super Bowl in cold or inclement weather certainly didn't concern Coughlin or Ryan, who have an affinity for football played in wintry conditions.
"One of the fondest days in memory was 24 below zero," Coughlin said of the Giants victory over the Green Bay Packers in the 2007 NFC Championship Game in frigid Lambeau Field. "I didn't even realize it was cold in the second half.
"We played our 16th game at the end of the 2004 season against Dallas here at home and I believe it was in the low 50s. So you can catch a night like that just as well. Philosophically, playing in the weather, that's what our teams are built to do. We're in this part of the world. For as long as I can remember, that's how the NFC East prepared to play those post-Thanksgiving Day games, those December games in the cold weather when the game was ultimately a physical game."
"There's an old saying, 'You have to win when the snow flies,'" Ryan said. "That's football, as Coach Coughlin mentioned. There are two guys that would sign up for this game right now, and that would be us."
So would every football fan in the New York/New Jersey metropolitan area. ](http://www.nyg2010.com/)**
If you'd like to submit a question or comment to Michael, click here.