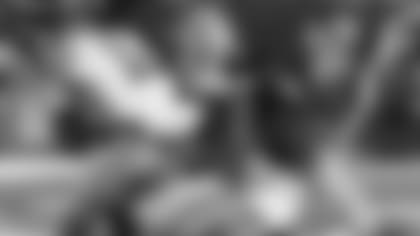 Coming off his most productive game in three years in the NFL, the wide receiver was questionable heading into Sunday against the Lions. A knee injury limited him during the week of practice leading up to the game, which was then coupled with an illness on Saturday night.
Meanwhile, the Giants knew they would be playing without Victor Cruz, their leading receiver who last week underwent a knee procedure. But in the end, Jernigan, who also plays the slot, suited up in Detroit.
He went on to lead the team again in receiving and converted a fourth down in overtime that set up Josh Brown's game-winning field goal.
"This is two games in a row he's played really well," Coughlin said about Jernigan. "To be honest with you, this week he was injured and then he was sick last night. So he keeps you right on the edge of your seat whether or not he's going to be able to go. He bounced back, and he's a tough guy."
Jernigan was targeted a team-high 12 times on Sunday, catching six of them for 80 yards and his first career touchdown on Eli Manning's 20-yard pass in the second quarter. But after helping the Giants take a 10-point lead into halftime, Jernigan and the offense dried up in the second half.
The Giants needed a defensive touchdown from Will Hill to send the game into overtime, where the offense got the opportunity to make a play when it mattered most.
After stalling at Detroit's 42-yard line, Coughlin called for the offense to remain on the field for a fourth-and-7. Manning then found Jernigan for 15 yards and a first down, leading to Brown's 45-yard field goal four plays later to win the game.
"Pretty much it was a play we always run," Jernigan said. "E [Eli] told me when I come off that nickel that he's going to hit me, and he made a perfect pass and led me from everybody."
The clutch play gave him 13 catches for 147 yards in the last two weeks. In his previous two-plus seasons, Jernigan had 13 career catches for 114 yards.
"I was just trying to go out here and let my coaches know I can make plays," he said. "Whenever Victor gets better, I'll be another asset to the offense."