Where you're from makes you who you are.
For the Giants, that used to be New York.
NFL Network's documentary series "The Timeline" from NFL Films continues on Tuesday, December 8, at 8 p.m. ET with "Jersey Guys", a one-hour show detailing Big Blue's move out of New York and into New Jersey.
After its founding in 1925, the franchise was reborn in 1976 when it moved into the new Giants Stadium in East Rutherford. It took a personality like Bill Parcells, a native of Englewood, N.J., to navigate the turbulent transition that ultimately led to the Pro Football Hall of Fame head coach bringing two Super Bowl titles to the Garden State. The first led to the controversy of New York City Mayor Ed Koch saying Manhattan would not host the ticker-tape parade.
Along the way, the Giants drafted the legendary Lawrence Taylor, who shaped the NFL landscape and helped set the foundation in the Meadowlands. Now New Jersey houses the organization's four Lombardi Trophies.
Bill Parcells– Former Giants head coach and Pro Football Hall of Famer
John Mara– Giants President & CEO
Frank Gifford– Former Giants halfback and Pro Football Hall of Famer
Phil Simms– Former Giants quarterback
Carl Banks– Former Giants linebacker
Joe Walton– Former Giants tight end
Mark Bavaro– Former Giants tight end
Brian Kelley– Former Giants linebacker
George Martin– Former Giants defensive end
Harry Carson– Former Giants linebacker and Pro Football Hall of Famer
Jim Burt– Former Giants defensive tackle
Tom Kean– Former Governor, New Jersey
Andrew Stein– Former New York politician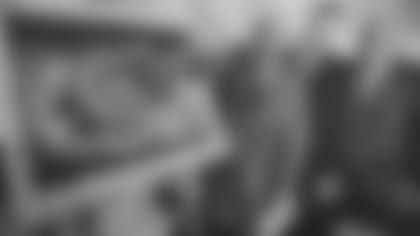 Below are some select quotes from the documentary:
• "It had a certain aura that was kind of special. All of the history – Babe Ruth, the façade – it's kind of a magical place." – Joe Walton on playing in Yankee Stadium
• "There is nothing simple in New Jersey. Traffic's hard, to get to where you're going is hard – everything is hard." – Bill Parcells
• "When Giants Stadium was erected, it was like, 'Oh my gosh, this is the mecca, this is our sanctuary.' And we kind of tarnished that sanctuary initially by being the doormat of the National Football League." – George Martin
• "A Jersey guy would be opinionated, a little abrupt, definitely not too sensitive." – Bill Parcells
• "Tough, no nonsense, not very flashy guys. We were also very physical and we did, we kicked a lot of ass." – Mark Bavaro
• "It made me mad. That's all I can say. He turned it into a spectacle for himself." – Phil Simms on Mayor Ed Koch's comments about not hosting the Giants' Super Bowl parade in Manhattan
• "It was New Jersey celebrating New Jersey. We can do it. We can do it, we can do anything, we can take on New York, we can take on anybody. We're New Jersey." – Tom Kean
"Jersey Guys" re-airs Tuesday, December 8 at 12 Midnight ET, Thursday, December 10 following "Thursday Night Football" and Friday, December 11 at 10 p.m. ET on NFL Network.