The Giants are coming off their bye week and hoping to pick up their third win in four games. A victory won't come easy this week as Joe Judge's squad will be traveling to Tampa Bay to take on the reigning Super Bowl champions on Monday Night Football.
Big Blue has improved significantly on defense over their last three games. Going up against the Carolina Panthers, Kansas City Chiefs and Las Vegas Raiders, the defense surrendered an average of 13 points per game while forcing six total turnovers. The Giants are one of only two teams in the NFL that have registered a takeaway in every one of their games this season.
The Buccaneers are currently on a two-game losing streak after they lost to the Saints in Week 8 and Washington in Week 10, with their bye between the two losses. In last week's defeat to Washington, Tom Brady threw two interceptions while the offense was only able to gain 53 total yards on the ground in the 29-19 loss. Tampa Bay is 2-1 against the NFC East with wins over the Cowboys (Week 1) and Eagles (Week 6).
Here are five storylines to follow in this week's matchup:
Starting the second half strong
From Weeks 4-9, each team the Giants played – other than the Chiefs - was at least .500 at kickoff. Big Blue was able to go 3-3 during this stretch, with wins over the Saints, Panthers and Raiders. With eight games remaining on the schedule, only three of the Giants' opponents currently own a record above .500. One of those matchups comes this week in the Buccaneers (6-3).
The Giants faced off against Tom Brady and the Buccaneers on a Monday night last season and fell, 25-23. After producing a touchdown with 33 seconds left in the game, Daniel Jones couldn't connect with Dion Lewis on the two-point conversion when a Bucs penalty flag was picked up.
"Players did a good job for us on Monday coming back, going through fundamentals, going through some individual technique stuff, getting back and going," Judge said Monday about the team coming back from the bye week. "They came in today very locked in and tuned in. We've got to do a good job as a team to make sure we build up to the game and not come in with a lot of adrenaline and energy and burn out early in the week. It's going to be a solid build up for us this week. In terms of starting fast, it all comes down to just the preparation and, individually, it's the execution when you get to the game itself. To me, it's when that ball is kicked off on Monday night, we've got to be ready to go."
Daniel Jones owns a 64.9 completion percentage - more than two points higher than his previous high-mark of 62.5 percent from last year. However, the young QB has thrown a mere eight touchdowns with two additional rushing scores.
"I think Daniel has done a good job just progressing in his career throughout the course of time," Judge told the media Monday. "Obviously, you've got to learn from mistakes and as he's made mistakes or had plays he wants to have back, you can't go back in a time machine, so you've just got to go ahead and carry it forward and make sure that you don't repeat those mistakes. He's done a good job of that for us."
Tampa Bay ranks 22nd in passing yards and 27th in passing touchdowns allowed this season. In last week's loss, Washington QB Taylor Heinicke completed over 81 percent of his passes for 256 yards and a touchdown, although he got sacked five times. The Bucs will be without starting corner Richard Sherman, who suffered a calf strain during warmups of last week's game.
"We certainly study the personnel and know who it is, know who the matchups are, the guys you're going against, what they're good at and how they play, so we'll factor that in," Jones said about facing the Bucs defense. "I think when you talk about their defense and who they are as a system and as a scheme, they've got guys who can make plays and they play well together as a group, so we'll certainly prepare for that."
Saquon Barkley injured his ankle in Dallas, forcing him to miss the next four games. But he has returned to practice after experiencing a false positive COVID-19 test leading up to the Week 9 matchup against the Raiders.
"We're very encouraged he'll be out here today for both of our sessions," Judge said Wednesday. "We'll see how he progresses with the team throughout the week of practice. That will obviously give us the answer we need as far as him going to the game. Couldn't give you an answer yes or no right now, but we will be able to have him out at practice with us."
Starting left tackle Andrew Thomas was designated to return to practice Wednesday morning, opening up the 21-day window for the team to activate him. The second-year tackle was playing well prior to hurting his foot against the Rams, as his 76.4 pass block grade from Pro Football Focus ranks 14th among all offensive tackles. It is unclear if he will make it back in time for this week's game.
Tampa Bay's rush defense has been one of the best in the league this season, coming in at No. 2 in rushing yards and No. 5 in rushing touchdowns allowed. While they limited Washington's running backs to just 2.5 yards per carry last week, Antonio Gibson got into the end zone twice. However, the Buccaneers will be without star interior lineman Vita Vea, who suffered a knee injury in last week's loss.
Don't let Brady get going
Tom Brady, 44, is in his 22nd NFL season and leads the league with 318.9 passing yards per game and 27 touchdowns on the season, all while dealing with injuries to several of his playmakers (we'll get to that later). Brady has thrown for 4+ touchdowns in five of nine games this season.
"You get the opportunity to go against a player like Tom, who is obviously one of the greatest of all time, if not the greatest, it makes you do everything you can to prepare and make sure you're giving your guys absolutely the best information possible, the best plan possible," Judge said. "Then, understanding that throughout the game, there's going to have to be a number of adjustments because this guy has seen it all. You're not going to go ahead and throw one thing at this guy and think that's going to work for 60 minutes. As a coach, you've got to look and think ahead and play ahead. That all sounds great, (but) you've got to get in the flow of the game, actually get out there and do it and execute it."
In the Buccaneers' last two contests, both losses, Brady threw an uncharacteristic two interceptions in each game. The future Hall of Famer had just three interceptions over his first seven games, and only one from Weeks 2-7. However, the veteran QB also threw for 595 yards and six touchdown passes in those games while completing 68.9 percent of his passes.
"He's a very, very smart quarterback," James Bradberry told the media. "He has an elite brain, and obviously he uses it well playing against defenses. That's why he's been able to play so long..."
The Giants' pass defense has played well in recent weeks. In the win over the Raiders, the unit held Derek Carr to a 65.2 completion percentage, one touchdown and two interceptions for a passer rating of 72.4. This came just one week after the Big Blue defense contained Patrick Mahomes, limiting the former MVP to a 60.4 completion percentage, 275 yards, one touchdown and one interception for a passer rating of 74.6.
Matching up with Bucs' playmakers
When healthy, Tampa Bay undoubtedly has one of the most talented wide receiver trios in the NFL. Mike Evans ranks second in the NFL with nine receiving touchdowns, while compiling 41 receptions for 606 yards. Evans and Bradberry know each other all too well from the latter's time with the Panthers in the NFC South. During those four seasons, Bradberry registered 201 coverage snaps ined up against Evans. On those plays, Evans caught 30 of 61 targets for 387 yards and one touchdown, while four passes were intercepted, according to ESPN's Mike Clay.
"He's a physical, big receiver, able to use his body well and he attacks the ball," the Giants corner said about Evans. "He has a huge catch radius. I think that's what made it so hard to play against him last year."
Joining Evans are Chris Godwin, the Buccaneers' leading receiver, and Antonio Brown. Godwin has racked up 57 receptions for 717 yards and four touchdowns in nine games; and Brown has caught 29 passes for 418 yards and four touchdowns in just five games. Brown has been dealing with an ankle injury that has kept him out since Week 6, but he could return Monday.
The other notable Tampa Bay playmaker that's been dealing with an injury in recent weeks is all-time great tight end Rob Gronkowski. Gronk started his season off incredibly strong, catching two touchdown passes in each of the Bucs' first two games while totaling 12 receptions and 139 yards. But since then, he has only caught four passes for 55 yards while appearing in two games, as he has dealt with both rib and back injuries. O.J. Howard and Cameron Brate round out the TE room, with the two combing for 27 receptions for 256 yards and two touchdowns this season.
The Buccaneers' backfield cannot be ignored, as Leonard Fournette is enjoying a solid season. The fifth-year back has carried the ball just 112 times this year, but has totaled 486 yards (4.3 avg.) and four touchdowns while adding 38 receptions for 284 yards. Behind him is Ronald Jones, who is averaging 4.4 yards per carry on 44 attempts.
"Obviously offensively, they're very, very balanced, they have a very good run game," Judge said about Tampa Bay's offense. "The screen game is also an extension of the run game, it's very effective in terms of keeping the ball moving, staying balanced. They've got explosive weapons all over the field. We all know the quarterback is a great player. They do a great job offensively with not just the explosive plays, but it's just staying balanced, staying ahead of the sticks and scoring points, obviously. There's a reason these guys are top of the league with scoring points and that's really the down in and down out execution."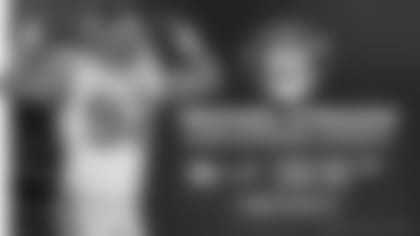 Tickets for Michael Strahan Ceremony
Limited tickets are available for Michael Strahan's jersey retirement game on November 28th