Risk and reward go together like interceptions and big plays in football.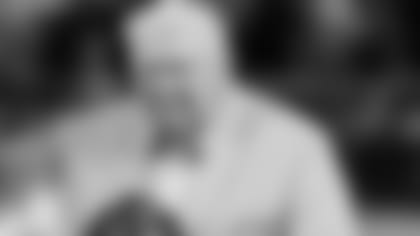 That correlation has Eli Manning ranking third in both categories since 2011, and Pro Football Hall of Fame coach John Madden doesn't necessarily think that's a bad thing.
The Giants quarterback has thrown 38 interceptions while completing 80 passes of 25 yards or longer over the past three seasons. Drew Brees shares a similar output, leading the big-play department in that stretch with 95 for his New Orleans Saints but also ranking fourth with 36 interceptions. Detroit quarterback Matthew Stafford, meanwhile, is fourth in big plays and seventh in interceptions.
While Madden says the Giants are "not playing well as a team" with their turnovers, he sees the offense having to force the issue due to circumstances in the game.
"Eli is a guy that will do that, but I don't necessarily think that's a bad thing," Madden said this week on "Mad Dog Sports Radio" on SiriusXM. "I think there are so many quarterbacks on the other end that are willing to throw that screen, that bubble screen, throw it out to the wide receiver quickly, go to the check-down, do all that stuff – throw the ball behind the line of scrimmage and within five yards. They don't take shots down the field. Now the more shots you take down the field, the more big plays you're going to have, but the more opportunities there's going to be for turnovers and interceptions.
"I think he's an aggressive quarterback. And to make sure that your plays are going to come, I think some of the things he does, I think you have to do that to make sure that someday you're going to get big plays in your offense."
However, that doesn't provide solace to the 0-2 Giants.
They are one of eight teams in the NFL still looking for their first win in Week 3, including five in the NFC. Of those teams, though, Madden believes New York has the best chance to turn it around.
"I like the Giants still because I go to the coach like I always do -- and to the quarterback," said Madden, who has made his respect for Tom Coughlin known in the past "If you have those two things in place, maybe you're not going to win everything, but you're still going to win. The thing's not going to fall completely apart on you. Of that group that's 0-2, I would say the Giants are probably the best of that group and maybe in the best position."
[
VIEW 5 PLAYERS WHO NEED TO HAVE BIG GAMES ON SUNDAY](http://www.giants.com/photos/photos/Players-to-watch-vs-Carolina/87b7bfeb-e40d-43a9-a0bd-30dbb00fc95a)