Giants president John Mara spoke with reporters at the NFL owners meeting: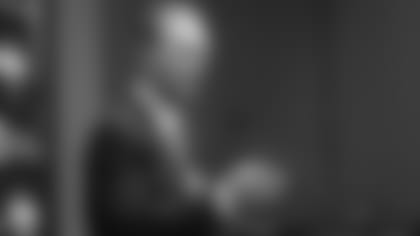 ORLANDO – John Mara prepared to answer questions on numerous topics in his usual informal news conference when he met with the media on the first day of the NFL annual meetings. But reporters were focused on finding answers about one player, Odell Beckham, Jr. They specifically wanted to know Mara's reaction to the much-publicized seven-second video clip of the Giants' star receiver in Paris that recently made the rounds on social media.
And Mara, the Giants' president and chief executive officer, wasn't pleased, not so much for what it revealed, but for the fallout.
"First of all, I don't know what was in that, exactly," Mara said Sunday at the Ritz-Carlton in Orlando, the site of the meetings. "But I've said before that I'm tired of answering questions about Odell's behavior and what the latest incident is. I think he knows what we expect of him and now it's up to him."
Moments later, Mara said, "(I'm) more disappointed than angry. I think too often he allows himself to get put in bad situations and he needs to use a little better judgment."
Mara said he has not spoken to Odell about the latest in the series of non-football incidents that keep Beckham in the news and featured on the internet.
"I've spoken to him many times in the past, but not about this incident," Mara said.
Mara said coach Pat Shurmur met with Beckham last week and, "I assume that this must have come up," Mara said. "…I think it's been an ongoing process. Listen, he knows what we expect of him and now it's up to him."
The incident creates another element in the ongoing discussions about Beckham's future. Mara has said he wants Beckham to be with the Giants for the long-term. The three-time Pro Bowl receiver has verbalized his intention of being one of the NFL's highest-paid players. So where do we stand after the worldwide viewing of the now-infamous video.
"In terms of the contract, that will get done when it's supposed to get done," Mara said "Again, he knows what we expect from him and now it's up to him. I still believe that he will be able to show us what we expect of him, but again, it's up to him."
Asked if a long-term contract is in Beckham's future, Mara said, "I think at some point, but who knows?"
Another tributary to this story is the guesswork that Beckham could be traded, a once unthinkable supposition. It seems highly unlikely, and Mara discussed the notion in mostly abstract terms.
"I think when you're 3-13, nobody is untouchable," Mara said. Asked about more potential roster changes in an offseason that has already seen plenty of them, Mara responded, "I don't think there is anything on the horizon right now, but you never know."
If nobody is untouchable, does Mara foresee Beckham not being on the team?
"I can't answer that one way or the other," Mara said. "We're certainly not shopping him if that's what you're asking. But again, when you're coming off of a season where you're 3-13 and played as poorly as we played, I wouldn't say that anyone is untouchable.
"You always listen to those things, but that's not a scenario that I would like to see happen."
But when asked "how much of a concern does this add to making a long-term commitment to a guy like this?" Mara responded, "I think that is certainly something that you have to take into consideration."