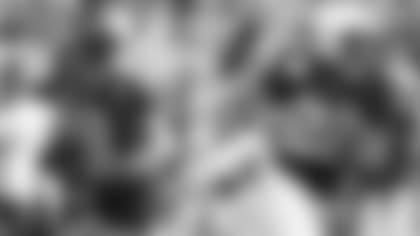 An 11-year-veteran, RB Jonathan Stewart is excited to get to work with first-round pick Saquon Barkley:
EAST RUTHERFORD, N.J. – Saquon Barkley is eager to compete with Jonathan Stewart, but he might be more excited to learn from him.
At his introductory news conference last week, two days after the Giants selected him No. 2 overall in the NFL Draft, Barkley said of Stewart, "I will try pick his brain and just watch him."
It's doubtful he could have found a more qualified tutor than the 11-year-veteran, who is preparing for his first season with the Giants. Stewart was also a first-round draft choice – 13th overall by Carolina in 2008 – who was in the same mentoring position a year ago, when the Panthers chose running back Christian McCaffrey with the eighth pick in the draft.
So does Stewart feel gratified or old that these highly acclaimed youngsters want to emulate and learn from him?
"It makes me feel a little bit of both," Stewart said this week. "You stay in this league by obviously being productive. And the way that you're productive is how you prepare, and I commend myself on how I prepare for games and how I do in the offseason. Everybody has their different strategies and different work methods, and I wouldn't say mine is anything crazy as far as the things that I do to prepare myself. But one thing I do is try to take care of my body and if I have any ailments, I try to take care of them immediately and try to let my coaches know that, 'Hey, I got this going on,' so that way everyone is on the same page and we can be productive."
McCaffrey led the Panthers with 80 receptions – 17 more than anyone else on the team – and added 435 rushing yards. His seven touchdowns tied for second on the team.
"Christian kind of had the whole professional football thing down pat," said Stewart, noting that McCaffrey's father Ed played 13 seasons in the NFL, including the first three with the Giants. "He was around the pro life for a while, and he knows what it takes to keep it going."
Barkley enters the NFL with even more praise after rushing for 3,843 yards and scoring a school-record 53 total touchdowns at Penn State.
"I'm definitely a big fan of his, just like I was a big fan of watching Christian," Stewart said. "I think guys in the league see guys in college football are getting more athletic and doing crazier things, and it's pretty cool to see. Just like Christian; there are a lot of things I learned from him and I'm pretty sure he learned a lot from me, and I'm looking forward to doing the same (with Barkley)."
Stewart signed as a free agent with the Giants on March 13 after 10 seasons in Carolina. He is the Panthers' career rushing leader with 7,318 yards and 1,699 carries.
Because he had toe surgery after his final season at Oregon, Stewart could not participate in the team's spring drills as a rookie. He did not get on the field until training camp.
"All I could do was mentally get my reps and know the playbook the best I could," he said. Stewart also had veterans who helped him transition to the NFL, including Brad Hoover, DeAngelo Williams and Nick Goins, as well as running backs coach Jim Skipper, who held the same position with the Giants from 1997-2000.
Stewart's first piece of advice for Barkley stems from his rookie experience.
"Get in the playbook and know what to do," Stewart said. "You can't play fast until you know what you're doing."
Stewart will also caution Barkley about dwelling on media coverage, and the expectations of outsiders.
"Stay in your lane and run your race," Stewart said. "Your expectations should always be greater than anyone else's. Just cut the noise off."
Barkley will look to Stewart to not only help him play better, but longer.
"He's been in the league (10) years at a position where the shelf life for a running back is not that long, and I want to know how you do it," Barkley said. "I want to pick your brain. I want to watch you. I want to see the things he does and the way he takes care of his body, what time he's in and what time he's out. Try to compete with him, obviously learn and try to take it to another level to try to improve my game and improve my longevity of the game. That's the whole thing about running back, it's how long can you do it? You can run for 100 yards for the first four games, but can you keep that up when your body gets the wear and tear. Especially from going from college football straight to Combine training and then straight to rookie minicamp to minicamp and camp itself, it's such a long season and how do you do it? He's been doing it for so long that that is definitely the first thing I will try to pick his brain on and just watch him."
Stewart is eager to help Barkley and the team's other young running backs, Wayne Gallman and Paul Perkins.
"I think as a teammate that's what you're main objective should be, help your teammates," Stewart said. "Because that's the only way you're actually going to move forward in the direction that you want to go. I think just having that culture in this locker room and especially in our group to look out for one another and to make sure that when a person is in there they're going to get the best opportunity and maximize their opportunities, so that way they can provide for their future. At the end of the day that's what it's all about, what you're playing for and focus on that and maximize every opportunity."
With his team-first attitude and splendid skills, Barkley will fit in well with this group.