Leading up to his game-winning field goal in overtime, kicker Josh Brown went through his normal routine.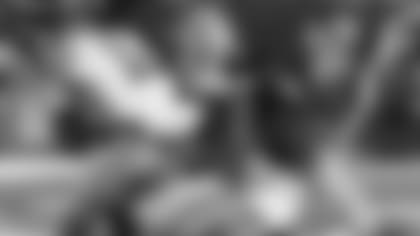 Giants.com's Five Impact Players When the offense took over, he grabbed a handful of seeds, threw them in his mouth, put his hat on, and began to warm up. Just as he was getting ready, Andre Brown fumbled at Detroit's 29-yard line. The Lions took over.
Fortunately, it wouldn't be the end of Josh Brown's night.
The Giants forced Detroit to punt on the ensuing possession, taking over at their own 28 in the extra period. Take two.
After the Giants drove down to Detroit's 27 – which included a fourth-and-7 conversion – it was time again. Brown took the field and split the uprights from 45 yards out.
"You consistently do the same things and your body just kind of stays in the moment at all times," Brown said. "And you don't allow your brain to go somewhere else. So I'm not on the plane, I'm not at home, I'm right there in the moment."
Right there in Ford Field, Brown gave the Giants a 23-20 victory over the Lions, eliminating the NFC North foe from the postseason.
Before the game-winner, Detroit called a timeout trying to ice the kicker after quarterback Eli Manning gave himself up to center the ball.
"It's stuff that you would expect," Brown said. "You know they've got timeouts. You don't know exactly what they're going to do, but I think, for me, if there are no butterflies, there's something wrong with me. That's such a huge moment, no matter how many times you do it, whether it's your first time or your 100thtime."
Brown previously made both of his attempts on Sunday, from distances of 41 and 52 yards. After the game, he said he was "comfortable from 58, 59" and was kicking from 60-plus yards before kickoff.
"But it's one of those things I don't jump up in there and say, 'Yes, yes, yes, give it to me, give it to me,'" Brown said. "Because I would do that. If [Tom Coughlin] asked me, I would say, yes, absolutely, let's kick this. I'm just going to stand back and if he looks at me and gives me the opportunity, absolutely, I'll take it. But it's his call and it's got to be a team win. It's got to be the best situation for the team."