EAST RUTHERFORD, N.J. –** Giants kicker Josh Brown is preparing for his 12th NFL season. He will turn 35 years old next month. And he intends to wear the team's blue jersey and famed "ny" helmet for a long time.
Fact or Fiction
The Giants.com staff debates the special teams strengths...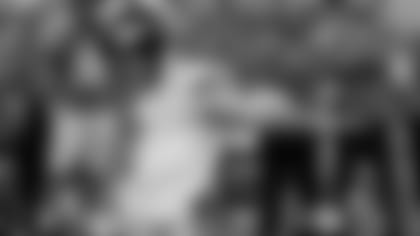 "I plan on being here until I'm 40," Brown said. "What's my five-year plan? Keep this job. That's my plan. But plans…obviously, we're not in control of everything. We're going to have to prepare as if this job is gone tomorrow and live that way."
This offseason, Brown and five of his current and former teammates began to do that by participating in the Giants' inaugural Player Engagement Executive Workshop. The program was the brainchild of Charles Way, the former fullback who is now the team's Director of Player Development. It is designed for players seeking to gain the skills and experience that will help them make a successful transition from the NFL to a post-football career.
"The goal was to create a program for players that have been in the NFL for four or more years that would expose them to different career opportunities once their football careers are over," Way said. "The league has a number of programs our players have been involved with, including the Business, Management, and Entrepreneurial Program, that also attempts to prepare players for their transition from football. But few players take advantage of the resources provided, and we want to do what we can to increase those numbers."
With the help of his assistant, Ashley Lynn, Way devised a program to give Giants players a little push. To be eligible, players must have completed their undergraduate degree requirements. They were also required to fill out an application that included a resume, reference letter and an essay.
In addition to Brown, the players selected for the program's first year were long snapper Zak DeOssie, linebackers Spencer Paysinger and Mark Herzlich, offensive lineman Kevin Boothe and safety Ryan Mundy. Boothe (Oakland Raiders) and Mundy (Chicago Bears) have joined other teams but remain in the program.
"My motivation is to be prepared whenever my playing days are over and make the transition as easy as possible," said Mundy, a general studies major at West Virginia. "Any opportunity that I have to plan for a post-playing career and get some things in place, I definitely want to take advantage of it. This was a great opportunity to do so."
Six companies are participating in the program: Johnson & Johnson, JPMorgan Chase & Co., the Loews Corporation, Quest Diagnostics, Jones Lang LaSalle and the National Football League.
The players and representatives of the corporations recently came together for a three-day workshop that included discussions on leadership style and philosophy, ethical decision making and marketing. Each player then listed the companies he wanted to intern with, one through six. The corporate reps made their own lists. The final pairings put Brown with Jones Lang LaSalle (a commercial real estate company), Paysinger with Quest Diagnostics, Herzlich with JPMorgan Chase, Boothe with Loews, Mundy with Johnson & Johnson and DeOssie with the NFL.
Each player will spend a week this spring shadowing employees at their respective companies as an introduction to the industry. Next year, they will participate in a four-to-six week internship.
"I wanted these guys to have a network where they actually see that they are capable of being effective in whatever industry is out there," Way said. "The people and the company representatives that participated, they said they didn't realize the potential of the guys that are part of the program and how this could be an area in which they can recruit good talent for their business."
In their essay, the players had to answer the question, "What do you see yourself doing in five years?" As Brown indicated, they hope to be playing football. But NFL careers are notoriously insecure. An injury can permanently terminate a player's time on the field. Good health doesn't guarantee longevity, because younger, faster, better players come along every year. Developing a post-football plan is something more players should do.
"I think the ideal answer would be that you just finished up a long career with many more Super Bowls," Boothe said. "It was an interesting question, it's something that's tough to pinpoint, especially when you're in the middle of your playing career. This opportunity presented itself as a great chance to think about things after football, because we'll all have a lot of years ahead of us after our careers are over. It is a great opportunity."
"There are a lot of programs available to us as NFL players though the Players Association and the NFL, but something this specific is not," DeOssie said. "The biggest thing that motivated me to participate is the fact the companies who were willing to work with us are making a long-term commitment to us as players. They are investing their time and efforts, not just for that three-day crash course, but taking stock in our future. It provides a lot more direction than most programs do. Most of the other programs just give you a wealth of knowledge and just send you on your way. This makes you think about your future and where you best see yourself in whatever industry moving forward, specifically after football."
Abstractly preparing for the future is one thing. Discerning exactly what you want to do with the rest of your life is the hard part.
"Truthfully, I have no idea what I want to do," Paysinger said. "I told them my interests in marketing, advertising, branding and just meeting people, making a lot of connections to where I can do stuff like this in terms of the internship and go into companies and shadow different positions. I'm just trying to get an overall perspective to hone in on what I want to in five to 10 years."
"I think about it all the time," Herzlich said. "Being an undrafted guy, too, I didn't even know if I was going to make a squad. That's one thing that we talked about in that setting - we are re-evaluated every single year for our job and we have to be re-hired back every single year. We're always trying to prepare for something else afterwards. Hopefully, it doesn't happen for a long time, but you have to be prepared."
Company representatives were just as excited as the players to pair up in the Executive Workshop.
"Unbelievable talent," said Ben Clammer, a vice president at JPMorgan Chase. "I'm highly confident that each of these men would have a highly successful corporate career if they left the NFL tomorrow. JPMorgan would be lucky to have many one of them."
"The professional caliber of this group - the adaptability, creative thinking, the intellectual acumen - greatly exceeded expectations," said Justin Elker of Johnson & Johnson. "We'd be proud to hire any one of them."
The recent three-day session the players spent with company reps aided that preparation. One point of emphasis was succeeding in an interview. NFL players are accustomed to speaking on the record to the media. But this was different.
"So often we're taught, 'I want to thank everybody else, I want to thank the team, I want to thank these guys,' and you don't talk about yourself," Brown said. "When you're asked, 'Hey, who are you?' there's a big pause, because you really don't know who you are. You don't know your attributes. Some guys do, but a lot of guys don't. A lot of guys are not taught to talk about themselves. It was different to walk in there and really not be equipped. You kind of feel helpless to a degree."
Most of the players were paired with companies that match their long-term interests or that piqued their curiosity. Paysinger will work with Quest Diagnostics, which seems fitting since the Giants are headquartered in the Quest Diagnostics Training Center.
"After everybody did their interviews, Charles and Ashley had the task of matching us up," Paysinger said. "Quest is really good right now, because they're one of the biggest companies in the nation and nobody really knows exactly what they do. The first time they spoke they said, 'What do you guys know that we do besides have our name on the building?' Truthfully, the players, we didn't have an answer. They're in the middle of a re-branding, and I think my love for branding and advertising, taking those classes, I think it's going to be really fun."
Boothe has a degree from Cornell in hotel administration, so the Loews Corporation was a logical fit for him. "I'm very fortunate to have been selected by Loews Corporation," Boothe said. "I look forward to learning about the industry because other than my undergraduate work, I don't have any experience in the business world."
Herzlich is equally excited to work with JPMorgan Chase.
"Finance is an area that I've been interested in," he said. "I went to college for business and marketing. I also looked at the broadcast side, which I did like to do, too, so I'm going to do the broadcast boot camp this year that the NFL puts on. I figure between those two things I can test the waters of each and see what I like."
Brown has no real estate experience, but that didn't deter the representatives from Jones Lang LaSalle from choosing him.
"They said, 'You appear very confident and seem to understand yourself and know yourself,'" Brown said. "They enjoyed my personality, I guess, I got reviews from all of the companies, but they were the one that picked me. They thought I would be a great fit for their business.
"I think a lot of guys are equipped to sell. It's just a matter of research and understanding the product that you're selling. It is something that is intriguing to me. Will I like it? I don't know, we'll see."
Which is the reason the players entered the program.
"I talk to them every chance I get about life after football," Way said. "I realize, knowing my circumstances and how my career was cut short due to an injury, tomorrow isn't guaranteed to us. You always have to prepare from the time you get in until the time you're either forced out or you leave."
Thanks to the Giants' Player Engagement Executive Workshop, at least six players will have a better chance to prosper after their football careers.