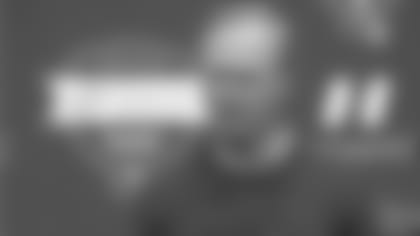 Read Quotes from Monday's Interviews](http://www.giants.com/news-and-blogs/transcripts.html) Q: Especially with the Super Bowl here this year, does that make it even more frustrating, more disappointing to be leaving today?
A: I don't know. I think it's frustrating enough without thinking about the Super Bowl. Thirty-one teams are going to be disappointed this year and unfortunately we're in the first 20. Going back and just looking at the season, looking at the 0-6 start, if we were able to pull out two or three of those games, we're probably still playing. Yeah, it's disappointing but I don't necessarily know if I've even thought about adding the disappointment of somebody playing in our stadium and winning the Super Bowl.
Q: What went wrong this year?
A: A lot of things. We turned the ball over a lot and we didn't get enough turnovers. We had a lot of injuries, we didn't play consistent, especially in the first six. I thought we did a great job of showing resiliency and the character of this football team by coming out the last 10 and posting seven and three, a record of those last 10. But it was too little too late, I guess, and that's the most frustrating part of it. I think this season boils down to two halves, the first half of the season we played like crap and the second half of the season we put things together and got wins. You always think, going back and looking at 0-6 and seeing and deciphering what we could have done differently or what did we do differently after the first six to give ourselves a chance in the season.
Q: Do you expect to be back?
A: I don't know. I have some meetings to go to after I leave you guys and we'll discuss it but, you know, it's a process and obviously Jerry and Mr. Mara and all of those guys upstairs have a lot of decisions to make this offseason. I'll wait my turn and we'll see what happens.
Q: Are you going to do anything differently leaving here today than other days because of your contract situation?
A: I'm going to have more meetings today than I normally would have but other than that, no, I'm not.
Q: When you say more meetings, you mean you'll meet with Jerry and ownership and things like that?
A: Yeah.
Q: Will you take anything that you wouldn't normally take?
A: Are you trying to call me a thief?
Q: Will you completely empty out this locker?
A: The only reason I'm completely emptying out this locker is because we have to. I think the NFC representative of the Super Bowl is going to be here so that's the only reason I'm going to clean out my locker.
Q: How much do you want to retire as a Giant?
A: I think I would love to retire as a Giant. Everyone knows how great this place is and how great it is to play for this organization, these fans, this city, this region. That's the ideal, but again, I understand that football is a business and just like the Giants are going to approach this whole situation and do what's best for the team, I've got to do the same thing for myself. I have no doubt that we'll sit down and take our time and hopefully make something happen.
Q: Did coach Coughlin say anything about him coming back?
A: I don't think that's even an issue. To answer your question, no, he didn't but I really don't think there's an issue of him coming back or not.
Q: You mentioned the NFC team coming in here, could you see yourself being around that week or would that be too difficult for you to be around town entirely?
A: I never go. I go to these Super Bowl appearances but I never go to the Super Bowl. I've never sat down and watched the Super Bowl other than the ones I've played in so my process won't be any different. I'll be somewhere with my family and enjoying their company. No, it won't be that difficult for me.
Q: So you're saying Coughlin wasn't an issue, you're under the impression that he will be back?
A: I am under the impression that he will be back.