EAST RUTHERFORD, N.J. – Last Thursday in Washington, Daniel Jones targeted Kenny Golladay on eight of his later passes. Late in the game, NFL Network cameras showed the Giants' standout receiver apparently targeting the quarterback with a verbal broadside.
That isn't what happened, Golladay said today.
"Pretty much just me talking to JG (offensive coordinator Jason Garrett) a little bit and that's two competitive guys right there," Golladay said. "Moreso, just me wanting to do anything I can. Not so much, 'Give me the ball more,' though."
The five-year veteran said the outburst was out of character.
"Really, that just comes with me a little bit," Golladay said. "Really, I've never done anything like that either – but really just passionate, just being a competitor. I love just doing anything I can to help the team. I let the emotions get the best of me."
Asked what prompted the brief outburst, Golladay said, "Division game. Wanted to leave that spot with a win if anything."
Golladay said Garrett and he have no lingering issues.
"Me and him spoke right after the game," Golladay said. "It was literally nothing."
Coach Joe Judge today was questioned for the third time about the sideline exchange.
"I've already spoken to all parties involved about all that stuff you guys (reporters) are referencing," Judge said. "You guys asked me the other night about Kenny, there was no argument on the sideline. There was no him versus Daniel or anything of that nature. This is a guy that in the heat of the moment, you speak very passionately. You kind of speak with some emotion. I speak with emotion on the sideline. There was no blowup or anything that has to be made of it. I understand sometimes the perceptions will be what they are, but like I said the other day, there's no issue there."
Golladay caught three passes for 38 yards in the Giants' 30-29 loss to the Washington Football Team in FedExField. In two games, he is the team's second-leading receiver with seven receptions for 102 yards, but each of those figures are less than half of Sterling Shepard's totals (16 catches for 207 yards).
"I wouldn't say I was antsy, more so, just I'm a competitor," Golladay said. "I want to go out there and compete. I want to be in those tough situations. It all just boils down to just wanting to do whatever's best to help the team.
"I think I left some stuff out there. I know I had one drop across the middle, I wish I could have that back. Other than that, played pretty good. Wish I could've made a few more plays."
Asked about how he is being used, Golladay said. "I'd say I'm happy with the role. I'm getting put in some tough situations and (I've) got to make some tough catches, and that's all I could ask for."
Golladay continues to work his way back to peak condition after missing most of training camp and the preseason games with a hamstring injury he suffered on Aug. 3. He expects to benefit from the 10-day gap between the trip to Washington and the Giants' home game Sunday against the Atlanta Falcons.
"It's kind of huge," he said. "We had that Sunday game, then came back (for) a Thursday game, so those three days that we pretty much had off, that's huge for you to get the body back."
Golladay has had two 1,000-yard seasons and led the NFL in 2019 with 11 touchdown receptions. The Giants brought him in to be a consistent producer who regularly contributes big plays, and Golladay believes he will do exactly that.
"Do I feel like I'm sitting on a big game?" he said, repeating a question. "Of course. I come to every game thinking I'm going to have a big game. But as long as I keep putting the work in, everything will start coming together."
*Judge said center Nick Gates is still in (northern Virginia), where he underwent surgery after fracturing his left leg in the game Thursday.
"From everything I've been told, that's very common with what he's had done," Judge said. "They're going to be very specific about what they do with him throughout his recovery, which is looking out for the best for him."
*Gates is not only one of the Giants' best linemen, he is a team leader who is extremely popular among his teammates, all of whom surrounded the cart as it transported him off the field last week.
"Nick's a key figure for us, he really is," Judge said. "He's a guy that the entire time we've been here he's been a team-first guy, he's been an all-in guy, he's a guy that comes to work every day with a great amount of energy and enthusiasm. We're still going to rely on him to do that. As he gets better and comes through his healing process, we want to keep him as involved with the team as possible. This guy was voted captain by his teammates for a reason and that's for leadership. This guy has done a lot of unselfish things and I believe he'll continue to have an impact on the team."
*Tight end Evan Engram, who missed the first two games of the season with a calf injury, practiced today and could make his 2021 debut against the Falcons.
"He'll be out here today kind of moving around a little bit," Judge said prior to practice. "We'll see where he's at physically in terms of where we can push him through practice. We'll see what that looks like today in terms of having a better view of what the weekend may hold, but he's making consistent improvements. He's been doing a good job with the trainers. Everything he's been asked to do, he's done, so it's moving in the right direction."
*The Giants signed guard Cole Banwart to their practice squad. A 6-4, 298-pounder, Banwart was signed by the Tennessee Titans as a rookie free agent from Iowa on May 13. He was released on Sept. 9. In 2020, Banwart started each of the Hawkeyes' eight games, seven at right guard and one at left guard. He was selected second-team All-Big Ten by league coaches and media.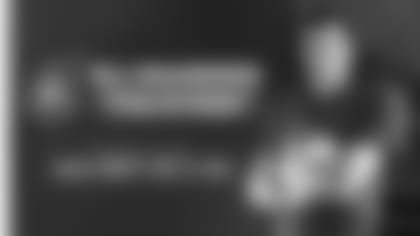 Limited Tickets Available for Eli Manning Ceremony
Limited tickets are available for Eli Manning's jersey retirement and Ring of Honor induction game