EAST RUTHERFORD, N.J. – Two of the Giants' key offensive players lamented the departure of Jason Garrett but said it's the players' responsibility to make the offense productive after the coaching change.
"It sucks that JG, he got fired, he was let go, but like I said after the game, it's easy to point the finger, sometimes you've got to point the thumb," running back Saquon Barkley said. "We've got to realize that we're just as accountable for that, too. The reason why that decision was made was because we're not scoring points. The reason why that decision was made was because we're not making plays and at the end of the day, that's on us, too. We've got to go out there, make the plays whenever the play is called, make it happen and find a way to win the game."
"I think we all know what we're capable of and I think we just want to go out there and just put it on tape," wide receiver Kenny Golladay said. "We leave a lot of plays out there with penalties. For instance, when I missed the block (Monday night in Tampa), that falls down on player execution at times, so you can't put everything on coaches or the play-caller. We play a big role in this, as well. We just have to do a better job."
Garrett, the team's offensive coordinator since the start of the 2020 season, was fired on Tuesday, a day after the Giants' fell to 3-7 with a 30-10 loss at Tampa Bay. The Giants are 25th in the NFL with an average of 18.9 points a game.
Coach Joe Judge said the Giants need to put their playmakers in position to be more impactful, which in turn will help them increase their point total. The Giants' first post-Garrett game will be Sunday at home against the Philadelphia Eagles.
Barkley, who has been limited in practice all week, said he expects to play.
"That's the mindset," he said. "I played last week and it's getting better each week."
Barkley returned to action Monday night after missing four games with an ankle injury. He is averaging 3.7 yards a carry, a 1.1-yard decline from his first two seasons. Golladay, who missed three games with a hamstring injury, has just 20 receptions and has yet to score a touchdown.
Despite that, Golladay expressed his support for Garrett.
"I really can't speak for other guys," Golladay said. "As far as myself, I loved Jason Garrett. Things I guess didn't work out and we had to make a change. But Jason Garrett in my book as a guy, I love the guy, to be honest."
"I would say it (the dismissal) sucks because you develop a relationship with coach Garrett and the offensive coordinator," Barkley said. "That's how I take away aside from football, he's a good dude. I learned a lot from him with football, without football, just the way he carries himself, his mannerisms. There's a lot that I'm going to take from him, so when you see anybody let go, whether it's the OC, whether it's one of your teammates, whether it's your teammates who get traded, one of your teammates gets released or he doesn't sign back, it always sucks, but that's kind of just the part of the nature, the part of the business. That's really it."
Judge has declined to say who will replace Garrett as the play-caller. Nor has he denied the speculation that it will be senior offensive assistant Freddie Kitchens. Perhaps because they've been instructed to reveal little, Golladay and Barkley insisted a major offensive overhaul is not imminent.
"I'm just coming into it with an open mind and go into it like I go into every week," Golladay said. "When the ball is coming to 19, I've just got to make the play. Hope for more opportunities, of course, but when the ball comes to me, I've got to make it. Even if I don't have a lot of opportunities, I've got to make the most of those opportunities."
"When you're in Week 12 or Week 13 in the NFL, there really isn't much more you can have," Barkley said. "Obviously, you could have new wrinkles here and there, but without really having much, the terminology is not going to change. I think coach Judge came on and said collectively as a group they're going to come and make decisions and put together a game plan. That's the thing where we've got to get better at, executing the game plan. You can say what you want about coaches, but at the end of the day, like I said after the game against the Bucs, as players, we've got to take some responsibility about it too and go out there and make plays."
Sunday would be a good time to start. The season is reaching its homestretch.
"It's too late to say this is a fresh start, you know what I mean?" Golladay said. "I guess you could say, 'get on track,' as far as us getting on track, scratching, erasing that last game that just happened. We've got another opportunity this Sunday against the Philadelphia Eagles. Let's get on track, I would say that. Not a fresh start, let's just get on track."
*Golladay will line up against Eagles cornerback Darius Slay, one of his close friends. The two were teammates in Detroit from 2017-19.
"I'm excited to go against him," Golladay said. "I actually haven't even talked to him. I'm pretty sure I'm going to talk to him before the game, though."
"It was always good competition (in practice). That's a good player over there. They paid him as well to go over there, what, two years ago, I believe? I'm looking forward to it."
Slay has three touchdowns in the last four games, two on fumble returns and last week on an interception return. That, of course, is three more than Golladay's season total.
"That's messed up, huh?" Golladay said with a laugh. "It is what it is. He's a playmaker. I know him very well. I'm not surprised that he's always around the ball making those plays for their team. I played with him, I want to say three years, and he did the exact same thing when I was with him. I want to say he led the league in interceptions one year I was with him – so I'm not surprised."
*Three players have been declared out of Sunday's game because of injuries: wide receiver Sterling Shepard (quad), tight end Kaden Smith (knee) and fullback Cullen Gillaspia (calf).
Shepard will miss his sixth game of the season and Smith and Gillaspia will each miss their second game in a row.
*Rookie wide receiver Kadarius Toney (quad) and tight end Kyle Rudolph (knee) are doubtful. Neither of them practiced today.
Barkley (ankle) and wide receiver John Ross (quad) are questionable.
*Safety and defensive captain Logan Ryan remains on the Reserve/COVID-19 list and will likely miss his second straight game on Sunday.
"Nothing else has changed, so we're still waiting (for Ryan to get two negative COVID tests 24 hours apart)," Judge said. "He tests every day and we'll see how that turns out. Is there still a brief window (for him to play Sunday)? There is. We'll see how that turns out."
Ryan will be eligible to play next week in Miami if he is asymptomatic because he will have quarantined for more than 10 days since testing positive.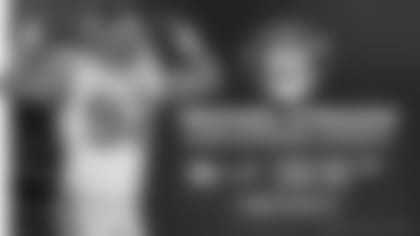 Tickets for Michael Strahan Ceremony
Limited tickets are available for Michael Strahan's jersey retirement game on November 28th