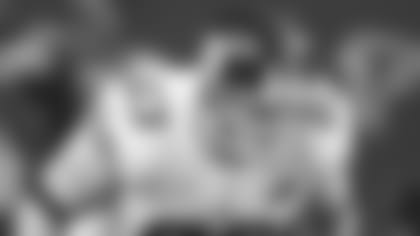 2. Win turnover battle. The Chiefs turned the ball over 37 times last season and finished 2-14. They have yet to turn the ball over this season and are 3-0.
3. Limit big plays. The Giants defense had given up just six big plays in the first two games combined, good for sixth in the NFL at the time. Last week was a different story as they gave up four plays of at least 20 yards to four different players. Meanwhile, Kansas City likes to spread the ball around.
4. Force the Chiefs to be one-dimensional. The Kansas City offense is predicated on balance with a 90-105 run-pass ratio. Stopping the run is the way to go about it, but the Giants will have do so against every-down back Jamaal Charles, who rushed for 1,509 yards last season.
5. Hurry up. It won't work for an entire game, but quick passes and a no-huddle offense have been the talk this week. The Giants need to keep the Chiefs' front seven on their heels by mixing it up.
6. Contain Alex Smith. The Chiefs' second-leading rusher is their quarterback. He averaged nearly eight rushes per game through the first three weeks and has picked up four first downs with his legs.
7. Communicate. The Giants offense will be operating in a hostile road environment, which will be a big test for some of the inexperienced offensive linemen stepping up on Sunday. The Chiefs show a lot of different packages and pressures on defense. Communication is key.
Where is 29?** Speaking of different looks, Pro Bowl safety Eric Berry is very much involved in the front seven around the line of scrimmage. Meanwhile, in coverage, he returned an interception for a touchdown last week.
9. Houston is a problem. Left outside linebacker Justin Houston leads the NFL with 7.5 sacks, 4.5 of which came last week. Opposite him on the right side is fellow Pro Bowl linebacker Tamba Hali. The Giants tight ends will need to be physical on Sunday.
10. Damn the torpedoes, full speed ahead.There's nothing that can be done about the first three weeks. The Giants need to first get out of their own way before coming away with their first victory.