NOTE: The following article ran following Bob Sheppard's final game at Giants Stadium..... **
EAST RUTHERFORD, NJ - Before Jason Giambi's first home game as a member of the New York Yankees in 2002, he was visited on the field by a thin, elderly man with a distinctive voice. The man asked Giambi what the correct pronunciation of his last name was. After the distinguished man walked away, Giambi approached Derek Jeter and asked, "Who was that?"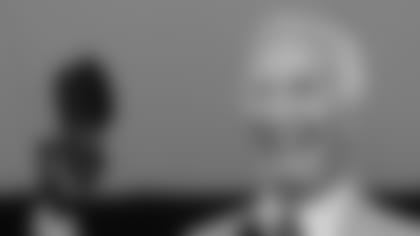 "That," Jeter said, "was the voice of God."
The voice belongs to Bob Sheppard, the greatest public address announcer in the history of professional sports, and indeed the voice of God for generations of metropolitan area sports fans. Sheppard has introduced batters and announced pitching changes at for the Yankees at Yankee Stadium since 1951. His first game with the Yankees was played on April 17, 1951, when Joe DiMaggio and Mickey Mantle shared an opening day outfield for the only time in their careers.
Five years later, the Giants moved from the Polo Grounds to the famed ballpark in the Bronx, and Sheppard became their public address announcer.
"If there was ever a voice of God to sports fans, it was Bob Sheppard's," said John Mara, the Giants' executive vice president and chief operating officer.
Now, after 50 years of introducing starting lineups, reciting down and distance and making famous phrases such as "spilled by Carson," Sheppard's distinctive voice and style will no longer be heard in Giants Stadium. Sheppard has decided to leave football public address to others. Unless the Giants host the NFC Championship Game or he has a change of heart, this will be Sheppard's final game as the Giants' public address announcer.
"I feel torn," Sheppard said. "The memories that I have are so wonderful. And I know the memories are not going to change. But if this is my last game, I have no new memories that can be added to the old ones, and that's sad. If I've been doing these for 50 years and 10 games a year, that would be 500 games I've done. They roll into one another in memories that are blurred.
"Thank God I shall be sitting in front of the television for the rest of my life when the Giants are playing. And I will appreciate the comfort, the ease and the lack of stress that accompanies doing NFL announcing."
Sheppard still loves the job. And he will continue working at Yankee Stadium, where he is as much a legend as Ruth and DiMaggio, as much a fixture as Mantle, Berra and Jeter ever were. Reggie Jackson once said Sheppard's words sound like "the voice of God" as they reverberate around the stadium.
But Sheppard will no longer do Giants games, because, like so many working people in this country, he can't stand the commute.
"It's a long drive," said Sheppard, who lives in Baldwin, on Long Island with Mary, his wife of 44 years. "Fifty years is a nice round number to call it a day. My wife has not pressured me. But when I said a few months ago I think I've had it, she said, 'Oh, I'm glad.' And I love her. It is time."
Sheppard never signed a contract with the Giants. For 50 years, he and Wellington Mara operated on handshake agreements. The two men of distinction were similar. They were born in New York, attended city colleges, (Mara at Fordham and Sheppard at St. John's College in Brooklyn) and both served with distinction in the Navy in World War II.
For a half-century, Sheppard and Mara had a friendship built on mutual respect and admiration.
"I have two boys and two girls," Sheppard said of his children. "I have four grandchildren and nine great grandchildren. So I don't compete with Wellington Mara in that area." Mara and his wife Ann have 40 grandchildren.
"When the Giants games moved from the Polo Grounds to Yankee Stadium in 1956, I was already installed as the Yankee baseball announcer," Sheppard said. "I automatically became the Giants' public address announcer."
Those were two of the best part-time jobs anyone ever had. For 50 years, Sheppard primary occupation was as a speech teacher, in New York public schools and high schools and at St. John's University.
"My goal which was fulfilled, was to make a living as a speech teacher," Sheppard said. "That was my goal, that was my ambition and I fulfilled it and I taught for maybe 50 years. And I was happy to do it.
"Public address was and is a part-time job. Nobody makes a career out of P.A. It's part-time, it's seasonal, and there aren't many men who stay with it. I can't tell you one other public address announcer in America. And in the time I've been with the Giants, and the Yankees, the Mets in baseball have had about 12 different public address announcers. I don't know who they are."
But everyone knows who Sheppard is. He is revered throughout baseball because of his long association with the Yankees. But in the last 50 years he has become a vital part of a Giants football Sunday, announcing the names of fabled players from Charlie Conerly and Frank Gifford to Harry Carson to Lawrence Taylor to Phil Simms and to Tiki Barber and Michael Strahan. Sheppard followed the Giants from Yankee Stadium to Yale Bowl to Shea Stadium and to New Jersey. Sheppard was there when Pat Summerall kicked his famed field in the snow to beat the Cleveland Brown in 1958, when the Giants hosted the 1962 NFL Championship Game, when the wind blew and the Giants shutout the Redskins to win the 1986 NFC Championship.
So many games, so many players. Ask Sheppard for a memory and he immediately mentions the 1958 NFL Championship Game, the famed "Greatest Game Ever Played." The Giants lost to the Baltimore Colts in overtime, but the game thrust pro football into the forefront of the nation's sports consciousness. "I remember Alan Ameche going in for the winning touchdown," Sheppard said.
What other Giants events stand out?
"There are too many that just cloud my mind," Sheppard said. "But I do have one Giant Super Bowl ring, given to me by Wellington Mara. What year it was, I don't know. I have many, many Yankees rings. They're someplace at home."
To most fans, Sheppard is that unforgettable voice emanating from stadium loudspeakers. But he speaks with the same perfect diction and pitch in casual conversation as he does when announcing Strahan's name to 75,000 fans.
"My style has not changed at all," Sheppard said. "This is how I speak. I speak the same way at home, in the classroom and at church where I'm a lector. I don't change it in the announcer's booth."
Chris Sheppard, one of Bob's sons, is the keeper of his father's flame. He points out that Bob Sheppard is one of two men to be awarded both a World Series ring and Super Bowl ring. The other was Bill King, a Bay Area icon who was the longtime play-by-play announcer for the Oakland A's and Raiders. King died in October.
Sheppard's list of achievements and honors is staggering. His regal voice has introduced pitchers and batters at more than 4,300 major league baseball games, including an incredible 199 postseason games. Sheppard has been in the-house voice at 22 World Series and for six no-hitters, including three perfect games. One of the perfectos was Don Larsen's in the 1956 World Series. Sheppard was there for Roger Maris' 61st home run in 1961, Chris Chambliss' pennant-winning home run in 1976, and for Jackson's three home runs in Game 6 of the 1977 World Series.
His football resume includes more than 450 NFL, AFL and college football games, including six Army-Navy games. Sheppard served the New York Titans of the American Football League at the Polo Grounds, the New York Stars of the World Football League at Downing Stadium and soccer's New York Cosmos – plus St. John's University basketball and football games.
Sheppard's microphone was enshrined in the National Baseball Hall of Fame in Cooperstown in 2000. That same year, the Yankees dedicated a plaque in his honor that was placed in Yankee Stadium's famed Monument Park. On the plaque, he is referred to as "The Voice of Yankee Stadium." Sheppard was voted to the New York Sports Hall of Fame, the St. John's Sports Hall of Fame in 1995 and is a member of the Long Island Hall of Fame. In 1998, Sheppard was presented with the prestigious William J. Slocum "Long and Meritorious Service" award by the New York chapter of the Baseball Writers Association of America, as well as the "Pride of the Yankees" award by the ball club. He was honored with a ceremonial first pitch before Game 2 of the 1998 World Series at Yankee Stadium (Sheppard recorded his own introduction). Sheppard has been awarded honorary doctorates from St. John's University (Pedagogy) and Fordham University (Rhetoric).
About the only thing that Sheppard hasn't announced is his age. So how old is he? Put it this way: he was president of senior class at St. John's College Class - in 1932. That was 73 years ago. Sheppard also received a master's degree from Columbia in 1933.
Sheppard earned seven varsity letters at St. John's, four in football and three in baseball.
"I played quarterback at St. John's University for four years," said Sheppard, who speaks with perfect diction even in a casual setting. "I played in every game for four years with one exception, and that was the day my father died. But I was good left-handed quarterback, and a pretty fair left-handed first baseman (whose career average was .295). So my whole career in sports was associated with St. John's, with the prep and the college."
In World War II, Sheppard was a Navy lieutenant, a gunnery officer aboard slow-moving cargo ships, both in convoys and on independent missions in the U.S. Pacific Fleet.
Sheppard's amazing career began inauspiciously. In the late 1940's, he volunteered to be the public address announcer for an exhibition football game between the New York Yankees and the Chicago Rockets of the All-America Football Conference in Freeport, Long Island. An executive from the Brooklyn Dodgers football team of the All-America Conference attended the game, liked Sheppard's style ("clear, concise and correct") and hired him. The football Dodgers folded after only one season at Ebbets Field (1948), but one of their opponents—the football Yankees—heard Sheppard distinct voice and offered their PA job at Yankee Stadium. The baseball Yankees then heard him and offered him the same role for them for the 1950 season. But Sheppard was then a high school speech teacher and he could not accommodate the 77-game home schedule, which was played primarily during the day.
The Yankees persisted and again offered the PA job to Sheppard for the 1951 season, this time with the proviso that he could hire a replacement for any games he would have to miss. Sheppard agreed and has been there ever since.
"A temporary job," Sheppard said, "that has lasted a half century."
He has also said, "Most men go to work – I go to a game."
For 50 years he has been going to Giants games and enriching the experience for everyone sitting in the stands. He has had an unforgettable and distinguished career with the Giants. Still at the top of his game, Sheppard is giving up his football gig.
"I'll be in front of the TV every Sunday," Sheppard said.
If you'd like to submit a question or comment to Michael, click here.