For more than two decades, Laura Okmin has covered some of the most significant events in sports, including 10 Super Bowls, three Olympics, multiple NBA Finals, World Series and All-Star Games. She is a seasoned reporter for FOX Sports' NFL coverage and the third-longest tenured sideline reporter in the league's history.
She recently joined Madelyn Burke on the "Her Playbook" podcast to discuss a variety of topics, including her journey in the business.
"My best friend for 20 years was Stuart Scott," Okmin said of the late ESPN anchor. "When Stuart and I met, it was when we were covering the NBA Finals when I was traveling with the Chicago Bulls during the heyday with Michael [Jordan], so it was a big time. I was so in over my head and I was so intimated. I wasn't ready. I will never forget, I walked into the presser we were waiting on, Pat Riley, because that day the Heat had just traded for Alonzo Mourning from Charlotte.
"I walked in the room that I was very usually the only woman, maybe one other one or two. I just remember at that particular time, there were no other women and I sort of looked around the room and kind of hid. Like 'All right, I don't want to stand out so I'm going to hide.' Stuart was in there, and Stuart was the only person of color. Stuart found me very quickly and was kind of like 'What's up?' He was ESPN2, his star hadn't hit yet. We were both coming up. I'll never forget just him talking about we were the two that stood out, but I was the one kind of in the fetal position not wanting to be seen, and Stuart walked in in all his Stuart glory like 'Why wouldn't they look at me? We stand out.' For the next 20 years, Stuart really became my best friend, but also someone I could go to."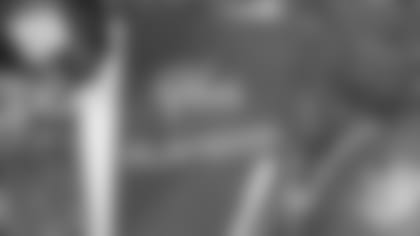 Her Playbook
The Giants' "Her Playbook" podcast will feature successful women from within the Giants organization and around the sports world as they share their individual journeys to the top of the sports industry.
SUBSCRIBE NOW
Apple | Spotify | Google | Stitcher | iHeartRadio