Q: How have you played the first two games?
A: The first game not as great, not as good as I wanted to. I thought I played better in the second. I've got a long way to go to get better. That's really the goal right now, to continue to get better.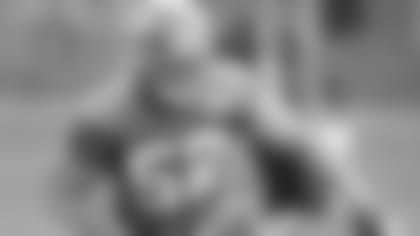 Q: Talk about the second game.
A: Yeah. I felt better the second game. By no means is it where I want to be, but I just want to continue to get better.
Q: What do you think you did better in the second game?
A: Just be a better linebacker and everything that entails.
Q: (Coach) Tom (Coughlin) talked about you attacking the line of scrimmage more. Is that something you've been focusing on?
A: I'm just focusing on reading my keys and trying to figure out where I need to fit and be a better player. So overall, everything I need to do better.
Q: How do you think the competition has been?
A: I embrace it. You've got a guy (Keith Bulluck) who has been in the situation for so long. He's a great dude, a great asset. He helps me out every chance I get. I just take every opportunity to learn from it.
Q: What are some of the things he's working on with you? A: I mean the guy's been in the league, like I said, for a decade. He knows the ins and outs of the game that I don't really know too well-what I can look for, what I can do better and things like that. I'm excited to be out here and just really kind of take his two cents in from somebody who's played the game versus somebody who's actually coached and you can kind of see it a little bit different. That's a big benefit to me.
--- ](http://www.nyg2010.com/)**