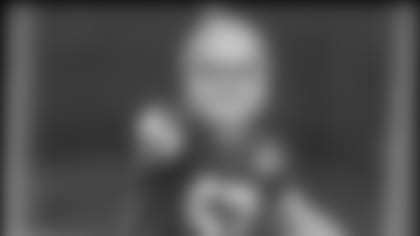 ](http://www.giants.com/media-vault/photo-gallery/OTA-Practice-1/fa2427d9-76bf-476d-a545-c4be23730e5e)
PHOTOS: OTA PRACTICE
Connor, Curry, Herzlich, Paysinger, Rivers, Williams, Muasau, and Sabino.
No household names. No problem, says Dan Connor.
The Giants opened their first OTA practice with eight linebackers ready to compete for roles devoid of any true incumbents. Mathias Kiwanuka is technically the ninth – he is currently listed as a linebacker on the roster – but the versatile veteran is expected to play the majority of his snaps this season on the defensive line, where he began Wednesday.
His shift back to end, coupled with the departures of Chase Blackburn and Michael Boley this offseason, has created opportunities for starting roles, which Coughlin said are not "in concrete." They probably won't be until the opening kickoff of 2013, but the competition leading up will intrigue coaches, players, and fans alike.
"Not many people know us," Connor told Giants.com. "Not many people know the names of the guys in the room right now. So we're looking forward to getting out there and proving ourselves."
Not even many people on Connor's own team knew him until a few weeks ago. The sixth-year linebacker, who signed with the Giants this March after a season in Dallas, is doing all he can to change that on the field.
"It's all about being technique-perfect and being able to call the defense, make the checks and be spot on," Connor said. "As a new guy in the locker room, that's how I'm going to earn respect -- by knowing not only my position but everyone else's position. So studying is big for me right now, being vocal on the field, and basically earn the respect of guys who I met a couple weeks ago."
With the Giants, Connor, a product of Penn State, returns to playing in a 4-3 defense, which he did for four seasons in Carolina before spending a year in a 3-4 with Dallas in 2012.
Capable of playing in both schemes, Connor wanted to return to a system like Perry Fewell's.
"It's kind of going back to what I did early in my career," Connor said. "It lets you run around and make plays as a linebacker. It's a system I wanted to get back into once I left Dallas, and it's been great so far. It's a great playbook, and there's a lot of good coaching here, so we're going to get coached up and then be playing fast out there."