EAST RUTHERFORD, N.J. –** Last season, Jon Beason not only revived his career and improved the Giants defense, but he authored a tremendous story.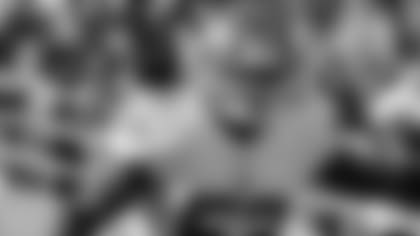 2014 Free Agency Central A three-time Pro Bowl linebacker with the Carolina Panthers, Beason seemed to be dropping into oblivion. Injuries had limited him to five total games in 2011-12. Then he lost his job three games into the 2013 season.
But a trade to the Giants resurrected both him and the defense he quickly began to lead. Beason finished second on the team with 98 tackles, an impressive feat considering he didn't play linebacker until the Giants' sixth game. And the defense, ranked 26th in the NFL when he took over at middle linebacker, finished the season ranked eighth.
Today, Beason's narrative added another positive chapter when he signed a contract to remain with the Giants. He had been an unrestricted free agent.
"You know how when you pick up a good book and it's good because they develop a character and there's always some type of turmoil, something bad happens," Beason said. "And then the character has to come out and overcome it and then it's like, 'Man, that was a really good read.' For me, I think it just made my career story better, having to overcome some things. You come out, you get drafted high, you start making Pro Bowls and become the highest-paid player, all-pro and all that stuff. That's a boring book. For me, I feel like it's prepared me for what's still to come. If you're going to lead men, especially at this level, you have to be battle-tested."
Beason certainly is. He came to the Giants last Oct. 4 in a trade with the Carolina Panthers, who received a seventh-round draft choice. He had played six seasons for the Panthers.
Beason appeared briefly in a game against Philadelphia two days after his arrival before starting each of the last 11 games at middle linebacker. Despite his late start, he was a leader in the locker room and on defense.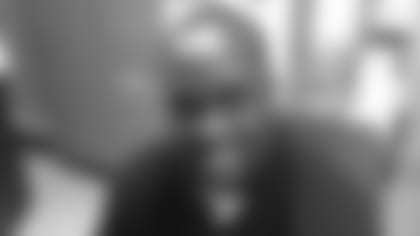 Beason started for the first time in a Giants uniform at Chicago on Oct. 10 and finished with a team-high 11 tackles (nine solo). He had nine tackles (eight solo) in the Giants' first victory of the season, vs. Minnesota on Oct. 21. Beason tallied nine tackles (eight solo) and intercepted a Scott Tolzien pass that he returned nine yards vs. Green Bay on Nov. 17. Beason contributed a season-high 19 tackles (14 solo) at Washington on Dec. 1, 10 tackles (seven solo) at San Diego on Dec. 8, 11 tackles (10 solo) at Detroit on Dec, 22 and nine tackles (eight solo) vs. Washington (12/29).
Not bad for a player who totaled 41 tackles in his final two injury-shortened seasons with the Panthers.
"You go through some stuff, you feel like you're getting dragged through the mud and all of a sudden you just keep fighting, fighting and then you come out clean on the other side," Beason said. "For me, a fresh start was great. But obviously I know who I am and what I've already accomplished, so why can't I continue to do that? I feel like I'm just scratching the surface. I really feel like that. To get a chance to have a great offseason, train and get in good shape to where you can play consistently at a high level is what I'm looking forward to."
Carolina secured Beason with the 25th overall selection of the 2007 NFL Draft. He started all 64 games in his first four seasons and was selected to the Pro Bowl each year from 2008-2010. But Beason tore his left Achilles tendon in the 2011 season opener and missed the rest of the season. The following year, he started the first four games before left shoulder and right knee injuries ended his season.
He returned last year to start the season's first two games for the Panthers, but was on the field for just one play in the third game – a victory over the Giants. Twelve days later, he was sent to New Jersey.
As a free agent, he could have shopped himself around the league, but Beason wanted to stay here and continue the ascension that began in 2013.
"I think what we were able to build last year in a short period of time was scary," Beason said. "I'm a big fan of building camaraderie and sweating with the guys in the offseason, that's where you build those championships and we missed that – well, I missed that because I came in early in the season. But for me, at this point, I know we have that coming up in April, get out there and earn the right to be a champ. It's going to be big this year."
Beason will likely take on an even larger leadership role this season. Justin Tuck, a defensive captain each of the last four seasons, signed yesterday with the Oakland Raiders. Beason might well replace him and join his college teammate, Antrel Rolle, as a captain (Rolle shared that role with Tuck in 2013).
"I think when you talk about leadership, obviously your peers pick the captain or the person they choose to lead," Beason said. "There are guys that have done a great job, but the hardest part is being consistent at it. If you're going to stand up there and say something or you're going to represent something, or you're going to be an example of something, I think you have to do it every day. Because as soon as you're not, as soon as you don't do it, there's a chink in your armor and now guys aren't following you anymore because you're a façade, you're not for real.
"Everyone's going to have to pick up the slack because Tuck was such an amazing leader, a guy who demanded respect right when he walked into the room. That's the way I felt about him from the outside looking in and then obviously getting the chance to get to play with him, that was evident. For me, I just want to continue to try and be consistent. I think when you're consistent, people follow that."
For Beason, that would be another element to his inspiring and improbable story.
"I think anytime you get derailed with an injury, it's not your fault," he said. "That wasn't part of the story, but it happens. Anytime you have a setback, it's a chance to come back and do something great. For me, you stay who you are and you know when you're healthy you can be as good as anybody. You go out there, you play well, but that was just scratching the surface. I feel like I can be scary good this year and as a team, especially as a defense, we could be really good."