EAST RUTHERFORD, N.J. –** Less than a week after joining the Giants, Jon Beason is ready to help his new team try to win a football game.
Beason, acquired in a trade with the Carolina Panthers last Friday, expects to play linebacker when the Giants visit the Chicago Bears Thursday night. He appeared briefly on special teams last Sunday against Philadelphia.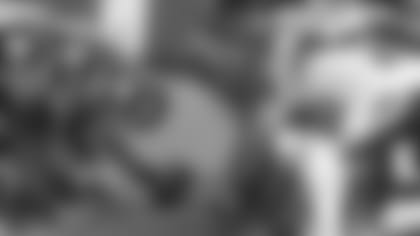 Know Your Opponent: Bears Roster "I'm in the playbook heavy," Beason said today. "It's different terminology, but I've played football in this league for a long time, so I feel pretty comfortable about it."
Beason, a 2007 first-round draft choice and a three-time Pro Bowler, was regarded as one of the NFL's best middle linebackers before injuries cost him most of the 2011 and 2012 seasons. But he's healthy now and his new coaches are eager for him to help a defense that has allowed an NFL-high 182 points.
"He's learning fast," coach Tom Coughlin said. "He's ready to contribute."
"We are going to incorporate him in our defense this week," said defensive coordinator Perry Fewell, who added that Beason will play middle linebacker. "We have certain packages that he will be involved in. He's only been with us a couple of days, but we felt like it was important to get him involved as soon as possible.
"We have a plan. Some of it he can handle. Some of it he can't. He'll grow with the system."
Fewell was asked what initially impressed him about Beason.
"The first time we had a chance to see him live was today and his in-line quickness kind of stood out right off the bat," Fewell said. "He's an intelligent football man. We had a jog-thru practice yesterday and so his ability to communicate with the players and to come out and have good knowledge of what a 4-3 defense is and where to fit was impressive."
Beason said he feels good physically and is comfortable in the middle of the defense.
"Before my injury, I never left the field," Beason said. "I'm used to being right out there, making calls, getting lined up and playing in the mike position."
And he expects to do it Thursday night in Soldier Field.
"It's nothing like primetime," Beason said. "It's a huge stage, which we didn't get that many primetime games in Carolina."
He'll find it's a little different with the Giants. But being in the spotlight is fun only if you win.
Running back Da'Rel Scott, who was re-signed today because David Wilson is sidelined with a neck injury, was surprised when he was waived last Tuesday, two days after he started the game in Kansas City.
"I didn't see it coming, my family as well didn't see it coming, so they definitely had my back," Scott said. "I just thank God that I'm here and that I have another opportunity, so I have to make the best of it.
"I feel like anybody in my situation would wonder why, why it had to be me. I was kind of baffled by how it happened, but they did it for a reason. They felt as though they needed to make that move so, like I said, it's good to be back here."
A reporter said to offensive coordinator Kevin Gilbride that the Giants have faced a lot of third-and-long situations. Gilbride knew exactly how many "a lot" is.
"Thirty-five of 61, to be exact, are 11-plus (yards needed for a first down)," he said. "That's why you have to be more successful on first and second down. If you can do that, that's where the running game and some of the short passes come into play."
The Giants are last in the NFL with a 26.2 conversion percentage (16 successes in 61 attempts).
"More than anything, the biggest problem I have has been our inconsistency," Gilbride said. "We'll do some good things, but we haven't strung them together. When all of a sudden you get two first downs, three first downs - the perfect illustration is last week. If you take a look at our opening drive, it looked like it went right down. It looked like we were going to do the same thing and then all of a sudden, you shoot yourself in the foot (with an intentnioal grounding penalty). That's killed us. When you go from 1st-and-10 and three first downs in a row, in great field position, and all of a sudden it's 2nd-and-25, it changes the dynamics. Now you're third-and-25, third-and-29. It's hard to be as consistently successful that you need to be to win the game. That's where we have to get better."
Beason will wear 52, as he did in Carolina. That had been Spencer Paysinger's number. Paysinger will now wear 54, which Beason wore against Philadelphia. It is Paysinger's fourth different number since he joined the Giants in 2011. He's also worn 55 and 49.
In addition to Wilson, who has been declared out of the Bears game, seven players did not practice today: Baas (neck), cornerbacks Corey Webster (groin) and Jayron Hosley (hamstring), defensive end Damontre Moore (hamstring), long snapper Zak DeOssie (back) and safety Cooper Taylor (shoulder).
Asked about Webster, Coughlin said, "I don't see any change there." Webster will likely miss his third consecutive game.
Three players were limited, all with ankle injuries: defensive tackle Linval Joseph, wide receiver Louis Murphy, Jr. and tight end Brandon Myers. Linebacker Mark Herzlich (toe) and cornerback Terrell Thomas (knee) practiced fully.
Thomas played sparingly against Philadelphia, which he said was an effort to "be smart" about his surgically-repaired knee with a Thursday game up next.
Joseph, who did not play vs. the Eagles, said, "I'm good to go."
The Giants trail in the regular-season series with the Bears, 27-19-2. These teams first played each other in 1925, making this the Giants' oldest active series (the Giants' first-ever road victory was in Chicago on Dec. 13, 1925). The Giants have won the last two games in the series: 17-3 on Oct. 3, 2010 in MetLife Stadium and 21-6 in Soldier Field on Dec. 2, 2007. The Giants are 4-3 in regular-season games in Solider Field since the Bears began playing their home games there in 1971.