EAST RUTHERFORD, NJ - Late this afternoon, defensive end Mathias Kiwanuka was declared out of Sunday's game even though he has practiced fully all week.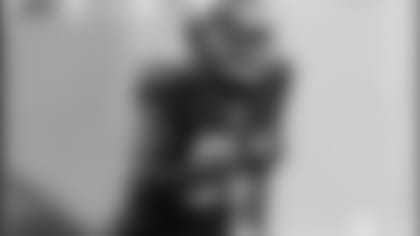 Kiwanuka arrived to work at the Timex Performance Center on Thursday with a stiff neck. He was examined by Ronnie Barnes, the team's vice president of medical services. After receiving treatment for the stiffness in his neck, Kiwanuka went through practice and underwent an MRI last night.
Today, Kiwanuka still was experiencing some stiffness in his neck but otherwise felt fine. He went through practice and intentionally avoided contact with his head and neck.
After practice, he underwent a CAT scan at the Hospital for Special Surgery and was examined by team physician Dr. Russell Warren, who consulted with Dr. Frank Camissa, the spine specialist at HSS.
The diagnosis is that Kiwanuka has a bulging cervical disc. Based on the initial examination and tests, it's unclear when and how Kiwanuka suffered the injury.
The initial prognosis is for Kiwanuka to avoid contact with his head and neck, and the team's physicians will monitor the disc to see how it quiets down. There is no timetable on recovery, which varies from case to case, as does the treatment for such an injury.
"It's disappointing," said Kiwanuka. "It just feels like a stiff neck. The pain is not intolerable but I want to make sure that I will be okay down the line. I have full trust in the medical staff and the trainers at the Giants. I'm going to do everything that is asked of me so when I'm cleared I'll be back and ready to go."
*If a fine line exists between a must-win game and a crucial game, the Giants appear to be walking it as they prepare for their encounter Sunday night with the Chicago Bears. And the result of the game encompasses only part of that statement.
The fate of the Giants' 2010 season will not be decided on the first Sunday of October, not with 12 games remaining.
"There's no such thing as (a must-win game) until the last game of the season and you need it for the playoffs," defensive end and captain Justin Tuck said. "That's a must-win game. It's a long season. I've seen teams win eight games and have made the playoffs so if I do my math right, we have about six more losses before we have a must win game.
"Every game is important. I never played in a game that wasn't. It's definitely an important game and we'd love to get off to the right start in this football game early and continue it. A big win against a team like this on Sunday Night Football can really turn our season and head it in the right direction. It's definitely an important game."
Eli Manning is never given to overstatement and he was not about to start when asked about the significance of facing the Bears.
"Every week is important," Manning said. "We want to go out there and play great football. We have to go back to being more consistent, fixing some of our mistakes, and finding a rhythm throughout the day, and just have a good game. They're a great team, and all of their games have been close and have come down to the fourth quarter. We have to expect that it's going to come down to the fourth quarter and we have to play better football to win the fourth quarter and win the game."
Okay, so the Giants don't absolutely, positively have to win. But it would certainly be huge not just to win the game, but to play the kind of football the Giants insist they're capable of. After two one-sided losses in which their performance was far beneath their expectations, the Giants want to get back on the winning track and play the kind of intelligent, efficient, productive and error-free football they believe should be showcased regularly. They want to prove last week's three-turnover, 11-penalty outing in the loss to Tennessee last week was an anomaly and not this team's standard operating procedure.
"I'm very disappointed in where we are from a standpoint of both penalties and turnovers," Coach Tom Coughlin said. "I would hope that this would settle down and level off and not be the deciding factor in games going forward.
"I'm upset about that to the point that the players don't realize that this contributes to a loss. Penalties lose games. Turnovers lose games. There's no argument there."
"This game can put us right back there sitting at 2-2 and at .500 going into the next week," linebacker Keith Bulluck said. "It's definitely a critical game. The things that hurt us last week are all things we can control as players. It's critical for us as players to go out there and play the football that we know we can play and not commit double-digit penalties, not commit personal fouls – play smart football. Do all the things we've done in the past as football players and that this team has done in the past to be a good football team."
Even if they eliminate the miscues and execute flawlessly, the Giants face a daunting challenge against Chicago. At 3-0, the Bears are the NFC's only undefeated team. They have one of the league's best passing attacks, its stingiest run defense and arguably its most dangerous group of return men. Chicago has momentum, eight takeaways and a plus-three turnover differential and a 26-10 scoring advantage in the fourth quarter, where Manning expects the game to be decided.
Coughlin got a sneak preview of the Bears when he watched the first half of their Monday night victory over Green Bay.
"The Bears demonstrated, again, an outstanding passing game, a big play passing game, a quarterback (Jay Cutler) with outstanding mobility, speed at the running back spot, speed at the wide receiver spot, comfortable with the tight end position and the quarterback and his ability to get the ball there," Coughlin said. "Defensively – an outstanding front, an aggressive front, penetrating front once again – (Julius) Peppers obviously drawing an awful lot of attention in that division. A very good kicking game – return game - was quite obvious the other night. Not only punt return (which included Devin Hester's 62-yard touchdown) but kickoff return as well. So, we prepare this week for a very physical game once again."
Chicago's offense has been rejuvenated under new coordinator Mike Martz. Last year, the Bears were 23rd in the NFL in total offense (331.1 yards a game) and Cutler led the NFL with 26 interceptions. After three games this season the Bears are ranked 11th in yards gained (349.0), Cutler has thrown two picks and his passer rating of 109.7 is third in the league. Cutler has had five different receivers catch a pass for at least 21 yards, including four with a reception of 38 yards or more. But he has also been sacked eight times. The Giants hope to use pressure not only to disrupt Cutler, but to force more turnovers.
Defensive coordinator Perry Fewell is very familiar with Martz, having worked on his staff when Martz was the head coach in St. Louis in 2003 and 2004. Martz tries to utilize all his weapons, including running back Matt Forte ("one play and he can go the distance," Fewell said), tight end Greg Olsen and wide receivers Johnny Knox and Hester. Martz likes to shift his players around and put them in motion before the snap in an effort to confuse the defense.
"He really studies matchups," Fewell said. "He studies techniques, he studies how your players play, and he'll attack your technique and he'll attack your players through his offense by motion shift adjustments. So it's not as much of a coordinator's matchup with him, he's going to try to attack the players' techniques. I think one of the factors of Coach Martz and his offense is that he wants to see how you're going to adjust to those types of things and then go from there and if he can cause someone to be out of position or confused, then he's going to strike."
"A lot of what they do is window dressing," cornerback Corey Webster said. "I think we have to do a great job in being disciplined in knowing when they get back to the final formation and playing the look they get to."
Defensively, the Bears are giving up NFL-low averages of 39.7 rushing yards a game and 2.1 yards a carry. Peppers and linebackers Brian Urlacher and Lance Briggs have been selected to play in a total 16 Pro Bowls. The Chicago defenders are particularly good at creating turnovers. Since Lovie Smith became head coach in 2004, the Bears have a league-high 208 takeaways.
"They have a very talented defense with playmakers all over the field," Manning said. "They did a great job with getting a pass rush on the quarterback, just blitzing and rushing their four guys and mixing a couple wrinkles with blitzes and what not. They are very smart, sound, do a great job of tackling and attacking the ball and causing turnovers. We have to be smart with the ball, and have a great understanding of what they're doing."
On special teams, the Bears have three outstanding returns in Hester (punts) and Knox and Danieal Manning (kickoffs). Kicker Robbie Gould has hit 86 percent of his career attempts.
So while it is too early to say this is a must-win game for the Giants, with the talent and confidence the Bears are playing with, it's not a reach to say it's a must play better game for the home team.
"We need this win," cornerback Terrell Thomas said. "I was hoping that they would beat Green Bay because it gives this game a lot more attention. A lot more people will look into it. It's going to be a great matchup Sunday."
*Center Shaun O'Hara will miss his second consecutive game because of his persistent ankle/Achilles injury. Adam Koets will again take his place. O'Hara did not practice all week.
"We're just trying to figure out how we can control this – how we can keep this issue from reoccurring," Coughlin said of O'Hara's injury.
Bulluck did not practice because of a toe injury and is listed as doubtful. If he can't play, Clint Sintim will play strongside linebacker. "He's had a good week of practice," Coughlin said.
"Every week, I prepare as if I'm going to play," Sintim said. "This week was no different. I might play this week more than I did in past weeks, but I prepare the same whether I get 100 plays or if I get one play. I think this week looks like I have an opportunity. Nothing has been told me yet, but I'm preparing the same way."
Defensive end Osi Umenyiora (knee) missed practice and defensive tackle Rocky Bernard (back) was limited and both are listed as questionable. Coughlin said he expects Umenyiora to play.
Linebackers Chase Blackburn (knee) and Phillip Dillard (hamstring) and wide receivers
Mario Manningham (concussion) and Darius Reynaud (illness) practiced fully and are probable.
*Safety Michael Johnson, who was placed on injured reserve Tuesday with a back injury, yesterday underwent successful microdisectomy surgery in Los Angeles. The operation was performed by Dr. Robert Watkins.
*The Giants trail in both the regular season (27-18-2) and the postseason (5-3) series with Chicago. They have not defeated the Bears in a regular season home game since a 28-24 victory in Yankee Stadium on Oct. 5, 1969 (though the Giants routed the Bears, 31-3, in a 1990 NFC Divisional Playoff Game). Of course, the teams have met infrequently in the metropolitan area since then. Chicago won in the Bronx in 1970 and in Giants Stadium in 1977, 1995, 2004 and most recently, on Nov. 12, 2006 (38-20). The teams last met on Dec. 2, 2007, when the Giants earned a 21-16 victory in Soldier Field.
*Since 1990, the Giants are 7-15 against teams that played the previous Monday night.