EAST RUTHERFORD, N.J. - Ten years ago, Mark Herzlich was a sophomore linebacker when he made his first career start for Conestoga High School in Pennsylvania. The Pioneers' opponent that day was Strath Haven High, whose best player was senior Dan Connor, a fullback and linebacker who would soon be the Maxwell Football Club's choice for the Jim Henry Award as the area's outstanding student-athlete of 2003.
"I remember Dan was a big All-America running back and linebacker," Herzlich said. "And I was kind of nervous to go against him. I think I tackled him once. But I think he ran me over while I was tackling him, if I remember correctly."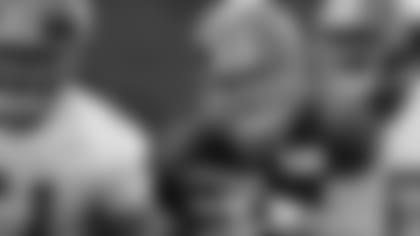 Photos: LB Dan Connor Gallery](http://www.giants.com/photos/photos/Dan-Connor-Photos/588a9fc5-61f8-4008-afcf-b2c60585af5a) For the record, Connor's Panthers won the game, 41-20, the most points they allowed in a 13-1 season.
Connor, who was selected by Parade as the nation's top high school linebacker, became a first-team All-America at Penn State. A third-round draft choice in 2008 by Carolina, he played four years for the Panthers and one for the Dallas Cowboys before joining the Giants in March.
Once Connor stopped running over him, Herzlich became an all-state linebacker at Conestoga and an All-America at Boston College. He missed the 2009 season after being diagnosed with Ewing's sarcoma, a rare form of bone cancer. Herzlich recovered to play the following year and in 2011, he signed with the Giants as a free agent.
A decade after first facing each other on the field, Herzlich and Connor are competing again. But now it's as teammates as they vie for the Giants' starting middle linebacker job.
It's not exactly a cutthroat competition. Both young men are easygoing and affable. They are quick to compliment and help each other. Connor, who has started 27 NFL games, is not obsessed with making it 28 when the Giants open their regular season in Dallas on Sept. 8.
"For me, it's really a non-issue," Connor said. "Whoever's in there, whoever can get the job done, is the guy. We just want to win. It sounds cliché but that's what keeps the city happy, it keeps you employed and it keeps things smooth, so whoever's in there, whoever can do it, I hope they're in there. If it's me, if it's Mark, if it's anyone, there are so many guys who can do it. By the time the opener starts, each guy will have his role, you have to excel in your role and you've got to be prepared for the next role if somebody goes down. That's how it's been, that's the NFL. So as far as I'm concerned, (starting) is not a pride thing at all. It's my sixth year, I'm happy to be employed and I'm going to work at whatever I do."
Herzlich started two games in each of his first two seasons. He was installed as the starter when the Giants began their organized team activities in the spring and started the preseason opener in Pittsburgh and would very much like to have that designation in Dallas.
"It is a big deal," Herzlich said. "I would like to start. I think Dan's probably being modest. I think he would probably like to start as well. He's a competitive guy and I know he wants to be on the field making plays, too."
He does, but six years in the NFL have taught Connor you don't have to start every game to do that. Games and seasons present numerous opportunities to help your team. The key is being ready when they arise.
"You come into the league and you want to start from day one, you want to be a Pro Bowler and this and that, you want all this personal success," Connor said. "But as you go along, you realize situations change at the drop of a hat. A guy could twist an ankle. There are so many different variables where you've just got to be on the roster, be prepared and take advantage of any situation you get. You'll get an opportunity, could be Week 1, could be Week 12, you've got to be prepared to take advantage of it. Otherwise you're in a role, a special teams-type role and you've got to do that as best as you can, be productive and be positive and be positive toward the guys who are ahead of you.
"Mark grew up a couple minutes from me, so I'm happy for him. I hope he can say the same about me. I think we want each other to succeed and you need a lot of linebackers. That's the key, so it's hard to get hung up on any starting role this early."
Connor has enjoyed his five months with the Giants, in part because of teammates who share his Pennsylvania roots. In addition to Herzlich, rookies Justin Pugh and Ryan Nassib are from the Philadelphia area.
"We can relate, we talk about high school ball a little bit," Herzlich said.
"There are a lot of guys," Connor said. "I never got to meet Mark until I got here but guys from that area, we clicked right away. I was talking to Nassib for about an hour and a half after dinner (Monday) night. He has family from Delaware County, which is where I grew up, so we were talking a while. There are more Philly-area guys on this team than any other team I've been on. I think that's why I'm so comfortable. I can talk to these guys."
The Herzlich-Connor conversations continue where they will most help the Giants, in meeting rooms and, less frequently, at practice (because they're seldom on the sideline at the same time).
"We both go out there and try to play our best every day to be the mike," Herzlich said, "rather than to go out and beat Dan or go out and beat Mark."
"We talk to each other all the time," Connor said. "We talk to each other with a coach, we talk to each other on the side, however, we see it. Buy the more communication, the more successful we'll all be, because we're going to see the plays again. If we talk it through, process it together, we'll be successful no matter who's starting."