East Rutherford, NJ - Will Beatty is always calm and composed, so it would be inaccurate to say he was panicked. But he was definitely nervous. And a little perplexed.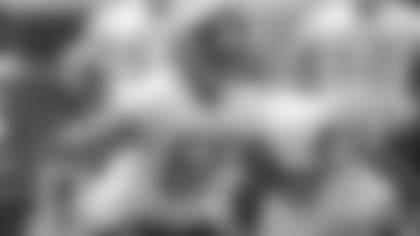 After getting this feet wet in 2009, OT William Beatty is excited for a chance to improve in the offseason.


This was a Saturday morning early in the 2009 season. The Giants had just concluded a light practice and were filing inside to shower, dress and board the busses to take them to Newark Airport. Beatty, a rookie offensive tackle, saw his suit jacket in his locker, but soon reached the inescapable conclusion that … his pants were missing.
"So I am thinking, 'They fell off from the house at some point coming here,'" Beatty recalled recently. "I rushed home and got another pair of pants. I come back in, and the first pair is hanging up in my locker."
Gotcha! The veteran offensive linemen, whose skill at pulling off practical jokes is exceeded only by their professionalism on the field, had victimized the unsuspecting rookie.
"They said, 'We wanted to call you but we didn't have your number,'" Beatty said. "But I made it back on time. That was just an experience."
One he learned from. On subsequent Saturdays when the Giants traveled, Beatty kept his travel clothes locked in his car and retrieved them after practice.
Beatty learned other lessons that were somewhat more important during his first NFL season. The most vital were how to be a professional and what it takes to play tackle in the NFL. When the Giants selected Beatty on the second round of the 2009 NFL Draft, they believed he could become their left tackle of the future. But they considered him a bit of a project, a player with outstanding athleticism who needed to increase his strength and improve his technique to become a top pro.
Those notions were reinforced during Beatty's first season. He played in every game, with most of his early action on special teams or as an extra tight end. But he also started four games at right tackle because of injuries to Kareem McKenzie - the Oct. 25 game vs. Arizona, which the veteran missed with a sore groin, and each of the final three games, when McKenzie had an injured knee.
"The last three games was actually a good focus for me to see how well I progressed," Beatty said. "How well I was bringing in the information of the offensive unit and our playbook. I had some great opportunities, went against some great players. I really got to see how well my body would hold up through a long season."
We're happy to report that Beatty stayed intact the entire season.
"It held up pretty well," Beatty said. "As a team, we were disappointed that we didn't make it into the playoffs. I think it was a great opportunity for me. It was a great chance for me to show the organization and the guys above the coaches what I can do, what they brought me in for and what they can expect from me next year."
Beatty attended a daily honors class in offensive line play. Coaches Pat Flaherty and Jack Bicknell, Jr. were the instructors and the veteran linemen – Pro Bowlers Shaun O'Hara and Chris Snee, as well as David Diehl, Rich Seubert and McKenzie – were the classmates whose example Beatty strove to emulate.
"I think it was a good rookie year," Beatty said. "I learned a lot from the veterans. I was in meetings beside them watching how they took notes, how they showed up early, how they stayed later. Those are the things that I have to do to get to that level. It was, 'I'm not doing enough, I am just maintaining, I'm tired and I am just going to do this.' You don't realize it during the season, but looking back I see they were doing this the whole time, and I should have been doing this, also. I should at least keep pace with those guys and follow behind them. On the field it was just their knowledge of the game and how they, even at times when we were down - just their mental mindset toward playing each play like the play before didn't happen. That attitude really helped me and gave me a better understanding of how this game is played on this level."
Beatty had his hands full during his late-season stint as a starter. In the home finale vs. Carolina, Julius Peppers, one of the NFC Pro Bowl starters at defensive end, frequently lined up against him as the Panthers' coaches tried to exploit the matchup against the inexperienced Beatty. The next week he got a taste of the other Pro Bowl starter, Minnesota's Jared Allen, who led the conference in 2009 with 14.5 sacks.
Having to block great players in consecutive games accelerated Beatty's development at tackle.
"I saw how they have really perfected their craft," Beatty said. "Going against Peppers, how his stance was, I couldn't really get a read on it. The up-field, the bull rush, coming inside, you always have to be on your game. It is not, okay, this is going to work just because I stepped a certain way the play before. That is not going to work on him the next play. He was always switching, changing things up. I had to be right there with him to counteract it. Some of the plays I fell behind, but I was seeing the way he was doing it and that was a good experience for me."
Peppers had three solo tackles, including a sack, two tackles for losses, a quarterback hit and fumble recovery vs. the Giants.
"I was going up against the best," Beatty said. "If I can handle him, if I can take care of him, then I will be okay. Right now I am not at that level. But I have seen how I reacted toward him. Now I just have to go and continue to be steady onward. The changes that I can make, the mental mindset, the foot work, the hand placement, things along those lines. Going against the best, you actually see where you are."
As Beatty prepared to take over at right tackle for McKenzie late in the season, Coach Tom Coughlin was asked about his young lineman's progress.
"He is a good, young football player," Coughlin said. "We have asked him to play a number of spots.  He has played left tackle, he has played tight end, right tackle and has done a good job.
"He has worked hard; he has studied. He is a good athlete. We knew that – that is why he is here. There is just an awful lot to learn at this level and that normally is the barrier that guys have to overcome. And he is still working at that. Let's face it – by no means is that accomplished."
No one is more aware of that than Beatty. His rookie year confirmed what everyone thought on draft day. Beatty is very athletic with the quick feet to be a left tackle. And he was perhaps further along than originally thought. But he must get stronger. Beatty is determined to spend the six-plus months before the Giants report to training camp to become a bigger and better player.
"This offseason is for working out in the weight room," he said. "There is always something you can improve on. Don't ever think, 'Oh, I had a good game, so I am okay.' Everyone in the offseason is working out to get better. That is where you will fall behind if you are not constantly trying to improve yourself. It is my goal to get in the weight room, get stronger, stronger bench, stronger squat, just the full body so that I am able to push them back and stand my ground longer. Also, just get faster, get better in the playbook so I am more knowledgeable of the game. This way I can anticipate faster what they are going to do, their defense, their stunts, twist games, things along those lines."
If he accomplishes all that, Beatty believes the coaches will have no choice but to find a place for him in the starting lineup.
"I am excited for the future," Beatty said. "It is just how are they going to use me next year, because they have seen a little more of what I can do. How are they going to fit me into the offensive unit? I know it is a tight-knit group that I am trying to break into. They have years of experience, so it is a good uphill battle for me. It is the knowledge that they have that I am trying to work on during the offseason - the things that have to be taught but are learned in time or with experience, the playing, the rivalries. Oh, we played these guys, so they know what you are going to do. You have to bring something different to the table. It is that whole concept of the game that really has to be understood. That's what I am trying to get a leg up on."
If you'd like to submit a question or comment to Michael, click here.