MIAMI- Sean Payton belongs to an exclusive club that includes some very impressive names: former Giants assistant coaches who went on to become Super Bowl head coaches.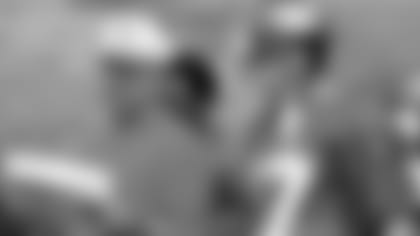 Sean Payton belongs to an exclusive club that includes some very impressive names: former Giants assistant coaches who went on to become Super Bowl head coaches.


Payton will become the eighth member of that fraternity on Sunday, when he leads the NFC Champion New Orleans Saints against the Indianapolis Colts in Super Bowl XLIV in Sun Life Stadium.
When the NFL season began in September, not many people expected Payton to join the club. The Saints failed to make the playoffs the previous two seasons and most prognosticators had them in the middle of the pack in the NFC. But New Orleans won its first 13 games, earned the top seed in the conference and defeated Arizona and Minnesota (in overtime) in the playoffs to advance to the Super Bowl for the first time.
Payton isn't saying he predicted the Saints would advance this far. But he certainly isn't shocked they did.
"You don't know how the season's going to unfold," Payton said in his Media Day interview session today. "I thought coming out of training camp if we stayed healthy we'd have a chance to have a pretty good team. As the season began to unfold, I think the one thing we were able to do was handle some of these setbacks – we played from behind, we played with the lead and I liked our response in those games.
"At the beginning of the year there's always that, 'We're going to play for a championship.' I think you develop that as the season goes on. Certainly, I think our players felt that."
Their confidence helped Payton achieve membership in that select club, which includes Vince Lombardi, Tom Landry, Bill Parcells, Tom Coughlin, Bill Belichick, John Fox and Jim Fassel. All but Fox and Fassel have won Super Bowls.
"I love Sean and I love the success that he's had," said Tiki Barber, the Giants' career rushing leader, who was here interviewing players and coaches for NBC. "I'm not surprised by it at all."
Payton joined the Giants in 1999 as the team's quarterbacks coach under Fassel (Fox, now the head coach of the Carolina Panthers, was the defensive coordinator).
The Giants' offense was struggling late that season when Fassel turned over the play-calling to Payton prior to a game against the Jets. The offense gained 490 yards – 338 through the air – in a 41-28 victory.
"He understands mismatches and schemes and he knows how to use his personnel," Barber said. "He doesn't have too much pride in ownership to say, 'This is a system and you have to fit in it.' He makes his system fit his players. He's always been about mismatches and how he can use his assets to his advantage to keep teams off-balance. And he has an unbelievable group of guys down in New Orleans to work with. And it's paying off."
Payton was named the Giants' offensive coordinator following that 1999 season and the next year the team finished 12-4 and advanced to Super Bowl XXXV. But the Giants did not score an offensive touchdown in a 34-7 loss to the Baltimore Ravens, which is probably why Payton is not looking to draw much from that experience as he prepares for his second Super Bowl.
"There are some similarities and as a coach you gather all those things in your thoughts," Payton said. "There are some things you want to do the same and some things you want to do differently. But there are a lot more nightmares about that Super Bowl than there are fond memories."
One practice he did repeat was keeping some of the game plan out of the players' hands until this week.
"I wanted to make sure that we didn't install the whole game plan last week," Payton said. "We did that in New York. There were a handful of players who couldn't practice last week. We've done pretty well off of byes, so we kind of backed off some of the practice snaps. They need to feel that sense of urgency as if the plan isn't in yet. So Wednesday, Thursday, Friday here, although there are a few things that are different, is going to be much like it would be in the regular season. Installation, run-install, pass-install, same way defensively, and then just practice it."
When the Giants' offense sputtered again midway through the 2002 season, Fassel took back the play-calling duties from Payton. The Giants went on to earn an NFC wild card berth, but it was clear Payton's tenure with the team had run its course. He left after the season for Dallas, where Parcells was the head coach. Payton was the assistant head coach/quarterbacks coach for two seasons and added passing game coordinator to his resume in 2005.
Seven years after leaving the Giants, Payton speaks fondly of the organization.
"My time there was fantastic," he said. "It afforded me the opportunity to be with a great organization and to begin to really build the thoughts of putting together your own program. Ownership from the Tisch family, the Mara family, Coach Fassel who gave me a great opportunity there, (general manager) Ernie Accorsi…there were so many people that were a part of me being able to sit here right now.
"After four years, for them to allow me an opportunity to interview within the division was something that I don't take lightly. They afforded me the chance to go with Bill to Dallas and that's a little unusual. Working for an organization like that, and then on with Dallas, those are special opportunities and certainly were for me in my growth period."
In 2006, Payton was hired as the head coach of New Orleans' star-crossed franchise. He signed quarterback Drew Brees and in his first season, the Saints advanced to the NFC Championship Game (losing to Chicago) and Payton was voted the Coach of the Year by the Associated Press, Pro Football Weekly/Pro Football Writers of America, The Sporting News and the Maxwell Club.
"He's very detailed," Saints general manager Mickey Loomis said. "I've said this before: One of the things that you have access to is these interview tapes that the league makes. They do it with a number of assistant coaches around the league. They do it with the rookies, as well. It's a half-hour interview. He was telling a story about when he first got into coaching. He was talking about the breakfast that he had eight years ago, and he knew exactly what he had for breakfast. If he could remember exactly what he had for breakfast eight years before, then I knew he was detailed, because I can't remember what I had for breakfast yesterday. That was impressive."
So is leading the Saints to the first Super Bowl in their 43-year history and being at the forefront of franchise's role in rebuilding New Orleans, physically and psychologically, after Hurricane Katrina. Those who know him believe he will contend for championships for several years.
"He has the attitude to be a good coach," Barber said. "He doesn't take people's crap. He says, 'This is my way, we're going to do it my way. I believe in it.' He's convicted to that. Good coaches are people who are convicted in their ways.
"I remember when he was with us, he was unbelievably confident in the things he was doing. When it was becoming apparent that he wasn't going to stay there, he said to me, 'I know the plays and the schemes that I have work.' He left the next season and has gone on to do great things. It's not surprising to me. He's a great individual and I think he's a great coach."
Payton is 46, but still appears young enough to slip into a frat party at any college.
"He still looks like a kid in some ways," Barber said. "But I think that gives him accessibility to his players. Everybody feels like they're his best friend and that's a good thing."
But Barber said no one should be fooled by Payton's appearance.
"He's very cocky," Barber said. "As much as anything, it becomes a mentality at this point, because there is so much nonsense for two weeks leading up to this game. If you're not mentally certain about your destiny, you're beat before you walk in the door. Especially against a team like the Colts, who have been on this stage before. They're not intimidated. This is literally another game for the Colts."
Sean Payton hopes to make it as unpleasant for them as Super Bowl XXV was for him.
*Barber had an interesting take on Colts defensive end Dwight Freeney, who hopes to play Sunday despite a torn ligament in his ankle. Barber played with a cracked bone in his arm when the Giants advanced to the Super Bowl nine years ago. Freeney wouldn't rule out taking a pain-killing injection if it enables him to suit up against the Saints.
"I think anybody would play in this game," Barber said. "If it's the previous one, you would probably sit down. But I think he'll play just because – because you have to. I asked him if he would sit himself down if he didn't think he could play. It's hard to answer that question. I played with a broken forearm, a cracked ulna in my arm. It probably wasn't prudent. But they don't pay us to be prudent."
If you'd like to submit a question or comment to Michael, click here.