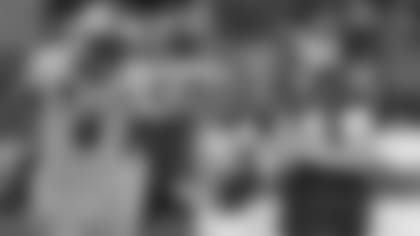 NFL Draft Experts debate if NC State's Bradley Chubb or USC's Sam Darnold would be a better fit for the Giants.
"Make the Case" is now in session on Giants.com.
In this series, we look at projections provided by two draft experts and then ask you, the fans, to weigh in on which player you would like the Giants to select second overall in the 2018 NFL Draft.
Today, we look at the argument for and against taking a quarterback.
Be sure to vote and Make YOUR Case in the comments below!
Bradley Chubb, DE, NC State
CBS Sports NFL writer Chris Trapasso liked Chubb, who picked up first-team All-American and All-ACC honors in his senior season, in addition to winning the 2017 Hendricks (best defensive end) and Bronko Nagurski (best defender) awards.
Trapasso: "Because of the perceived value of Darnold, this pick will be one of the most coveted trade-up spots for a non-No. 1 overall pick in years. But I don't view GM Dave Gettleman as someone who, first off, ever really wants to trade down, and because of that, would ever be willing to move back without getting a ridiculous compensation package. Therefore, the Giants stay put and pick Chubb to anchor the edge of their defensive line."
VS.
ESPN's Mel Kiper Jr. has stuck with Josh Allen going first overall to the Browns, setting the Giants up to take Darnold at No. 2. Darnold became the first Trojan ever with more than 4,000 yards passing in a season. He went 20-4 as a starter during his time at USC and led the school to its first conference title in nine years.
Kiper: "I still think the Giants should grab a quarterback with their pick (unless they get blown away by a trade offer). Eli Manning is 37 and on the down side of his career, and New York has a talented roster that shouldn't be picking this high in the future. Is GM Dave Gettleman really going to pass on a signal-caller who could be Manning's ready-made replacement?"