Before catching up with Giants.com, second round draft pick Marvin Austin addressed the media for the first time at training camp.
"You can't get in football shape unless you're playing football," the 6-foot-2, 312-pound defensive tackle said. "When we get out there and put the pads on, I'll get to feel the offensive linemen in the NFL and see how the different blocks will be a little different."
With the defensive linemen, it is known the meeting rooms are not for the faint-hearted, especially for rookies. Asked if Jason Pierre-Paul, who was in his position a year ago, gave him a warning, Austin smiled.
"I heard a little bit, a little bit," Austin said. "I think it's going to be just making sure no mental mistakes and learning the playbook and going out there. I've got to play fast. I love the game, so that's not going to be hard. The playing part is not going to be hard. It's just making sure my focus is where it needs to be."
With the release of Barry Cofield and Rocky Bernard this past Thursday, spots on the line opened up, which is good news not only for Austin but also for the Giants' 2010 second-round draft pick, defensive tackle Linval Joseph.
"Cofield and Bernard were two great additions to the D-line," said Austin, who is now wearing Cofield's number, No. 96. "Me and Linval, we definitely have some making up to do, but I think we can do it. (Justin) Tuck, he's a Pro Bowler. (Chris) Canty, he's just a freakish size … For myself, it's just going out there and putting my best foot forward."
Austin was then asked about his long hair, which he hinted via twitter to the possibility of trimming it for camp.
28 July @anchormanaustin: I need a barber in jersey I stay #cleancut!! Or should I keep it grudgey???? At least for camp huh
That idea was short-lived.
"It's not going anywhere anytime soon," Austin said.
[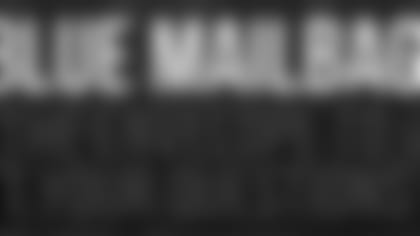 ](mailto:bigbluemailbag@gmail.com?subject=Big Blue Mailbag)