EAST RUTHERFORD, NJ - The Giants are understandably cautious with players who underwent surgery in the offseason. They don't overtax them in training camp, limiting most of them to one practice on the days the team is on the field twice. That group this month includes Kevin Boss, Hakeem Nicks and Keith Bulluck, as well as Osi Umenyiora, who is playing with a long-term sore hip.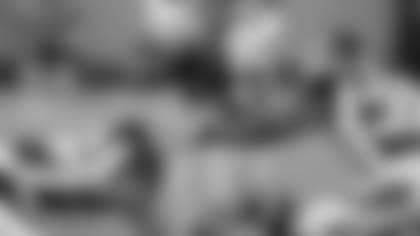 Ahmad Bradshaw would seem to merit entry into that group. After all, the running back had an operation following the 2009 season in which cracked bones in both of his feet and bone spurs in his right ankle were repaired. For any player, particularly a running back, that is a significant procedure.
But six months later, Bradshaw has participated in every training camp practice, not because the coaches are conducting some bizarre experiment or are trying to push him to the limit – but in part because he insisted on it.
"I said I wanted to go play two-a-days," Bradshaw said today. "They said the one-a-day guys will practice in the evening, and I just felt that I could practice both times. So I thought I should practice for both practices."
Bradshaw said it was his plan throughout the offseason to carry a full load once the team reported to the University at Albany.
"I worked hard this offseason just to get used to the pounding and getting used to working my feet twice a day," Bradshaw said. "Just running twice a day. I felt that I was going to come out here and practice twice a day.
"I just felt like coming out and practicing twice a day would really help our team as much as possible. Sitting out practice would hurt me. When you sit out of practice, and when you sit out for a day or two, it hurts to come back and get your feet back under you when you're a running back. I feel that practicing twice a day will keep my feet back under me. At least if I have to take off a couple of plays or just do a couple plays a day."
Clearly, Bradshaw is a man on a mission. But so is everyone connected with the Giants' rushing attack, which in 2009 gained 1,837 yards, or 681 fewer yards than their NFL-best and team-record total the previous season. Brandon Jacobs, who played most of the season with a knee injury that eventually required surgery, and Bradshaw played hurt, and offensive linemen Kareem McKenzie and Rich Seubert missed playing time.
Now everyone wants to recreate the success they enjoyed two years ago.
"We have some hunger in our room," Bradshaw said. "Me and Brandon are roommates, and we talk everyday about how hungry we are and how excited we are to be running this team.
"I think we all feel good out there about the running game. Coaches said we're going to get back to running the ball this year, and the backs are really excited about it. I think the running game will be good. We've been really running the ball a lot, a lot more than last year. The run opens up the pass, and the pass opens up the run. I think running the ball will be more effective."
Bradshaw and Jacobs have been splitting reps with the first team, and D.J. Ware has been getting his share of carries. Andre Brown and Gartrell Johnson are also working in a deep backfield.
"They all have special skills, talents and abilities," Coach Tom Coughlin said. "If we can use them all, we'll get the one player in that one aspect of the game that we want, whether it's there, whether it's in the defensive line, secondary, linebacker, an offensive lineman playing tight end or whatever."
Coughlin said outsiders shouldn't read too much into Bradshaw working a lot with the starters.
"You guys are all hung up on that stuff," he said in response to a reporter's question. "All I want are healthy bodies and depth. They'll all be utilized and as you know, there are a lot of games to play."
Somehow, Bradshaw managed to play in all but one of them last season, despite pain in his feet that sometimes left him barely able to walk. Despite the injuries, he had his best pro season, posting career-high totals of 163 carries, 778 yards and seven touchdowns, all of which exceeded the combined numbers from his first two seasons.
Those statistics are particularly impressive considering Bradshaw usually practiced only on Friday last year.
"It hurt tremendously," he said of not fully practicing. "The repetition helps. In this league, you need a lot of repetition. You need to get a feel for the game the whole week. The feel for the different teams that we play and that we rep against in practice. Not practicing hurts more than it can help."
He's backed up that statement by working in every camp practice despite seemingly being eligible for once-a-day work. His feet and ankles are fine and Bradshaw is willing to test them here.
"When I'm out there, I feel good out there," he said. "If anything, it hurts when I get off the field. If anything, it's just a little sore. Everything feels great when I'm out there.
"I feel great about it. I feel 100 percent compared to last year."
Because of that, he has high expectations for himself and his team.
"I'm expecting a lot more from the offense," Bradshaw said, "and I'm expecting to help out a lot."
*It is impossible to overstate how eager Kenny Phillips is to return to action, which he will finally do on Monday.
"I don't care if it's only one play – at least I get to get out on the field," Phillips said.
It's been almost 11 months since Phillips last played on a football field. He had two interceptions when the Giants won in Dallas on Sept. 20. Later that week, the team announced he needed surgery to correct an arthritic condition in his knee. Phillips sat out the rest of the season, the spring practices and the first week of training camp after being placed on the physically unable to perform list. But the Giants will remove the PUP designation on Monday and allow Phillips to practice once a day. He said he'll participate in the evening workout.
"We will just kind of ease him into it," Coughlin said. "We'll see, (the medical staff) will tell me what to do with him and I'm almost sure that he'll come back for one and he'll be limited in that one. I don't know. I'll have to hear what they say."
In a perfect world, Phillips will start on opening day (Sept. 12 vs. Carolina), but he's not worried now about working with the starters.
"To tell you the truth, it really doesn't matter," Phillips said. "I don't care. They could put me on fifth string. I just want to be out there."
Phillips is looking forward to teaming up in the back of the defense with Pro Bowler Antrel Rolle, who joined the Giants as a free agent after five years with the Arizona Cardinals.
"It's something we've talked about, before it even came out that he was leaving Arizona," Phillips said, "so I look at it as a privilege and I just can't wait to get out there."
Phillips believes he was on his way to a big season in 2009 and he can pick up where he left off, despite the long hiatus.
"I think that when I get out there, there are a lot of plays that I can make," he said. "Even though we're doing a good job out there now, I still see some things that we can get better at and I'm going to try to go out there and improve."
*Injuries to center Shaun O'Hara (swollen ankle, could return Monday) and guard Rich Seubert (broken hand) have created opportunities for fifth-year pro Guy Whimper and four-year veteran Adam Koets. Whimper, formally a tackle, is taking snaps at both guard positions, and Koets has gotten the bulk of the work at center.
"I look at it as every training camp as an opportunity," said Whimper, a fourth-round draft choice in 2006 who has played in only 30 regular season games, with no starts. He missed the entire 2008 season with a foot injury. "That's the mindset you've got to have coming into training camp, you know, just getting yourself better. Getting yourself mentally and physically prepared to play.
"I mean it's been a long time (since he played consistently). It was a tough process playing at this level. But I feel like I'm ready now."
Even at guard, a position he's just getting accustomed to.
"Everything is happening a whole lot quicker," he said, "but for the most part, it's fine."
Coughlin was asked for is assessment of Whimper's work in camp.
"He's doing all right," Coughlin said. "He's just got to be a more consistent player and by that I mean execution, making the blocks in all kinds of situations and we want to count on guys so much but he's got to prove it to us. He can play anywhere, he plays guard and he plays tackle. He does have skill, it's just that we haven't ever gotten the real total package, the whole experience in terms in consistency and no M.A's (missed assignments) and make all the blocks and all of the above."
Koets has been less active than Whimper in his career, appearing in only three games (plus a postseason game) in his first three seasons, two last year.
"This is a big year for me," Koets said. "I've been here for three years now. I've had the privilege of playing for this team for three years and to have that experience. Now I've got a chance to come out with the ones. It's a great opportunity for me. I just want to go out there and show what I can do for this team."
Line coach Pat Flaherty is seeing Koets' work start to pay off early in camp.
"You see improvement, you do," Flaherty said. "The improvement you see is that he is more aware of the position and the cadence and the snap as much as anything. The transition period going from a positional player to snapping the football is the snap and that is something that he needs to get better at and we would like him to finish his blocks and play with the power that he created in the offseason because he did a great job in the weight room. He got a lot stronger."
But Flaherty concedes that players who have been here as long as Whimper and Koets must prove they can be productive NFL players.
"When you're here and you're a player, there's a timeframe where the clock is running," Flaherty said. "You need to step up and prove that you can play in this league."
*Wide receiver Steve Smith said he did not undergo an MRI on the groin he strained yesterday. He didn't practice this morning.
"It's better today than it was yesterday," Smith said. "So it's just time. My strength is coming back. (I'm) day to day."
*Corey Webster and Sha'reff Rashad intercepted passes in the morning practice. Webster picked off Eli Manning when he took advantage of Mario Manningham slipping while running a pattern. Rashad made a nifty interception of Rhett Bomar's pass down the middle for Bear Pascoe…In addition to Seubert and O'Hara, safety Deon Grant (groin) and tight end Travis Beckum (hamstring) did not practice.
*The Giants exchanged offensive linemen on their roster. Rueben Riley, who hurt his MCL on the final play of practice yesterday, was waived/injured. Filling his spot on the roster is Cliff Louis, who was on the Giants' practice squad briefly in 2008 and in training camp last year. Louis, 6-7 and 300 pounds, entered the NFL as a rookie free agent from Morgan State with the Cleveland Browns. In addition to the Giants, he has been on the practice squads of the Browns and Jacksonville Jaguars, but has never played in a regular season game.
*Tickets are available for the first Giants Kickoff Luncheon to be held in the New Meadowlands Stadium. The charitable event will be held on Wednesday, September 1, 2010 from noon to 2 p.m. in the Gridiron Club, located between the Pepsi and Verizon gates at the New Meadowlands Stadium.
In addition to introducing the 2010 Giants, the team will honor Amani Toomer with the Giants Alumni Man of the Year Award.
Hackensack University Medical Center and the Giants have begun a partnership that gives fans a unique opportunity to support one of the nation's healthcare leaders while showing support for New York's favorite team. All proceeds from the luncheon and raffle will be donated to a very special program: the Touchdown Fund: Score for Kids, Cardiac and Cancer launched earlier this year by the Medical Center and the Giants and focusing on three core areas of healthcare.
Giants fans can join Head Coach Tom Coughlin and the entire team and the raffle will include a grand prize trip to Super Bowl XLV in Dallas (including round trip airfare and hotel accommodations for four nights).
For more information, call 201-996-3722.
Evening update: It was easy to spot Hakeem Nicks at the late practice. He was the one catching all the passes. Well, not all of them, of course, but he got his hands on balls thrown short, intermediate and deep down the field and in the end zone. "I feel like I'm starting to get into a groove," said Nicks, who is limited to one practice a day because of offseason toe surgery. He also hyper extended his knee earlier in the week. "I have to keep on pushing it. My whole concern is we're going into the second week of camp, so I feel I have to pick it up a lot more. The toe is not a factor anymore, so I just want to go out there and go hard."
Nicks, the Giants' first-round draft choice last year, was the NFL rookie co-leader with 790 receiving yards last season. He initially had toe surgery in February and had another procedure to remove a screw.
"I definitely feel like I'm getting back in playing shape now," Nicks said.
This evening, his catches included a long throw from Jim Sorgi after getting behind Aaron Ross, stopping on a dime to fool Terrell Thomas and turning a short toss into a long gain and making another fine grab of a Sorgi pass in the two-minute drill.
Nicks said the once-a-day regimen helps keep him fresh, but he'd prefer to participate in every practice. "If my teammates are out there for two-a-days, I feel like I should be out there, too," he said. "But the trainers see it different right now, so I have to follow their lead."
Lawrence Tynes made five-of-six field goals from 20 to 48 yards. He was wide left on a 28-yard attempt. Tynes has made 20 of 21 attempts in camp.
Rookie Mitch Petrus took some snaps with the first team at left guard…Shaun O'Hara (ankle), Rich Seubert (hand), Kevin Boss (ankle), Steve Smith (groin), Travis Beckum (hamstring) and Deon Grant (groin) did not practice…The Giants will not practice tomorrow, but will return to the field for two workouts on Monday.
*Today's attendance of 4,340 (2,030 in the morning, 2,310 this evening) raised the camp total (six days, 10 practices) to 16,695.
--- ](http://www.nyg2010.com/)**
If you'd like to submit a question or comment to Michael, click here.