EAST RUTHERFORD - Kevin Boothe is the last Giants player standing in the NCAA tournament.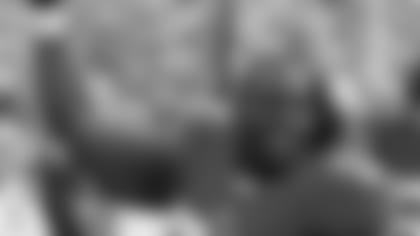 Boothe didn't attend Kentucky, Syracuse or another blueblood basketball school. His college is Cornell, which defeated Temple and Wisconsin by a combined 31 points to become the first Ivy League team to advance to the Sweet 16 since Penn in 1979. The Big Red will face top-seeded Kentucky in an East Regional semifinal Thursday in the Carrier Dome.
"It's exciting," said Boothe, the only Giant whose school is still alive in the men's tournament. "It isn't often you see an Ivy League team advance this far, let alone be dominant in the first two rounds. Everybody is excited. All of my college buddies are excited for what's in store on Thursday. We know that Kentucky is unbelievable, but if we keep shooting the way we're shooting, you never know what's going to happen."
Boothe will drive to Syracuse on Thursday to see his alma mater play John Calipari's Wildcats. The fifth-year offensive lineman said up-tempo Kentucky will present Cornell with its greatest challenge after victories over the more deliberate Owls and Badgers.
"I knew if they had good matchups in the first couple of rounds they could do some damage," Boothe said. "They had to play well. They're a very good team with eight or nine seniors. It's a matter of getting the right matchup and playing well. They've done that so far and hopefully they can continue the magic."
Boothe strode into the Giants locker room in the Timex Performance Center today proudly sporting a bright red Cornell T-shirt.
"A few guys were giving me a hard time as I paraded around in my Cornell T-shirt," Boothe said. "I let them know this is one of the few times Cornell can be on top of the world in the Giants locker room and in sports."
It was quite an athletic weekend for the school in Ithaca, N.Y. The Cornell men's hockey team earned its 12th ECAC tournament title and a berth in the NCAAs. The women's hockey team advanced to the championship game, where it lost to Minnesota-Duluth, 3-2, in triple overtime. The wrestling team finished second to traditional power Iowa in the NCAA tournament, its highest finish ever.
And now the basketball team, which is 29-4 and has won the last three Ivy League titles, is one of just 16 teams still competing for the national championship. When Boothe attended Cornell (he graduated in 2006), the basketball team was improving, but still lagged behind longtime powers Princeton and Penn.
"They were up and coming," Boothe said. "They were a team that was just starting to turn the corner. They weren't winning titles, but they were very competitive. To see the success of the team the last three or four years has been unbelievable. To see them getting better and better each year and this year they were ranked for a little while. To see them get mentioned frequently on ESPN over the last couple of weeks has been great to see. It's brought a lot of pride to the Cornell community.'
Like all Ivy League schools, Cornell doesn't award athletic scholarships. The term "student-athlete" is not a misnomer in the Ivies, where players must complete a demanding course load while competing on the basketball court or other athletic endeavor. But Cornell's teams have succeeded playing games while remaining true to the Ivy League's ideals.
"It's tough, but I don't know how it relates to other universities, because that's all I knew," Boothe said. "You have to learn how to manage your time. I can relate to how their daily schedules are. They're on spring break this week. They missed a few days of classes last week and I'm sure they're making up for it during this off week.  But it can definitely be competitive and still do well in the classroom and set yourself up for a terrific future, whether it's playing sports or in the workforce."
The focus on campus has switched this week to the hoops team. Cornell was eliminated in the first round of the NCAAs in each of the last two years. Boothe said the current squad entered the tournament with a different attitude.
"They weren't just happy to be there, which I think they might have been the last two years," Boothe said. "This year they were on a mission to do really well. They're on a ride, they're on a good run right now. I think they continue to play well. If you're going to shoot 60 percent, you're going to be tough to beat, regardless of who you play.
"It shows with hard work you can play at any level against anybody. It's just a matter of playing hard and playing together. When you watch them play, you can see how well they play as a team."
The Cornell-Kentucky game will be played Thursday in prime time. It's doubtful the Big Red players will be intimidated. Two of their four losses this season were to top tourney seeds Kansas (by five points) and Syracuse (by 15). They won the Holiday Festival in Madison Square Garden and they've played in the Carrier Dome.
And since the campus is just an hour drive from Syracuse – and everyone loves an underdog – the normally orange hues in the dome should turn Cornell red this week.
"That's one thing we're excited about – it almost becomes a home game," Boothe said. "Hopefully, Kentucky didn't buy up all the tickets. I think being that close to campus, they should have a great turnout for a team that before this hasn't done much in the NCAA tournament. This is a great time for the university. This was a great weekend for Cornell.
"I'll be up there. It's going to be exciting and hopefully, we can shock the world again."