EAST RUTHERFORD, N.J. – Marty Schottenheimer, who became one of the winningest coaches in NFL history after beginning his career as an assistant with the Giants, passed away yesterday in Charlotte, N.C. He was 77. Schottenheimer had been battling Alzheimer's since 2014 and had recently been moved to hospice care.
Ernie Accorsi, the former Giants general manager, held the same position with the Cleveland Browns when Schottenheimer was the team's coach in the 1980s, and the two remained close.
"Marty was a great coach, but he was a better man," Accorsi said today. "Integrity, toughness, honesty, humility were what you saw every day. He was one of the best friends I ever had. I treasure the years we had together."
Schottenheimer coached the Giants' linebackers in 1975-76 and was the team's defensive coordinator in 1977. After two seasons as the Detroit Lions' linebackers coach, he became the Browns' defensive coordinator in 1980. Schottenheimer was promoted to head coach midway through the 1984 season and remained in Cleveland through 1988. He also coached in Kansas City (1989-98), Washington (2001) and San Diego (2002-06).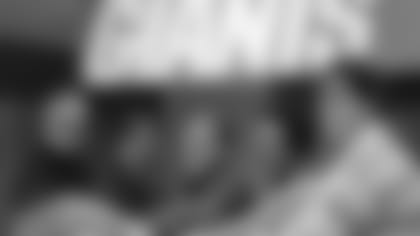 In the 1976 NFL Draft, the Giants needed a linebacker and Schottenheimer was permitted to make the second of the team's two fourth-round selections. He chose Harry Carson, a defensive end and nose tackle from South Carolina State, a small, Historically Black College. Under Schottenheimer's tutelage, Carson moved to middle linebacker, where he played his entire 13-year career for the Giants. He was a nine-time Pro Bowler, the sole captain of the 1986 Super Bowl XXI champions and was selected to the Pro Football Hall of Fame in 2006.
"I am so indebted to Marty, because he gave me the opportunity to be an athlete and learn the position on my own," Carson said today. "I think I validated him when I was chosen to be on the all-rookie team. That was something that was special after coming in and not knowing the position – and learning the position and gaining some kind of recognition.
"This is Black History Month. I think I was the third Black middle linebacker to play in the National Football League (after Willie Lanier and Harold McLinton). At that time, middle linebackers were typically white guys. Marty saw enough in me that he wanted me to play that thinking man's position. So, I give thanks to Marty for believing in me. For Marty to have that kind of faith in me, it took things to a different level with regard to my respect for him."
Schottenheimer's 21-year regular-season record was 200-126-1, a .613 winning percentage. He is one of eight coaches in NFL history with at least 200 regular-season victories. His teams played what was popularly called Martyball.
"He was like some defensive coaches – he wasn't going let his offense beat him," Accorsi said. "He was a defensive-minded coach. It was minimizing mistakes. We didn't turn the ball over. It was a sound defense. Everything was mistake-free, tough, sound and disciplined. The team wasn't going to beat itself – that's basically what Martyball was."
Those Browns teams were also skilled offensively. In 1985, running backs Kevin Mack and Earnest Byner each rushed for more than 1,000 yards. Accorsi drafted Bernie Kosar, who became one of the best quarterbacks in Cleveland history. Webster Slaughter, Reggie Langhorne, Brian Brennan and Hall of Fame tight end Ozzie Newsome formed an excellent corps of receivers.
Accorsi was in his first season in Cleveland in 1984 when owner Art Modell decided to fire coach Sam Rutigliano after a 1-7 start.
"I got there right before camp and I wasn't the G.M.," Accorsi said. "I had heard good things about Marty. He had a tremendous reputation. Modell fired Rutigliano after the eighth game. He had Rutigliano come out to his house that Sunday night. He then called Marty and said, 'I'm going to give you the interim coaching job. You have eight games to prove yourself.' Marty looks him straight in the eye and said, 'I don't want it. They're not going to play for me if they know I'm interim. I want a three-year contract or get somebody else.' Art takes me into the kitchen, and he says, 'What do we do?' I said, 'You better give him the three-year contract.'
"The next year he made me G.M. and Marty the head coach permanently and then we worked together for seven years. We really got close. I was never closer to a coach in my life. We had a special relationship. Complete mutual trust. He was a man of total integrity. Not a phony ounce to him. He could be tough, but you just trusted him."
Schottenheimer had just two losing seasons and led 13 teams to the playoffs. But his postseason record was 5-13. Schottenheimer's teams lost three AFC Championship Games, including two the Browns dropped in infamous fashion to the Denver Broncos. In 1986, they surrendered a late 98-yard, John Elway-led drive before losing in overtime. The following season, Byner fumbled just before reaching the goal line for what would have been the tying touchdown with 1:05 left in the fourth quarter.
"They were excruciating to the point where you never get over those things," Accorsi said. "As tough as he was, Marty was quick to tear up. He always claimed it was tear ducts. He had a sensitivity he didn't want to admit. … I went to the locker room (in Denver) because I wanted to see Byner and tears were just rolling down Marty's eyes. I went up to him to say something and he said, 'The one I feel bad for is Byner, go talk to him.' That's what he was. He cared so much.
"If you look at most of those (playoff losses) – the two championship games and the '85 playoff when we had a 21-3 lead with seven minutes to go at Miami. (Dan) Marino threw a ball out of bounds on fourth down that clinches the game and they called a late hit on Hanford Dixon, a phantom call. That opened the floodgates (to a 24-21 Dolphins victory). Everyone that I can recall, certainly ours, along with the championship game with (Joe) Montana in Kansas City (in 1993), seemed to be a heartbreaker. It's not like he got blown out or his teams fell apart in the playoffs. They were heartbreakers."
Each one of them agonized Carson.
"People are going to say he didn't win the big one," Carson said. "That will resonate with people, but they won't know the other side. And that is he was a masterful teacher of the game. I think anyone who has played for him will say the same thing, that he is a great teacher. And he made players better. He knew his stuff."
Schottenheimer demonstrated that in 1988, when he overcame adversity to lead the Browns to a 10-6 record and a wild card playoff berth.
"We had six quarterback injuries that season," Accorsi said. "I had to get four quarterbacks. Traded for (Mike) Pagel early in the season. (Gary) Danielson, Kosar. When Pagel got hurt it took me all night to get (Don) Strock off the golf course. He was assistant pro at Doral. Four different quarterbacks, six injuries and we made the playoffs. That's the year he got fired. That was the greatest coaching job I've ever been around. And we lose the playoff game by one point in Houston. That's kind of what his whole experience seemed to be, just heartbreak after heartbreak."
In 2000, the Giants crushed Minnesota in the NFC Championship Game and advanced to Super Bowl XXXV against a Baltimore Ravens franchise that Modell had moved from Cleveland and still owned.
"When we went to the Super Bowl, my first call Monday morning was from Marty," Accorsi said. "He said, 'I just called Art Modell. Art's going to the Super Bowl, you're going to the Super Bowl, so it must have been me.' As tough as he was and as macho as he was, he was also humble."
Both Accorsi and Schottenheimer retired following the 2006 season.
"We talked once a week at least," Accorsi said. "We were really close. That doesn't usually happen. He and George (Young, his predecessor as Giants general manager) were the two best friends I ever had in football."
Carson also stayed close to Schottenheimer and visited his mentor soon after learning he was ill.
"I had the opportunity to visit him two years ago down in North Carolina," Carson said. "They had made the announcement that he was dealing with some neurological issues. I flew in and spent time with Marty and his wife, Pat. It was very peaceful. We sat down together, and we talked. When I learned he was going into hospice I knew it wouldn't be long. I am very thankful to have had that opportunity to spend time with him and to be able to thank him personally for being the man that he has been toward me and toward other players that he has coached."
Carson was elected to the Hall of Fame in his 13th year of eligibility, including seven as one of the 15 finalists.
"When I was elected to the Pro Football Hall of Fame, the first call I got was from Marty Schottenheimer," Carson said. "I got phone calls from him, (Bill) Parcells and Willie Jeffries (his coach at South Carolina State). I saved those messages on my phone for years and years and years. I wound up erasing them one by one not paying attention to what I was doing. It hurt my heart, because I wanted to keep those congratulatory messages. I'll never forget Marty said, 'The Lord says good things come to those who wait.' That's what I was thinking of when I was reflecting on Marty and his life and his legacy since this morning."
Accorsi had long championed the Pro Football Hall of Fame candidacy of Young, who was finally elected in 2020. He adamantly believes Schottenheimer deserves the same honor.
"I do think he's a Hall of Famer," Accorsi said. "I understand I'm a little biased. When somebody is one of your two best friends, it's hard to be objective. I look at that record. George Allen never won a Super Bowl. He's in the Hall of Fame. I know Marv Levy went to four, but he never won a Super Bowl and he's in the Hall of Fame.
"Marty was instant competitiveness. There are no exceptions to his record. If you hired him, you were competitive immediately. When he took over a 1-7 football team, we went 4-4 and lost a game on a 56-yard field goal in the wind in Cleveland Stadium. We would have been 5-3. We were competitive immediately with (quarterback) Paul McDonald. I hadn't gotten Kosar yet. He instilled that immediately."
Before ending a phone call today, Accorsi wanted to tell one more Schottenheimer story. They once traveled to a football clinic in Great Britain, which gave them an opportunity to play two daily rounds of golf in Scotland.
"It rains almost every day and there are no carts," Accorsi said. "I told Marty, 'You're never going to get me in two-a-days again.' He drove me crazy. But on the first hole I ever played in Scotland, at St. Andrew's, I'm looking at a 30-foot downhill putt. I'm thinking to myself, 'Don't 3-putt the first hole you're ever going to play in Scotland.' I just lagged it and it went in for a birdie. And Marty runs across the green and there are tears in his eyes and he's looking at me and he said, 'You're 1-under at the British Open.' He was so happy for me. We really had a bond. He was a special guy."
Schottenheimer is survived by his wife of 54 years, Pat, his children Kristen and Brian, and grandchildren Brandon, Sutton, Savannah and Catherine.
A private service will be held by his family, and a memorial service to celebrate his life will be conducted at a later date, according to the Schottenheimer family. A full obituary will be forthcoming over the next few days at which time condolences for the family and donations in Marty Schottenheimer's name may be made to a list of his favored charities.