EAST RUTHERFORD, N.J. –** Ben McAdoo has many issues to confront.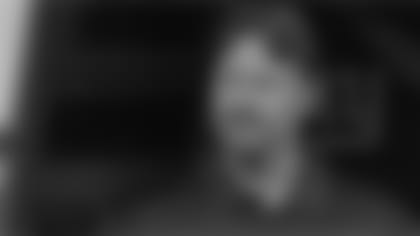 The Giants' new offensive coordinator has taken command of a unit that ranked 28th in the NFL last season. His quarterback, Eli Manning, threw a franchise-record 27 interceptions. Because so many players are without contracts and the free agency signing period doesn't begin for two weeks, he can only guess at the composition of his roster. Oh, and he's never before called plays.
But if these or any of the other issues concern McAdoo, he hid it well on a conference call today that served as his first introduction to the metropolitan area media. McAdoo came to the Giants from the Green Bay Packers, for whom he was the quarterbacks coach the previous two seasons after serving as the tight ends coach for six years.
"I'm confident," said McAdoo, who succeeds the recently-retired Kevin Gilbride. "I've been groomed for this position. It's something that we train our coaches and our quarterbacks for. We've done it in Green Bay and it's something that I feel very confident about. I'm excited for the opportunity, but at the end of the day, play calling isn't just about one guy pulling plays out of a hat. It's the process that you go through during the week. A lot of it has to do with game planning and has to do with ranking plays in the plan. Everyone's involved with it, not just coaches, not just the head coach, but the players as well."
"I'm very excited to be here. I think that being able to come to an organization that is the class of professional sports, to work in an organization with a future Hall of Fame head coach (Tom Coughlin) and a two-time Super Bowl-winning quarterback is very rare. You don't get those types of opportunities. I come from a great place, a great organization with a head coach (Mike McCarthy) that I'm very fond of and players that I have a special relationship and a special bond with. To leave that, obviously your opportunity has to be something special. That's what we're looking at right now."
McAdoo didn't delve into specifics regarding the offense or how it will differ from Gilbride's. But he clearly embraces Coughlin's team-first concept.
"First things first, it's not my system," McAdoo said. "It's our system here and we're building it right now. I've had a chance to meet different guys going through the building. It'll be exciting. A lot of guys are in and out right now, so I haven't had a chance to meet all of them. Victor (Cruz), we had over at the Pro Bowl and Eli, it'll obviously be exciting to get going with those guys. Henry Hynoski, I'm familiar with, he played at Pitt and Southern Columbia High School. I've followed him since he was in high school, really. Rueben Randle, I had a chance to meet yesterday, he's excited to get going. Chris Snee has been in the weight room a ton, I've run into him and (Kevin) Boothe, so it's been great seeing them and I look forward to getting going.
"I know that the offense here in the past has had a ton of success. Last year they didn't play as well as they would have liked. At the same point in time, it's important for everyone to understand that we're going to move forward, we're going to learn from the past, and we're going to work so that doesn't happen again."
McAdoo is familiar with Manning because a) the Giants and Packers faced each other seven times in his eight years in Green Bay, and b) McCarthy and his staff coached Manning and the NFC Pro Bowl team following the 2012 season.
"We spent a little time together out there," McAdoo said. "It's not too rigorous of a routine, but I came away with a great impression of him. In talking to him on the phone and having a chance to sit down with him and just talk to him a little without going into too much detail…I'm very fond of him, obviously, watching him play. There have been some high profile games between the Packers and the Giants over the years. He's played very well in those games."
McAdoo will need Manning to play well in every game. Can the new offensive system help him do that?
"First and foremost, we hang our hat on fundamentals," McAdoo said. "That's going to be the focal point. That's the first thing that we're going to address. The second thing is we want to take care of the football. Taking care of the football is the biggest factor in winning and losing games. Fundamentals can help you there. At the same point in time, everybody on the offensive side of the ball needs to play better. With that being said, everyone comes in with a clean slate. This is going to be a new operation on offense. There are some new coaches in place, there are some coaches who have been here who have been in different spots, but at the end of the day everyone has a clean slate. That's how we're going to start and that's important for the players to know. Also, winning in this league, the quarterback gets a lot of credit and gets too much credit. When you don't play so well and you lose in this league, the quarterback gets a lot of blame and probably too much blame. But that is the nature of the beast."
McAdoo was asked about several other issues concerning the Giants' offense. Here are his thoughts on a few of them:
On whether it's difficult to envision his offense without knowing who will be on the team:*
"I don't think so," he said. "The offensive system here with the Giants has been in place for a long time. The offensive system that I'm coming from I've been in for 10 years. With those two systems being in place as we merge them together and build towards the future, we'll be multiple enough to use any type of personnel."
*On screen passes, which have been unproductive for the Giants in recent seasons:
"We're definitely going to spend time in the screen game," McAdoo said. "It's something that will be a focal point and needs to be installed. We'll have different types of screens, whether they're sidewalk screens or half screens, so forth and so on, just like everybody else in the league. At the end of the day, it comes down to fundamentals and guys getting enough repetitions where they're productive."
*On what he looks for in a running back:
"First and foremost, the runner needs to be able to protect the quarterback," McAdoo said. "He also needs to be able to run with the ball in his hands and do that well. You'd like to have a complete back. Obviously, it's ideal to have a guy who's functional out of the backfield catching the football, but at the end of the day, if they can't protect the quarterback, they're going to have a hard time getting on the field."
*On what he wants in a tight end:
"A tight end, that's a difficult position, first of all, to evaluate," McAdoo said. "They're asked to do a lot of things in this league, whether it's run blocking from the backfield, run blocking at the line, out in space, a lot of things in pass protection and then running routes, whether they're an in-line guy or they're in the slot or in the back. They have a lot on their plate. To me, it was always the best position to coach and in this offense it's the best position to play because you have to learn how to do everything and you have to learn how to do it well at a high level. At the end of the day, you have to find players who you can plug in and figure out what they do best and make sure on the field that they're doing what they do best."