EAST RUTHERFORD, N.J. –** Michael Strahan is again knocking on the door of the Pro Football Hall of Fame, but the Hall's selection committee will determine whether he gets in.
Strahan, the record-setting defensive end who spent his entire 15-year career with the Giants, is among the 15 modern-era finalists for the Hall of Fame's Class of 2014. He was a finalist last year, the first in which he was eligible, when he made the cut to 10 in the committee's voting, but was not elected to the Hall.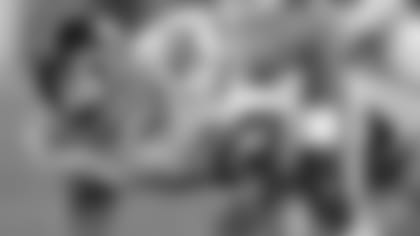 Giants All-Time Sacks Leaders](http://www.giants.com/photos/photos/Top-10--Giants-Sacks-Leaders/bb39e9b3-66ff-406b-86c6-f3331ca54720)
The 46-member committee will meet in New York on Saturday, Feb. 1 – the day before Super Bowl XLVIII is played in MetLife Stadium – to select this year's class, which will be announced that night.
Strahan played for the Giants from 1993-2007. He is the franchise leader in games played (216) and sacks (141.5), as well as the NFL's single-season sacks record-holder with 22.5 in 2001. Strahan was a four-time first-team All-Pro: 1997, 1998, 2001 and 2003. He was the 2001 NFL AP Defensive Player of the Year. Strahan was selected to seven Pro Bowls. Only four Giants were selected to more Pro Bowls and all are Hall of Famers: linebackers Lawrence Taylor (10) and Harry Carson (9), offensive tackle Rosie Brown (9) and cornerback Emlen Tunnell (8).
Strahan was a captain of the 2007 Giants team that won Super Bowl XLII.
When he retired following the 2007 season, Strahan's 141.5 sacks placed him first among active players. Six years after his last game, he is still fifth on the NFL's official career sack list.
One other finalist has ties to the Giants: kicker Morten Andersen, who played for the team in 2001, a blip in a 25-year career in which he set NFL records for career points (2,544), most field goals (565), and games played (382).
Joining them as modern-era finalists are four first-year nominees: linebacker Derrick Brooks, coach Tony Dungy, wide receiver Marvin Harrison, and tackle Walter Jones. The other finalists are running back Jerome Bettis, wide receiver/return specialist Tim Brown, former San Francisco 49ers owner Edward DeBartolo, Jr., linebacker/defensive end Kevin Greene, defensive end Charles Haley, safety John Lynch, wide receiver Andre Reed, guard Will Shields, and defensive back Aeneas Williams.
They are joined by two senior nominees, punter Ray Guy and defensive end Claude Humphrey. Guy and Humphrey were selected as senior candidates by the Hall of Fame's Seniors Committee. The Seniors Committee reviews the qualifications of those players whose careers ended more than 25 years ago.
The Hall of Fame's ground rules stipulate that between four and seven new members will be selected each year. No more than five modern-era nominees can be elected in a given year, so a class of six or seven can be achieved only if Guy and/or Humphrey are elected.
George Young, the Giants' late general manager, was one of the semifinalists who did not make the cut to 15.
If elected, Strahan would become the 20th Hall of Famer who spent all or a significant portion of his career with the Giants. That is the third-highest total among the 32 NFL franchises, behind Green Bay (21) and Pittsburgh (20). The Giants' Hall of Fame representatives include Wellington Mara, Mel Hein, Frank Gifford and Taylor.

CLICK HERE FOR GIANTS IN THE HALL OF FAME >>