NEW YORK –** Michael Strahan, one of the most dominant and popular players in the nine-decade history of the Giants, is officially a pro football immortal.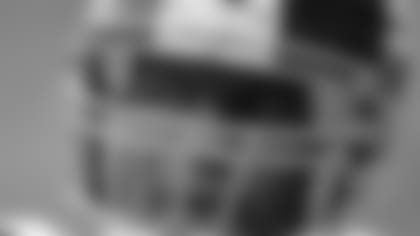 The defensive end, who played his entire 15-year career with the Giants from 1993-2007, was today elected to the Pro Football Hall of Fame.
"I'm excited to have made it and to join the other members of the Hall of Fame," Strahan said. "And to be inducted with the class I'm inducted in, guys that I admired when I played against them, guys I admired when I watched them, even though they're from a different era. They're guys of high character. That's all you can ask for, to be with a group like that, and I'm honored to be with this group."
Strahan is fifth on the NFL's career sack list with a Giants-record 141.5 and he owns the league's single-season sack record with 22.5 in 2001. He was a four-time first-team All-Pro (1997, 1998, 2001 and 2003), the 2001 NFL AP Defensive Player of the Year and a seven-time Pro Bowler. Only four Giants were selected to more Pro Bowls and all are Hall of Famers: linebackers Lawrence Taylor (10) and Harry Carson (9), offensive tackle Rosie Brown (9) and cornerback Emlen Tunnell (8).
Although he is best known as a fierce pass-rusher, Strahan took pride in being a complete defensive end.
"I was taught by Earl Leggett, my defensive line coach my first four years and then by Denny Marcin and Mike Waufle, you're not one-dimensional, you're not in the game just to rush the passer," Strahan said. "You're in the game to be a complete player. I never wanted to be that player that if a team needed a yard, you were the guy they looked at and say, 'We're going to get them right there.' I wanted the opposite. I wanted to look at me and fear even thinking about running at me. I enjoyed playing the run more than I enjoyed playing the passer. I think that's why I took so much pride in it. I wasn't a pass rusher converted to a run player. I was a run-stopper who happened to be able to rush the passer pretty well, also."
Strahan played a Giants-record 216 regular-season games and he was a captain on the 2007 team that won Super Bowl XXI.
Strahan becomes the 20th Hall of Famer who spent all or a significant portion of his career with the Giants. That is tied for second with the Pittsburgh Steelers for the second-highest total among the 32 NFL franchises, behind only Green Bay (21). The Giants' Hall of Fame representatives include Wellington Mara, Mel Hein, Frank Gifford and Lawrence Taylor.
"I remember the first day I walked into the locker room like it was yesterday," Strahan said. "Mr. (Wellington) Mara, Lawrence Taylor – Harry Carson was already gone, but I remember the first time I meant him. Frank Gifford – the first time I met those guys I learned more about the history of the Giants. And now to be included with the great players in the history of the NFL that go in as a New York Giant, it's unbelievable."
The entire Giants organization celebrated Strahan's Hall of Fame election.
"I'm thrilled for Michael," said John Mara, the Giants' president and chief executive officer. "He was one of the greatest players in franchise history. Without him, there's no way we would have won Super Bowl XLII. Not only was he a huge part of that team because of his play on the field, he was the leader of that defense. The other players looked up to him. He established a mark for consistency during his outstanding 15-year career. Very few people played the position as well as he did, particularly because he played the run as well as being a great pass-rusher. He was a leader and a great player and I'm delighted that he is going to his rightful place in Canton."
"I think it's appropriate that Michael has been elected to the Hall of Fame," said Giants chairman Steve Tisch. "He has earned the right to be in the Hall. I think he was a Hall of Fame player. The years he gave the Giants were fantastic for the Giants and for him personally. He's more than a great football player, as evidenced by the work he's now doing and his popularity. People really like Michael Strahan. He's charismatic, he's smart, he's funny, he's charming. I think the Hall is a better place now that Michael Strahan is going to be there."
General manager Jerry Reese and head coach Tom Coughlin also lauded the selection of Strahan.
"It's hard to find guys with everything, but this guy had everything…size, speed, power, toughness, endurance, motor, smarts, leadership, heart, love for the game, but what I admired most about Michael was his pride," Reese said. "No matter what the circumstances were, when he walked out on that field on Sunday, he was going to give it all to you. There aren't many guys who can say that."
"From the time that he retired, I always felt that he would be simply waiting before he became a Hall of Famer," Coughlin said. "That's what I always thought he would be and rightfully so. He takes his place along with the great, great defensive players of the game and the great Giants of the game who have been inducted into the Hall of Fame.
Strahan is joined in the Hall of Fame Class of 2014 by linebacker Derrick Brooks, tackle Walter Jones, wide receiver Andre Reed and cornerback Aeneas Williams, along with two senior nominees, punter Ray Guy and defensive end Claude Humphrey.
All of them were emotional about being selected to the Hall. So, will it change Strahan's already busy and accomplished life?
"It's incredible," he said. "Football changed my life, period. And now I'm sure this will definitely change my life as well. I just think about being recognized as one of the best that's ever played in the greatest sport in our country, and being respected for the way that you played it. That in itself changes my life. Maybe not for anybody else, but it does for me, and that's very important to me.
"I don't know what's going to happen form here on out. I guess we'll see everything that hits. It's one of those things that's overwhelming at first. But once the Super Bowl is over and once I have a chance to sit back and reflect, and have some time off to think about it, then I think all of the emotions are really going to hit me."