How can David Wilson improve? And how will Coach Tom Coughlin improve the intensity of the team in general?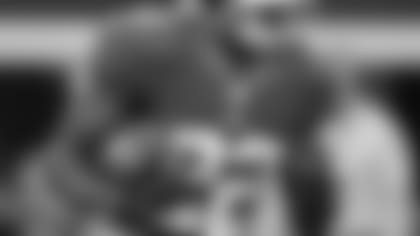 READ MORE FROM EISEN'S MAILBAG Dear Jaret:
There's nothing wrong with the intensity of the team. Nothing wrong with effort or desire. The loss in Dallas wasn't about that. It was all about taking care of the ball, and that's where Wilson comes in. He simply must learn to secure the ball. Tiki Barber had a fumbling problem until Tom Coughlin arrived in 2004. Coughlin taught Barber to carry the ball high and tight. The problem vanished and Barber became the most productive back in Giants history. Wilson is going to have to learn a similar lesson.
When was the Giants last six turnover game?
Dear Matthew:
This is known as a shameless plug. That information was in my postgame notes, which were posted this morning on Giants.com. You can learn all kinds of interesting statistical tidbits by reading my notes after every game and on Tuesdays. And the answer is…Dec. 26, 2010 at Green Bay. And before that, it was Dec. 12, 2004 at Baltimore. Yes, the Giants lost those games, too.
Is there a rule preventing teams from having two men back on punt returns? This may sound crazy but couldn't placing someone athletic and big like DaMonster (Damontre Moore) as blocker back at the point of return create a situation where no gunner will want to get blown up by him?
Dear Jay:
No such rule exists. You can put as many players back there as you want. But if you put an extra blocker next to the punter, you're taking one away elsewhere. Why let the gunners run down the field unimpeded? It seems better to hold them up at the line of scrimmage. If they're fast enough they're going to elude a big blocker like Moore. And here's another flaw in the theory – Moore was inactive with a shoulder injury and I don't know when he'll play.
While I am sure the turnovers will not continue at this pace, should I be encouraged by the fact the G-men scored 31 points even with six turnovers?
Dear Brian:
Absolutely. Not every team could have done that. Even after repeatedly shooting themselves in the foot, the Giants were still in a position to pull out the game in the fourth quarter, thanks largely to their prolific offense. It's clear the Giants are capable of scoring a lot of points. Once they stop turning over the ball. That should enable them to win their share of games.
What do you think the Giants will do about fixing the ground game?
Dear Michael:
The Giants will reportedly try out running backs on Tuesday. Like all teams, the Giants frequently try out players who are looking for a job. This week, there is perhaps a bit more urgency after their performance last night.