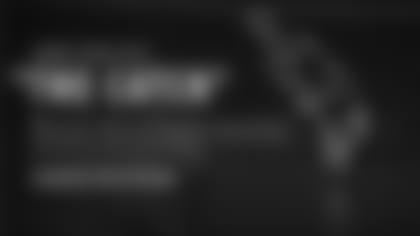 ](http://www.giants.com/interstitial/beckham13.html)
EAST RUTHERFORD, N.J.  – The Giants announced today the unveiling of More Than Just 'The Catch' -- an interactive website commemorating Odell Beckham Jr.'s record-breaking rookie season.
Fans can visit Giants.com/Beckham13 to experience an interactive timeline which chronicles the rookie's journey through his first NFL season – starting from his standout performance at the NFL combine through his award-winning night at the NFL Honors ceremony.
The fan friendly website has a host of interactive features and content, including exclusive and never-before-seen videos, highlights and photos. Fans are also encouraged to share their favorite Beckham moment on Twitter and Instagram by using the hashtag #Beckham13.
In addition, the Giants have created an animated flipbook reliving the wide receiver's iconic one-handed catch that captivated the world. A video featuring David Tyree, whose miraculous helmet catch in Super Bowl XLII helped propel the Giants to a come-from-behind victory against the New England Patriots, flipping through the 100-page color booklet will be posted on Giants.com. Both catches are generally regarded as among the best in NFL history.
After missing the first four games of his NFL career due to a hamstring injury, Odell Beckham Jr. exploded into the national conscience in Week 12 after a spectacular one-handed touchdown reception against the Dallas Cowboys on Sunday Night Football. He instantly became a social media phenomenon, garnering over 700,000 mentions on Twitter over the next three days, as well as being herald by sports legends such as LeBron James and Shaquille O'Neal.
However, his season was More Than Just 'The Catch.' Beckham had one of greatest seasons by a rookie wide receiver in NFL history, despite playing in only 12 games.
His season totals were 91 catches for 1,305 yards and 12 touchdowns, all franchise rookie records. He is the first wide receiver in NFL history to reach 1,000 yards after missing the season's first three games (he missed the first four with the hamstring injury). Beckham set NFL records for most catches and yards in the first 12 games to start a career. His 91 catches were the second-highest total in franchise history, topped only by Steve Smith's 107 receptions in 2009. He joined Hall of Famer Michael Irvin as the only players in NFL history with at least 90 receiving yards in nine consecutive games. Irvin accomplished the feat in 1995.