EAST RUTHERFORD - Like a wedding or a graduation, the NFL Draft is an unforgettable event for those players selected. Almost every veteran player can recite where he was, who he was with and who broke the news to him. As the Giants prepare for this year's draft, which is scheduled for April 22-24, several players this week looked back on the day they entered the NFL.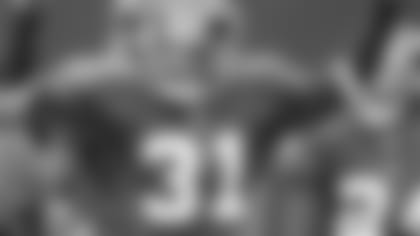 CB Aaron Ross, Texas, first round selection by the Giants in 2007 (20th overall pick)
Q: What do you remember about the day you were drafted?
Ross: "The day was I drafted, man, was the happiest moment of my life. I remember turning around and my mom was crying. I looked at my grandmother and she was crying. And then all I remember is me starting to cry."
Ross: "In San Antonio, Texas at my mom's house. All of my family and friends were sitting in front of the TV. The Giants came up and I was actually outside playing with my little nephew DeMarcus, and my mom ran out and told me that they had my name on the little 'probable picks' thing. I came in and they called my name. Coach Coughlin called me, and I turned around and my grandma was crying and mom, brother, everyone was crying. It was really emotional."
Q: Was there a big family party the day of the draft? How many people were there?
Ross: "Oh yeah. Maybe 30 people came."
Q: So you watched the draft from the first pick and then decided to go play catch?
Ross: "Yeah, it got some of the nerves out of my system."
Q: Were you nervous that day?
Ross: "I was. And then I called Michael Griffin (a fellow DB from Texas), who was picked 19th (by the Tennessee Titans). I called him to congratulate him, then Coach Coughlin called in and I had to click over."
Q: Did you have any inkling at all that the Giants were going to pick you?
Ross: "I didn't think it was going to be the Giants at all, to tell you the truth. I don't remember talking to the Giants or anything. The Giants weren't on my mind at all."
Q: What were your thoughts after talking to Coach Coughlin?
Ross: "I was happy. I grew up a Dallas fan, but I remember watching the Giants a lot. I loved watching little Dave Meggett and those type of guys. I knew a little bit of the history of the Giants, so I was pretty excited. Then I came to New York, that's the best media place of them all."
Q: When your name came up on the screen was there a big cheer?
Ross: "Everybody was happy. There was a big cheer and everyone started crying. Everybody ran inside and it was definitely memorable."
Q: Is being a first round draft choice something you will carry around with you for the rest of your life?
Ross: "Without a doubt. In the first round there are a lot of cornerbacks that are always projected to go in the draft. To become the first pick for the New York Giants, that's overwhelming."
Q: Do you consider the day you were drafted one of the highest points of your life?
Ross: "Oh yeah, without a doubt, it was a dream come true. It was one of the best things that ever happened to me."