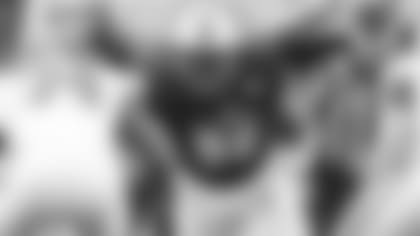 N.C. State head coach Dave Doeren and defensive coordinator Dave Huxtable break down B.J. Hill:
The Giants picked up a second selection in the third round (69th overall) of the 2018 NFL Draft in the trade that sent Jason Pierre-Paul to the Tampa Bay Buccaneers. It was only appropriate the Giants decided to use it on another defensive lineman, B.J. Hill, a four-year senior from N.C. State.
Hill started five games as a freshman as a member of Head Coach Dave Doeren's first recruiting class, and went on to start 41 straight games to finish his career with the Wolfpack. Reliability is an undervalued trait in prospects, something Hill showed throughout his time at NC State.
"You're getting a consistent guy," Doeren said. "Day in, day out, he has the same personality, same work ethic, and the same grind. You know exactly what's coming to work. He's a dedicated guy that loves the game. He's a solid technician, extremely strong. He comes from a great family and is blue collar all the way."
Those sentiments were echoed by his defensive coordinator for the Wolfpack, Dave Huxtable, who was impressed from the start of Hill's recruiting process.
"He was a 245-pound high school kid playing running back and showed that mobility and toughness," he said. "When you had the chance to sit down with B.J. and talk with him, you knew he was the type of kid you wanted in your program. He had great character and loved the game."
Hill displayed those traits with his play on the field.
"What I remember most about him is his consistency," Doeren said. "As a former linebackers coach, you always want to have those inside defensive linemen that can completely control three blockers. If you have a good nose tackle and a three-technique, they can control three guys and he did that for us."
"He's so humble," Huxtable added. "Every player wants to make plays and that's what the game is about, but B.J. is the ultimate team player. He is going to do his job. He was one of the most dependable guys on the defensive unit. Never had to worry about B.J. not being where he was supposed to be and not fighting the fight and staying tough in the battle. That's who B.J. Hill is."
Hill played mostly the one-technique (he also played the three-technique between the guard and tackle) for the Wolfpack, which means he was lined up between the center and guard. That position doesn't provide a lot of glory with big numbers or recognition, but Hill embraced it.
"You talk about those double-teams and still being able to make a play, he's strong," Huxtable said. "He's just a strong, powerful kid. He's never going to give up in the fight. B.J. is that guy that fights the fight and makes the other guy quit because the other guy knows B.J. won't because he has watched him on film."
"Just watching how easily he can control blocks and stay square to the line of scrimmage," Doeren added, "it's effortless for him. He locks people out, stays in his gap. We try to establish the line of scrimmage on their side of the ball defensively, and he makes it look easy and I think you take it for granted now that he's gone. To see him day in and day out do it over and over and over and over, it's really impressive."
Hill finished his college career with 9.0 sacks, but it was his run defense that stole the show, thanks to his willingness to be coached and excellent technique.
"First and second down, the guy is never on the ground," Doeren said. "He has great feet and is extremely strong. His hands will be in the right place and they're big. He can control blocks and shed blocks and play primary gaps and secondary gaps if he is asked to. Fundamentally, he is the best inside defensive lineman I've seen on a football team I've coached."
"Those guys have to every single play love hitting something 300 pounds, or sometimes 600 pounds with the double-teams in there," Doeren continued. "It's not something that's for most people. You have to have a little bit of crazy to you to play that position and be great at it. It is the fundamentals and technique that B.J. bought into here that let him be really good in that area. The blue collar mentality is real with him."
It's not a small statement given N.C. State had all four of their starting defensive linemen drafted this year, including fifth overall pick Bradley Chubb, who was drafted by Denver. Fellow defensive tackle Justin Jones went to San Diego Chargers in the third round, while defensive end Kentavius Street fell to round four to the 49ers after suffering a torn ACL during a workout.
"I have never seen, and I've been doing this a long time, a group of guys as close as them," Huxtable said. "They were brothers. Even though they didn't share the same blood, they had a love for each other that was unmatched. But they were very competitive. Deep down inside, you know they were competing with each other and what made each one special is that they wanted to be the best and they worked hard to earn the opportunity they have today. They were a fine group to be around and they will be missed."
Hill became such a good player, according to his two coaches, because of the extra work he put in during the week.
"One thing he did was maximize the resources we had here," Doeren said. "He would go into the training room extra and work on areas that he thought he needed to be better, more flexible, or a body part had bothered him in the past during training exercises. He was on top of his body and knew himself.
"Being an inside player that starts 41 straight games says a lot about his mental toughness too. Those guys are never 100 percent. There's always something, but he was able to manage it and play through it and it didn't impact his game in most cases."
"B.J. worked extremely hard," Huxtable added. "He is very passionate about the game. B.J. put in that overtime. Every day in the film room, in the weight room, in our indoor facility on Saturday morning, you just saw that work ethic and that want to and he continued to develop. Our strength coaches did a great job with B.J. and you see the kid developing, getting bigger, getting stronger, being more explosive."
The Giants are also trying to establish a new culture in the locker room with all the new additions General Manager Dave Gettleman brought in during the offseason.
"He's the best," Huxtable raved. "I mean that very seriously. He's the best. He's smart. He has a great football IQ and works at the game. He's tough. There's not a tougher kid I've been around. He's durable. I think one of his best abilities is his durability. He was never on an injury list. He never missed a rep of practice. He's just a tough, durable player and he is going to be a great teammate and guy in the locker room. He will earn that respect. I know it's his coach talking and you have to find out for yourself, but I'm telling you, he's the best, the best I've been around. He's very serious about the game, but he has another side where he's just fun to be around."
"He's going to be one of the grinders on that team," Doeren said. "He will establish culture with work ethic, for sure. He will not be afraid to get up and talk in front of the team and say what needs to be said. He is not a cheerleader by any means, but he is a very aware person and understands what good culture is and what bad culture is, and he'll be able to address situations when he feels like it is time to do it. He will be a positive impact on other people. He's a very Christian young man that has his life together off the field, and he cares about his teammates and how they're acting."
The Wolfpack played a traditional four-man front, and Hill will have to adjust to playing in the more multiple 3-4 attack devised by defensive coordinator James Bettcher.
"I think it will be an easy transition for B.J. because he has played multiple positions on the line of scrimmage," Huxtable said. "He's played all those different alignments across the line of scrimmage, and I think it will be an easy transition for him, regardless of where they put him."
"He'll continue to get better," Doeren said. "He'll learn more there than he did here because of the expertise in the room, not just the coaches but the veteran players around who will give him some crafts to help his game. On top of all it, I just think whatever his coaches tell him will be the bible to him. He's going to believe it, work at it and go out and do what they want him to do."
Gettleman also spoke about the pass rush potential for Hill. Bettcher expects his players to penetrate and get up field to disrupt the quarterback in the pocket, something Hill did at N.C. State but not as consistently as he stopped the run.
"Where I think he can grow is in the pass rush," Huxtable said. "I think he worked very hard in that and I think that's an area that he's going to grow and get better and be a three-down player for the Giants. He's only going to get better at the next level because it is all football for him."
"I definitely think he has the power and speed to be a competitive guy there," Doeren said. "The biggest thing for him will be the pass rush aspect of it for third down. He ran a 4.95, so he's not one of those space eaters that can't move. He can run. He has gotten better every year, to his credit. He works so hard. He'll continue to improve, and I know that's an area he will work hard at."
Third round picks are supposed to be able to contribute quickly in the NFL, and as a four-year player from a big ACC program, the expectations are there for Hill. Gettleman and head coach Pat Shurmur have spoken about rotating defensive linemen, and Hill be part of that.
The Giants have to be optimistic about Hill, not only because of what he does on the field but because of the type of person he is when he's off it.
"I'm just so proud of B.J. and so thankful for him for what he did for our program and wish him all the best," Huxtable finished. "You have something something special in B.J. Hill, not just as a ballplayer but as a person, as well."