*The Giants have bolstered their offensive line with Free Agent D.J. Fluker: *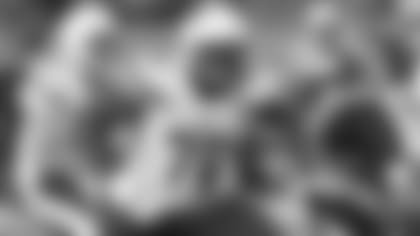 EAST RUTHERFORD, N.J. –
Ehe Giants today realized their goals of adding skill, experience, versatility and depth to their offensive line by signing just one player, former first-round draft choice D.J. Fluker.
The 11th overall selection in the 2013 NFL Draft by the San Diego Chargers, Fluker started 61 of a possible 66 regular-season and postseason games in which he played the last four seasons. He was released on March 7 by the now Los Angeles Chargers.
Fluker, 6-5 and 339 pounds, turns 26 on Monday.
"I'm definitely looking forward to a new start," said Fluker. "Hopefully, I can make a big impact on the offensive line. I think the Giants give me the best opportunity to be successful."
In his first two seasons, Fluker started 31 games in the regular season and two playoff games at right tackle. He moved to right guard in his third year, and started 12 games there in 2015, and all 16 in the 2016 season.
John Jerry, the Giants' incumbent right guard who was also a 16-game starter, is a free agent.
"D.J. is a young, versatile big man with lots of starts in this league," said Giants general manager Jerry Reese. "He will bring size, toughness and competition to our offensive line unit."
Said Fluker,when asked if he had a preference of position, "Wherever they want me to be successful and the team to be successful. They'll move me around a little bit. Wherever they want to put me is fine."
Fluker was born and raised in New Orleans' Lower Ninth Ward, which his family fled just before the arrival of Hurricane Katrina in 2005. They moved first to Biloxi, Miss., and later to Mobile, Ala. After more hardship, including the loss of a temporary home to fire after they briefly returned to Mississippi, Fluker found his footing at Foley (Ala.) High School, where he moved from defensive tackle to offensive tackle.
Fluker was good enough to earn a scholarship to the University of Alabama, where he was a second-team All-American and the Crimson Tide won BCS national championships in his sophomore (2011) and junior (2012) seasons. He also earned a degree in health studies before foregoing his senior season to enter the draft.
Fluker last season took note of his new team.
"It was great watching them play last year and seeing how well they did," he said. "With Eli Manning, Odell Beckham (two other Louisiana natives) and the rest of the team, they're doing a great job. And they have a great defense. I cannot wait to be a part of the team."