EAST RUTHERFORD, N.J. –** Wide Receiver Hakeem Nicks responded to numerous questions about his future, though he would have preferred to focus on the game against Washington.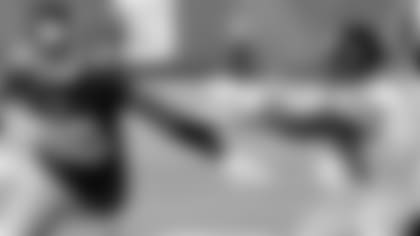 Players to Watch vs. Washington "I want to fly around with my teammates, this is an opportunity for me to put the jersey on for the last game of the season and I'm looking forward to that," he said. "We have to get a W, we have to finish strong.
"I'm looking forward to it. It's another opportunity for me to go out and make plays. I feel like that's what I've been doing since I've been here. I want to be known as that and I'll continue to do that."
Whether he continues to do that for the Giants in 2014 is a question that will be answered in the coming months. Like any free agent, Nicks said he would like to return to the team that drafted him in the first round in 2009.
"Like I always say, we know that I want to be here," Nicks said. "I understand the business side of things. I'm sure we're going to talk. We're going to talk next week from my understanding, but we still have one game left to play, that's all I'm focused on, putting this uniform on and going out there and competing with my teammates and having fun. … When the season's over with I'll just take the next step and see where it goes from there."
Cruz and Nicks have not only developed a partnership on the field, but a close friendship out of uniform. Cruz certainly wants it to continue.
"It's tough to think about because Hakeem is such a fixture here for me for so many years," Cruz said. "But obviously, I understand the business side of it. I just went through it myself a year ago. I understand exactly what he's going through. Hopefully, we can see him back. That's definitely the plan that I want to see in my book. Obviously, you have to deal with the business side of it and he has to take care of his family and do what he wants to do. You kind of give it thought, but you don't give it too much thought. You just want him to do what he has to do for himself."
Nicks was asked if he's considered the possibility he might not play with Cruz again.
"I thought about it," Nicks said. "But at the end of the day, it's business and I understand the business side of things. I can't really say too much right now, we still have a game left. I want to go out there and compete, I want to have fun and I want to fly around."
He'll do that on Sunday. The questions about his future will be answered in the offseason