EAST RUTHERFORD, NJ - Notes and statistics from the Giants' 17-14 victory over the Washington Redskins.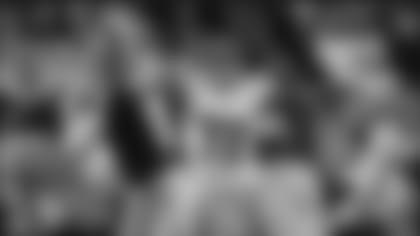 *The Giants finished their season 10-6, their fourth double-digit victory season in Tom Coughlin's seven years as head coach.
*The Giants were 5-3 at home and 5-3 on the road, the fourth time in the last five years they've had a winning record as visitors.
*The Giants finished 3-3 vs. the NFC East, including 2-1 on the road. Under Coughlin, the Giants have been 4-2 four times and 3-3 three times in division games.
*Because Green Bay defeated Chicago, the Packers claimed the NFC's sixth and final playoff berth on a tiebreaker (they defeated the Giants last week). This is the first time the Giants did not make the playoffs in back-to-back seasons since 2003-04. This is only the second time the Giants have won at least 10 games and not made the playoffs. In 1988, a 10-6 Giants team lost on the final day of the season to the Jets and did not make the field. They are the sixth double-digit victory team to fall short of the postseason since the NFL's realignment in 2002, joining Miami in 2003, Kansas City in 2005, Cleveland in 2007, New England in 2008 and Tampa Bay this year. The Giants and Buccaneers are the first NFC teams and the first pair of 10-win teams to miss the playoffs in the same season since the Philadelphia Eagles and San Francisco 49ers in 1991.
*The Giants earned their sixth consecutive victory over the Redskins, their longest winning streak over Washington since they won six in a row from 1993-95 and their longest streak vs. an NFC East opponent since they defeated Philadelphia eight consecutive times (plus once in the playoffs) from 1997-2000. The Giants have won nine of their last 10 games against the Redskins.
*The Giants have won their last five games in Washington, the first time in their history they've won five consecutive road games against one opponent.
*The Giants have won seven of their last eight games in FedEx Field, where they are 8-4-1.
*The Giants' 325 total yards and 14 first downs were their lowest totals in a victory this season. They gained 334 yards in a victory over Detroit on Oct. 17 and 17 first downs in a win vs. Jacksonville on Nov. 28.
*The Giants had a two-play, 95-yard touchdown drive in the third quarter, their longest series since a 97-yard march at St. Louis on Sept. 14, 2008.
*The Giants tied their season low with just two penalties (for 24 yards). They also had two penalties vs. Detroit on Oct. 17.
*Washington rushed for 67 yards, the ninth time this season the Giants held their opponents to less than 100 yards on the ground. They were 9-0 in those games.
*Eli Manning was not sacked for the seventh time this season. The Giants allowed only 16 sacks all season, including four in the last nine games. That shattered the previous team record in a 16-game schedule, which was 24 in 2002. The Giants did not give up a sack in two games vs. the Redskins.
*Manning completed 17 of 29 passes for 243 yards, one touchdown and one interception. The touchdown pass – a 92-yarder to Mario Manningham – was his 31st of the season, the third-highest total in Giants history. Y.A. Tittle threw 36 in 1963 and 33 in 1962.
*Manning finished the year with 4,002 yards to become the first Giants quarterback with two 4,000-yard seasons. He threw for 4,021 yards in 2009. Kerry Collins (4,073 in 2002) and Phil Simms (4,044 in 1984) are the only other Giants to pass for more than 4,000 yards.
*Manning set a franchise single-season record with 339 completions. The old record of 335 was set by Collins in 2002.
*Manning's 539 passes were the second-highest total of his career (he threw 557 passes in 2005) and the fourth-highest total in Giants history (Collins threw 568 passes in 2001 and 545 in 2002).
*Manning tied a franchise record by throwing his 25th interception (which was picked off by Kevin Barnes after the ball bounced off Manningham's hands late in the first quarter). Frank Filchock (1946) and Charlie Conerly (1953) were the other Giants quarterbacks to throw 25 interceptions in a season.
*Manning's 92-yard throw to Manningham was his second career-long touchdown pass in as many weeks. Last week in Green Bay, Manning and Manningham teamed up on an 85-yard score. The 92-yard pass was the third-longest in Giants history. It is exceeded in length only by Earl Morrall's 98-yard throw to Homer Jones at Pittsburgh on Sept. 11, 1966 and Norm Snead's 94-yarder to Rich Houston vs. Dallas on Sept. 24, 1972.
*Manningham has 14 career touchdown passes, including 12 that covered 20 or more yards.
*Ahmad Bradshaw was the starting running back for the first time since Nov. 21 at Philadelphia. He rushed for only 22 yards on 15 carries. Bradshaw finished the season with 1,235 rushing yards, 88 less than he had in his first three seasons combined. It was the seventh-highest total in Giants history.
*Bradshaw finished with 1,549 yards from scrimmage, the highest total by a Giant since Tiki Barber had 2,127 in 2006.
*Brandon Jacobs rushed for 49 yards on 13 carries to finish the season with 823 yards. Bradshaw and Jacobs are just the second pair of Giants teammates to rush for at least 800 yards in the same season. In 2008, Jacobs ran for 1,089 yards and Derrick Ward added 1,025.
*Jacobs scored the Giants' first touchdown on a two-yard run. It was his team-high ninth rushing touchdown of the season and the 49th of his career, tying Rodney Hampton for second on the Giants' career list. Barber is first with 55.
*Manningham caught four passes for 101 yards, his third consecutive 100-yard game. He finished the season second on the team (behind Hakeem Nicks) with 60 catches for 944 yards and nine touchdowns.
*Derek Hagan started for Hakeem Nicks (broken toe) and had a career-high 70 receiving yards on six catches.
*Osi Umenyiora had both of the Giants sacks and forced fumbles on each, recovering one himself (Kenny Phillips recovered the other). Umenyiora and Justin Tuck tied for the team lead with 11.5 sacks apiece, the first time the Giants had two players with at least that many sacks since 2005, when Umenyiora had 14.5 and Michael Strahan finished with 11.5.
*Umenyiora led the league with 10 forced fumbles, tying Jason Taylor's record set in 2006 with Miami. The stat has been kept since 1994.
*Umenyiora has at least one sack in each of his last four games vs. the Redskins.
*The Giants finished the season with 46 sacks, their highest total since the 2007 Super Bowl champions led the NFL with 53.
*Lawrence Tynes kicked a 20-yard field goal and two extra points to finish the season with exactly 100 points. It was his second 100-point season in a row and third in his four years with the Giants.
*Terrell Thomas led the Giants with 10 tackles (seven solo).
*Keith Bulluck intercepted Rex Grossman in the third quarter, his second pick of the season and the 21st of his career.
*Michael Clayton had his first two receptions as a Giant, for a total of 19 yards.
*The Giants' inactive players were Nicks (toe), cornerback Corey Webster (ribs/knee), center Shaun O'Hara (Achilles), defensive end Dave Tollefson (knee), offensive linemen Mitch Petrus and Jamon Meredith, wide receiver Duke Calhoun and tight end Jake Ballard.
Webster had started every game this season at left cornerback. He last sat out when he missed the final three games of the 2009 season with a knee injury. Webster was replaced in the starting lineup by Aaron Ross.
With O'Hara sidelined, the Giants again reshuffled their offensive line. Rich Seubert moved over from left guard to start for the seventh time this season at center. David Diehl, normally the left tackle, played guard and Shawn Andrews played tackle.
Seubert suffered a dislocated right kneecap with 8:57 remaining in the first quarter and Kevin Boothe came on to play center for the first time in his football life.
"I've been playing a lot of center recently in practice, so it wasn't completely foreign, it wasn't like I had never, ever done it before," Boothe said.
*Seubert's injury hit all of the Giants hard. He is one of the team's most popular players and had performed extremely well at both guard and center this season.
"Watching him go down, I didn't have a good feeling," guard Chris Snee said. "We certainly wanted to win this one because the only thing he said to us when we came in at halftime was to win this game and we did."
"Helping put him on the cart, I just held his hand when it was going down and he was in pain and I just told him I loved him and keep his head up," Diehl said. "He just said to make sure to win this game and beat these guys, and it just shows the type of guy that he is.
"I thought about (him) every time I went out there. He's one of your brothers. That's a guy that I've played next to for seven years and that's just unfortunate, especially to get hurt in the last game. You never want to get hurt, especially in the last game of the regular season. I know him and he's been such a contributor to our offensive line and people say oh, he's filling in at center - he did more than just fill in. He's a guy who stepped up, took a leadership role when he needed to and did a great job of making calls and doing everything out there and you can't do anything but take your hat off to a guy who does that stuff."
*The Giants' game captains were Diehl and Umenyiora.
*The Giants' 2011 regular season opponents are set. In addition to home-and-home series with NFC East rivals Dallas, Philadelphia and Washington, the Giants will host St. Louis, Seattle, Green Bay, Buffalo and Miami. The non-division road games will be in Arizona, San Francisco, New Orleans, New England and New Meadowlands Stadium, where they will be the visitors against the Jets.