EAST RUTHERFORD, NJ - Postgame Notes, Statistics and anecdotes from the Giants 33-20 loss to the Dallas Cowboys.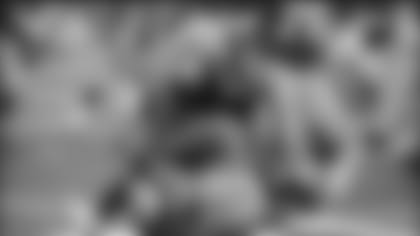 *The Giants had their five-game winning streak snapped and fell to 6-3. If Philadelphia wins in Washington Monday night, the Giants and Eagles will be tied for the NFC East lead. The Giants play in Philadelphia next Sunday night.
*The Giants' three-game winning streak against the Cowboys ended as the teams split their season series, as they last did in 2008. Dallas leads the regular season series, 56-39-2.
*The Giants gained 480 yards, their third consecutive game with at least that many yards of offense. They totaled 487 yards last week in Seattle and 497 in Dallas on Oct. 25.
*The Giants' 373 net passing yards was their highest total since they threw for 379 yards last Dec. 13 – also a home loss to a division team, Philadelphia.
*The Giants did not allow a sack for the second consecutive game, the first time they've done that in back-to-back games since Sept. 20 and 27, 2009, vs. Dallas and Tampa Bay.
*Dallas gained 427 yards, the highest total by a Giants opponent since Minnesota totaled 487 yards in the 2009 season finale. The Cowboys' 324 passing yards were the most allowed by the Giants since the Vikings had 358 on Jan. 3.
*Eli Manning threw 48 passes, tying the season high he set on Sept. 26 vs. Tennessee, the Giants' other home loss. The 48 passes are the most he's ever thrown in a game without being sacked.
*Manning completed 33 passes, the second-highest total of his career; he completed 34 passes against the Titans.
*Manning's 373 yards is the fourth-highest total of his career and his second-highest total this season; he passed for 386 yards vs. Tennessee. His career high is 391 yards vs. Philadelphia on Dec. 13, 2009. Manning increased his career total to 21,092 yards. He now has 13 career 300-yard games. The Giants are 7-6 in those games.
*Manning's two touchdown passes raised his career total to 144 and his two interceptions increased his career total to 101.
*Mario Manningham, whose playing time increased because Steve Smith was inactive with a partial pectoral tear, tied his career high with 10 receptions. He also had 10 at Dallas on Sept. 20, 2009.
*Kevin Boss and Hakeem Nicks had five receptions apiece. Each has 103 career catches.
*Dallas quarterback Jon Kitna became the first quarterback to throw for more than 300 yards against the Giants this season – and he needed only 13 completions to do it. Kitna threw for 327 yards, the most by an opposing quarterback since Dallas Tony Romo passed for 392 yards on Dec. 6, 2009. Kitna is starting because Romo suffered a broken clavicle against the Giants three weeks ago. The last quarterback to throw for 300 yards against the Giants was Brett Favre in Minnesota on Jan. 3. Two Detroit quarterbacks – Shaun Hill and Drew Stanton – combined for 313 yards on Oct. 17.
*Dallas cornerback Bryan McCann returned an interception 101 yards for a touchdown. He was the first Giants opponent to score on an interception since another Cowboys corner, Mike Jenkins, returned a pick of a Manning pass 23 yards on Nov. 2, 2008 in Giants Stadium.
*Terrell Thomas led the Giants with eight tackles (five solo).
*Osi Umenyiora had the Giants' only sack, increasing his team-leading total to 9.0.
*Kevin Boothe, who was added to the active roster off the physically unable to perform list last week, played for the first time this year and started at left guard. He left with an injury with nine minutes remaining in the first quarter and was replaced by rookie Mitch Petrus. Boothe returned with 2:33 left in the second quarter.
*Tackle Will Beatty returned to action for the first time since opening day, when he suffered a fractured foot vs. Carolina that required surgery. Beatty lined up as an extra tight end.
*The Cowboys scored their first touchdown after a successful replay challenge. Kitna threw to wide receiver Dez Bryant on the left side of the end zone. The pass was ruled incomplete, because the officials said the ball hit the ground. Jason Garrett challenged the ruling, claiming Bryant caught the ball for a touchdown. After review, referee Bill Leavy reversed the call and ruled it a touchdown. Giants opponents are 2-2 this year on replay challenges this season. Both successes were by Dallas coaches, Wade Phillips three weeks ago and Garrett on Sunday. Opponents are 19-30 on replay challenges vs. the Giants since Coughlin became coach in 2004.
*Tom Coughlin also won a replay challenge in the fourth quarter, which resulted in a 48-yard reception by Dez Bryant being nullified. Coughlin is 4-2 this season, 27-29 with the Giants and 37-38 in his career on replay challenges.
*The Giants' inactive players included three 2009 Pro Bowlers: tackle David Diehl (hamstring/hip), center Shaun O'Hara (foot) and wide receiver Steve Smith (pectoral). Also inactive were fullback Madison Hedgecock (hamstring), return specialist Darius Reynaud (hamstring), linebacker Gerris Wilkinson (hand), defensive tackle Linval Joseph and defensive end Alex Hall.
This was the first game Diehl missed in his in his eight-year career. He had started 120 consecutive regular season games (plus seven postseason games), the 12th longest streak among all active players and tied for the sixth longest streak among offensive linemen.
O'Hara, who hurt his foot in the first Dallas game, missed his second game in a row and fifth of the season. He earlier missed three games with ankle and Achilles injuries.
Smith sat out his first game since Dec. 9, 2007, when he missed the last of 11 consecutive games in his rookie season. He has caught at least one pass in 41 consecutive games in which he's played, the Giants' longest active streak.
Hedgecock missed his fifth consecutive game and Reynaud his second because of their injuries.
*The Giants game captains were Rich Seubert and Osi Umenyiora.
*The game was delayed twice in the third quarter because of power outages, the second of which plunged the stadium into total darkness with 10:57 remaining in the second quarter. The game was halted for eight minutes.
According to a statement by New Meadowlands Stadium, "power was lost when one of the two feeders to the stadium experienced a power interruption. The power source to the stadium was then switched to a second feeder. The appearance of the stadium not being at full power at that time occurred because the halogen lighting had not fully powered up. A second power interruption occurred to the second feeder causing a full outage. Functionality to the original feeder was restored."
Some of the players admitted it was a little spooky when the lights abruptly shut off.
"It was scary, actually," Umenyiora said. "I've never been in a situation where all the lights were out like that. You never know what's going on, especially in this day in age that we live in. So thankfully it was nothing like that, and we were able to finish playing the game."
"Oh man, that was very weird," defensive tackle Barry Cofield said. "I just ran for the bench just to sit down and put my helmet on because you never know what's going to go on in that situation. But it seemed like everything went wrong today."
Following the game, Mark Lamping, CEO of New Meadowlands Stadium, offered the following explanation:
"At right about 6:00 (P.M) we had a transformer that blew at the New Jersey Sports Authority substation. We get our power in the building through the sports authority. When that happened, our systems worked as designed; we actually have two lines coming into the stadium. As the power shifted from one line to the second we had a power glitch that occurred, it switched back to the original first line and power was restored at about 6:15 (P.M). During the entire period we had about five seconds where there was no power, that's basically what happens when the power shifted from our one line coming into the second. The system worked as designed, you never want to have power problems, it's not the first time that it's happened. The protocol within the stadium worked as designed. We had no security problems related to the power outage. Obviously we had what you would normally have at a Giants-Cowboy game, but we had no security incidents that were related to any of the power issues."