HOUSTON - Notes and statistics from the Giants' 34-10 victory over the Houston Texans: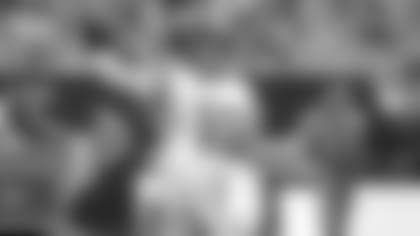 *The Giants have won back-to-back games for the first time since they started the 2009 season with a 5-0 record. They defeated Chicago last week, 17-3.
*The 24-point margin of victory was the Giants' largest since Dec. 21, 2009, when they won at Washington, 45-12.
*The Giants tied a season high with 26 first downs. They had 26 first downs in a loss to Tennessee on Sept. 26.
*The Giants did not allow a sack for the first time since Oct. 11, 2009, in a 44-7 victory over Oakland.
*The Giants' time of possession of 38:51 was their highest since Sept. 27, 2009, when they owned the ball for 43:38 in a 24-0 victory at Tampa Bay.
*The Giants have allowed a total of 13 points in their last two games, the fewest points they've given up in back-to-back games since Oct. 29 and Nov. 5, 2006 – when ironically, the first game was 17-3 (over Tampa Bay) and the second was a 10-point outing by the Texans (14-10).
*The Giants' defense limited Houston's league-leading rushing offense to only 24 yards and 1.6 yards a carry. The Texans entered the game with NFL-best figures of 172.0 yards a game and 5.5 yards a carry. The 24 rushing yards were the fewest allowed by the Giants since Arizona ran for 23 yards on Nov. 23, 2008. It was only the ninth time in the last 25 years that a Giants opponent rushed for less than 25 yards. Arian Foster, the league's leading rusher with 537 yards in the first four games, was held to 25 yards on 11 carries.
*The Giants led at halftime, 24-3. It was their largest lead and highest point total after two quarters since Dec. 21, 2009, when they led in Washington at the half, 24-0.
*The Giants' 14-0 lead at the end of the first quarter was their largest after one period since they led Oakland by the same score on Oct. 11, 2009. That was also the last time the Giants scored at least 14 points in the opening quarter.
*The Giants jumped out to a 21-0 lead, their largest before the opposing team scored a point since they were ahead last year in Washington, 24-0.
*The roof was closed at Reliant Stadium, enabling the Giants to end their three-game losing streak indoors. The Giants are 25-15 playing regular season games under domes, including 7-3 under Tom Coughlin. They also won Super Bowl XLII indoors.
*The Giants are 3-1 in Houston. The three victories were indoors (two in the Astrodome). The one defeat was in 2002, when the Reliant roof was open.
*The victory was Coughlin's 58th regular season triumph as the Giants' head coach. That ties him with Jim Fassel for third on the franchise's career list, trailing only Hall of Famer Steve Owen (153) and Bill Parcells (77).
*It was the 126th regular season victory in Coughlin's NFL career. That moved him past former New Orleans and Indianapolis coach Jim Mora and into 23rd place on the all-time list.
*Coughlin's eight postseason wins raise his total to 134 victories, which ties him with Hall of Famer Weeb Ewbank for 22nd on that list.
*Eli Manning completed 27 of 42 passes for 297 yards, three touchdowns and two interceptions. It was the second time this season he threw for three scores. Manning threw three touchdown passes on opening day.
*Manning completed 11 consecutive passes in the first half, tying his longest streak of the season and leaving him one shy of his personal record for consecutive completions in a single game. He completed 12 passes in a row at Atlanta on Oct. 15, 2007. Manning also hit 11 consecutive passes vs. Tennessee on Sept. 26.
*Manning threw 42 passes and was not sacked. That is the second-highest number of passes he has thrown in his career without being sacked. On Sept. 21, 2008, Manning passed 43 times vs. Cincinnati and was never sacked.
*Wide receiver Hakeem Nicks set career highs with 12 catches for 130 yards. He also scored two touchdowns. Nicks set his previous best for catches in a game with eight last week vs. Chicago.
*The 12 receptions tie the Giants' franchise record for catches in a game by a wide receiver and is one shy of the overall mark. Amani Toomer caught 12 passes at Philadelphia on Sept. 17, 2006. Tight ends Mark Bavaro (Oct. 13, 1985 at Cincinnati) and Jeremy Shockey (Nov. 11, 2007 vs. Dallas) also had 12 receptions in a game. The franchise record is 13, set by running back Tiki Barber at Dallas on Jan. 2, 2000.
*Nicks, who had 110 receiving yards last week vs. Chicago, is the first Giant with more than 100 receiving yards in consecutive games since Plaxico Burress in 2005. Burress had 113 receiving yards vs. Philadelphia on Nov. 20 and 109 at Seattle on Nov. 27.
*Nicks' previous career-high yardage total was 114 at New Orleans on Oct. 18, 2009.
*Steve Smith caught six passes for 89 yards, including a four-yarder for the Giants' final touchdown and his first of the season.  The six receptions raised Smith's career total to 200. He is the 20th player in Giants history with at least 200 catches.
*Brandon Jacobs rushed for 41 yards on 10 carries. That increased his career total to 3,627 yards and moved him past Hall of Famer Frank Gifford (3,609) and into sixth place on the Giants' career list.
*Osi Umenyiora twice sacked Houston quarterback Matt Schaub, one week after sacking Chicago's Jay Cutler three times. This is the first time in Umenyiora's career that he has had at least two sacks in back-to-back games. Of course, he did have six in one game on Sept. 30, 2007. Umenyiora leads the team with 6.0 sacks.
*Justin Tuck had the Giants' other sack and is second on the team with 4.0.
*Ramses Barden had his first reception of the season, an eight-yarder for Manning's first completion of the game.
*First-round draft choice Jason Pierre-Paul had two special teams tackles and knocked down a pass.
*Backup quarterback Sage Rosenfels replaced Matt Dodge as the holder on extra points and field goals. It was only the second time in his 10-year career than Rosenfels has held.
On Nov. 26, 2006, Rosenfels held twice for the Texans against the Jets in Giants Stadium. The second hold was on the last play of the first half, when Kris Brown attempted a 59-yard field goal. The kick was short and Justin Miller caught it five yards deep in the end zone and returned it 24 yards before he was tackled by…Rosenfels, who broke his wrist and was soon placed on injured reserve.
"We thought it would be a wise move at this time so Matt (Dodge) would only concentrate on punting and not have to concentrate on the holding aspect of it," Coughlin said of the rookie who had handled both duties before today.
The new battery worked well as Tynes kicked field goals of 45 and 42 yards (Rosenfels deftly handled a high snap on the second boot) and four extra points.
"It was easier for me to take that stress," Rosenfels said. "I did it for three years in college."
"It's not a knock against Matt," Tynes said. "Sage is a veteran and he figured it out quickly. He has very good hands and he places the ball very fast. I was pleased with how he did it today."
*Schaub failed to throw a touchdown in his 13th consecutive game, so he shares the Houston franchise record of 12 straight games with at least one TD pass with…Rosenfels.
*The Giants' inactive players were center Shaun O'Hara (ankle/Achilles), defensive end Mathias Kiwanuka (neck), linebacker Keith Bulluck (toe), fullback Madison Hedgecock (hamstring), tackle Will Beatty (foot surgery), linebacker Phillip Dillard, wide receiver Victor Cruz and cornerback DJ Johnson.
*Clint Sintim made his first NFL start at strongside linebacker and had one tackle. Bear Pascoe started at fullback.
O'Hara missed his third consecutive game and Bulluck and Kiwanuka their second in a row. Hedgecock was not in uniform for the first time in his six-year career. Beatty hasn't played since undergoing surgery following the season opener.
*Linebacker Jonathan Goff and guard Rich Seubert were the game captains and joined season captains Manning, Tuck and Chase Blackburn for the coin toss.
*Shawn Andrews replaced David Diehl at left tackle when the latter cramped up near the end of the first half.