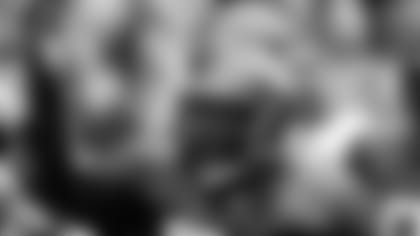 On the day they opened their rookie minicamp, the Giants signed an intriguing veteran linebacker prospect.
Aaron Curry, the fourth overall selection of the 2009 NFL Draft who is trying to revive his career, today joined a Giants team seeking linebacker help.
Curry, 6-2 and 255 pounds, played just two games last season for the Oakland Raiders before he was waived on Nov. 20.
The Wake Forest product entered the NFL as the Seattle Seahawks' first round draft choice in 2009. He was the highest-drafted linebacker since LaVar Arrington went second overall to the Washington Redskins in the 2000 NFL Draft.
"He was the fourth pick in the draft a few years ago, so obviously we think he has some talent," general manager Jerry Reese said. "We had him graded high back then. We'll see what happens this spring with him."
"We're always looking for players and we like giving guys second opportunities. He's worked hard to get back and he worked out well for us. If he didn't work out well for us, we wouldn't be fooling around with this."
Reese said Curry can compete for a job at either middle or strongside linebacker.
Curry played in 35 games for Seattle before being traded to the Raiders on Oct. 12, 2011. That season, he played in 11 games for Oakland. Last year, Curry suffered a knee injury in training camp and was placed on the reserve/physically unable to perform list. He played at Baltimore on Nov. 11 and vs. New Orleans on Nov. 18. Curry was waived two days after the Raiders lost to the Saints.
"He passed the physical for us and had a pretty good workout," Reese said. "We think we have a good opportunity for him here to see if he can reinvent himself a little bit and bring something to this linebacking corps.
"He needs to drop some weight. He's about 265. When he came out he was about 255. He needs to drop some weight, he hasn't done a lot of cardio, he's been rehabbing from a knee injury. But he's in pretty good shape, he did a nice workout for us and hopefully he can step in and create some competition at that position."
In his career, Curry has played in 48 regular-season games with 39 starts and he started both postseason games in which he played (for the 2010 Seahawks). His totals include 200 tackles (161 solo), 5.5 sacks, 12 passes defensed, four forced fumbles and two fumble recoveries in the regular season and eight tackles (seven solo) and an interception he returned 23 yards in an NFC Divisional Playoff Game at Chicago on Jan. 16, 2011.
Curry was one of the nation's best collegiate linebackers at Wake Forest, where he was the recipi­ent of the 2008 Butkus Award, presented to the nation's top linebacker. He played in 51 games with 49 starts for the Demon Deacons and finished third in school history with 45½ tackles for losses and ninth with 332 total tack­les. Curry was named All-America and first-team All-Atlantic Coast Conference as a senior after leading team with 105 tackles.
Curry starred at E.E. Smith High School in Fayetteville, N.C.
"Of course, it's a low risk, it's an opportunity for him," Reese said. "If he comes on and looks like the player he was when he was the fourth pick in the draft, it's a win-win for everybody.
"You don't see a lot because he hasn't played a lot. We had him graded high. Sometimes guys can go to a new environment and reinvent themselves and we're hoping that's what happens with him."