EAST RUTHERFORD, NJ- If the Giants are to enjoy a successful finish, they might need a better start.
Although the Giants have won five of their last six games, the offense is taking its time getting untracked. The Giants did not score a first-quarter point in either of their last two games and have just one offensive touchdown in the opening quarter of the last six games. They will try to change that when they face the Chargers Sunday in San Diego.
---
RELATED NEWS
Cooper Taylor

![](/team/roster/cooper-taylor/f9ec3f93-3e23-4922-8f2b-375bacba8871/ "Cooper Taylor") Rookie Blog
An inside look at the life of an NFL Rookie...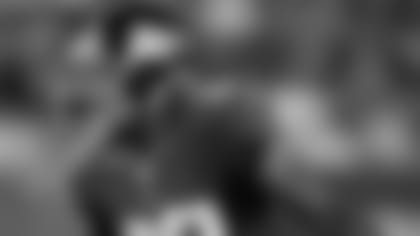 The issue was particularly acute last week in Washington. After the Redskins took a 7-0 lead, the Giants took possession on their own 20-yard line. On their first snap, Eli Manning was sacked for a nine-yard loss. So much for the plays offensive coordinator Kevin Gilbride had scripted. The Giants soon punted.
The next series wasn't much better, primarily because of its location. The Giants were backed up to their own one-yard line after a Washington punt. Again, Gilbride's plan required modification. And again, the Giants punted.
Washington increased its lead to 14-0 on its ensuing possession before the Giants got on the scoreboard on Andre Brown's 23-yard touchdown run. The Giants eventually rallied for a 24-17 victory. But they can't count on continually climbing out of that hole; they are 2-5 this season when their opponents score first.
"You try to respond," Gilbride said today. "You try to overcome where you are. The first play of the game, we took a nine-yard sack. All of a sudden, what you had scheduled for (plays) two and three, throw out with the wind. The next time we started on the minus-1. Change everything. There's no question the dynamics changed. The good thing was we changed the whole momentum of the game with the next drive. There's no question that turned the whole game around. The morale of the defense got better, the play of the defense got better, the offense continued to play very well from that point on.[
INFOGRAPHIC: ELI MANNING VS. 2004 DRAFT CLASS](http://www.giants.com/news-and-blogs/article-1/Infographic-Eli-vs-2004-Draft-QBs/2dab863c-5644-4d31-95ca-d56acbae9b80)
"There's no question it's a very important part of the game. Unfortunately, circumstances influence whether you can go to the (scripted) openers or not. The way it happened for us, it would have been a big wide open play on the first play and we took a sack. All of a sudden, you're out of that one. The next one, you're on the minus-1. There are things that you plan to do, you just can't."
*Tight end Brandon Myers missed practice with a sore groin, but said it will be a one-day hiatus.
"Tomorrow, I'll be back full go," Myers said. "It's unfortunate, but when the body says you're a little sore, you've got to let it rest a little bit. I'll be back tomorrow."
Myers is coming off two of his best games of the season. He had three catches for 39 yards, including a 27-yard touchdown, vs. Dallas, and five receptions for 61 yards, one of them a 22-yard score, in the victory last Sunday at Washington.
"A lot of things go into it, it's not just as easy as pitch and catch," Myers said. "Either we're in blocking or there's a certain defense or you get jammed at the line, certain things happen. The last few weeks we've connected and we've made a few first downs and a couple touchdowns. You just kind of hope to build off that and just keep going one game at a time and then build on it."
*In addition to Myers, running back Brandon Jacobs (knee) and defensive end Jason Pierre-Paul (shoulder) did not practice.
"I think Brandon Jacobs hopefully can do some things tomorrow," coach Tom Coughlin said. "Don't expect JPP to do anything tomorrow.
Neither Jacobs nor Pierre-Paul played in Washington.
"(Jacobs) wasn't going to work today, so we're going to try tomorrow," Coughlin said.
The three players who were limited were all cornerbacks: Trumaine McBride (groin), Terrell Thomas (knee) and Corey Webster (ankle).
Coughlin said McBride "worked 50 percent" and Webster is "working a little bit better."
Defensive coordinator Perry Fewell said McBride's availability will be "a training room decision. I've got my fingers crossed, so it depends on tomorrow and how well he feels tomorrow. We've got our fingers crossed though."
Jayron Hosley was the starting left cornerback in Washington and could be again in San Diego, even if McBride is active.
"We really haven't made that decision yet," Fewell said. "We're just glad that he's practicing right now and we like what Hosley did last week, so we'll wait and see what they do tomorrow and then we'll make a decision."
*With Pierre-Paul sidelined, rookie Damontre Moore received his most extensive work at defensive end. He didn't have a tackle, but was credited with a quarterback hit.
How did Fewell grade Moore's snaps?
"Some good, some bad," he said. "It's good to see him play and it's good to see him get that game experience. We'd love for him to get more experience, so he'll take more snaps this week. We'll try to increase it a little bit more."
Fewell indicated Moore will not be limited to a pass rush role.
"He's a complete football player," Fewell said. "He's got to be able to play the run and the pass.  We'll definitely do that."
*Tom Quinn watched the unforgettable ending to the Auburn-Alabama game last week – Chris Davis' 109-yard return of a missed field goal – as both a fan and as a special teams coordinator who must be prepared for such a scenario.
"It's a situation that we work on," Quinn said. "We get a bunch of time to work on it. We try to work on it with the field goal team. Every last field goal we cover. We just make sure we get used to…on the field, but obviously there is a physical mismatch when you've got a returner against linemen."
The Giants were victimized by an identical touchdown in 2006, when Chicago's Devin Hester returned Jay Feely's unsuccessful 52-yard field goal 108 yards for a score. The issue, as Quinn said, is having big people who don't run well trying to catch a returner who may well be the fastest player on the field. How does the kicking team combat that?
"It's lanes and leverage," Quinn said. "Obviously, you want to keep the ball leveraged and the guys that can go down and make tackles -- your snapper, your wings -- they've got to go down there and make the tackle."**[
CLICK HERE FOR KNOW YOUR OPPONENT: CHARGERS ROSTER >>](http://www.giants.com/photos/photos/Know-Your-Opponent-San-Diego-Chargers/230c9605-6e32-4642-bd6c-0cd62675d5c0)**