EAST RUTHERFORD, NJ - The Giants were dissatisfied with their rushing output in the season opener. The Indianapolis Colts were displeased – and that's putting it mildly – with their run defense.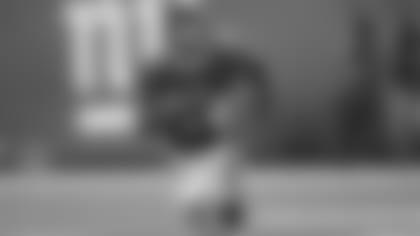 So something has to give when the Giants and Colts square off in a nationally-televised prime time game Sunday in Lucas Oil Stadium. And the team that best solves its problems from last week will have an advantage in determining the outcome of the game.
If it's the Giants, they can wear down the Colts' defense, control the clock and, most importantly, keep the ball out of Peyton Manning's hands.
"It is a keep away game versus their offense," Giants Coach Tom Coughlin said.
But if the Colts can restrict the Giants' production on the ground, their speedy outside pass rushers will be able to chase Eli Manning without worrying about a back running through the middle of the defense.
The Giants certainly need to start better than they did in their 31-18 victory over the Carolina Panthers. After talking most of the offseason about improving the ground attack that was a disappointment in 2009, the Giants ran the ball 13 times – for eight yards – in the first two quarters. They improved significantly in the second half, when a 110-yard surge was keyed by runs of 39 and 12 yards by Ahmad Bradshaw and 22 and 14 yards by Brandon Jacobs. But their 118-yard total was scarcely more than the 114.8-yard average that left them 17th in the NFL last season.
"We were very disappointed the way we started," offensive coordinator Kevin Gilbride said. "It was a combination of a lot of things. I think they (the Panthers) were moving and caught us a few times, more than we would have thought, and that it wouldn't bother us and it did bother us. Fortunately in the second half, I thought we got it going a little bit. We're still not nearly as consistent but we got a couple big plays. What I tell our guys is when you face teams that are doing that, whether it's teams that are blitzing all the time, or a team that's playing and angling, sometimes they're going to catch you with that stunting and sometimes you need to catch them, and we caught them a few times, which is good. We got four big runs. In the grand scheme of things, it's hard when you get those negative plays. It just knocks you out of your down and distance really. That's when I think we're at our best. That's certainly something that we talked about, and the guys realize it's something we'd like to become a lot more consistent with. We hope it happens this week."
The Colts would seem to be the ideal opponent for a team looking to recapture its mojo on the ground. Last week, Indianapolis allowed an NFL-high 257 rushing yards in a 34-24 loss at Houston, including 231 yards and three touchdowns by Arian Foster.
"You can't hide from the fact that last week we did not perform very well," Colts Coach Jim Caldwell said. "Our objective is we make no excuses. We have to get better because we are facing a team that can obviously run the ball with some very, very capable backs in terms of Bradshaw and Jacobs – those two guys can run it at you – so we have to be better."
It's probably natural to look at the Colts' defense – which is exceptionally fast but not particularly big – and the yardage it surrendered to the Texans and assume the Giants will enjoy success running the ball.
But the Giants expect to see a different Colts defense, if not in personnel then schematically.
"We're obviously a run-first team, so that's our mentality," center Shaun O'Hara said. "That's how we establish our physical presence, and I'm sure they know that we are watching the film and we saw what happened. But I know it's something that they are correcting. We have things to correct ourselves from last week, things that we didn't do as well. So it's going to be a good challenge."
"As a back, you go into a situation like that wanting to run the ball a lot and wanting to put up a lot of yardage," Jacobs said. "But you know that they're going to make changes. They're going to make changes from week to week, and knowing that they had the ball run on them the previous week, they're going to come out probably focusing more on stopping the run in the next game. It's going to be the first game after a 200-yard game from one back, so they're going to come out on fire and wanting to stop the run.
"This is the National Football League and we know that they're going to come out and make some adjustments. They're a good football team; they represented the AFC in the Super Bowl last year. You can't go out there sleeping on them and think that they're just going to lie down again and let you have your way with them. We expect them to go in there and have a tough fight and expect to go downhill and be physical. After a week like that, we know they're going to concentrate more on the run than they probably ever did. We look at the Houston game and look at certain run keys and reads, but we know it's going to be a tough, physical game."
Which is just how the Giants like it. When Coughlin said at the end of last season that the Giants had lost their identity, he meant in part the relentless rushing attack that had served them so well in the past. In 2008, the Giants rushed for NFL-leading and franchise record numbers of 2,518 yards and 5.0 yards per carry. The team won the NFC East title with a 12-4 record. Last year, those numbers dipped to 1,837 and 4.1. Not coincidentally, the team finished 8-8 and out of the playoffs for the first time since 2004.
Is it any wonder, then, that while the NFL has become more of a passing league, the Giants are determined to re-establish their forceful ground presence? And they were disappointed that the first real test for the current team left them with eight rushing yards at halftime?
"We are going to establish the run game," Eli Manning said. "That's Giants football."
"I'm sure we'll go at them and try to establish the run early," Bradshaw said. "We've just got to keep fighting every game. Different defenses throw different schemes at us, and I'm sure they're working this week to throw a different scheme at us to try to stop us."
The success of the running game starts up front, with the Giants' veteran offensive line. The five starters did not play a down together in the preseason, which Coughlin said this week was part of the reason for the slow start against Carolina. It's safe to say the linemen were unhappy with the 118-yard debut and are eager to make amends in Indianapolis.
"Something that we've talked about the entire offseason is making our running game the strength of our offense," left tackle David Diehl said. "Especially for us offensive linemen, we've got an identity that we want to create, that from the start of the game to the end of it, we're going to be physical and wear out defenses and go after them. It was the first game, and that's no excuse. Granted, everybody is a little nervous, and I think we did a great job of settling down in the second half and getting things going in the right direction. And week in and week out, we're just going to continue to do whatever it takes to make sure that whether it's eight guys in the box or whatever, we're going to run the ball and we're going to be effective at it."
They have an opportunity to do that on a national stage Sunday night.
*Defensive end Osi Umenyiora left the practice field prior to the beginning of drills because of swelling in his knee. "He came out there, he had some swelling, so we sent him back inside," Coughlin said. Umenyiora is listed as questionable for the Colts game, though Coughlin said his availability will likely be determined shortly before game time.
*Wide receiver Hakeem Nicks, who missed practice Wednesday and yesterday, worked today and is also questionable.
"He did better," Coughlin said. "He did run around, did some things, took some plays. It looks like he's headed in the right direction. We'll see how he is in the morning."
*Linebacker and special teams captain Chase Blackburn will miss the game Sunday because of the knee injury he suffered last week. Blackburn has played in 65 consecutive games dating back to the beginning of the 2006 season. The only other game he missed in his six-year career was the 2005 season finale in Oakland, one week after suffering a neck injury in Washington.
"He's pretty disappointed," Coughlin said. "He's a guy that's always right there and wants to do everything he can. He's got to fight his way back. He had a little swelling this week, too. That's why he wasn't in here."
In addition to Blackburn, tight end Kevin Boss (concussion), tackle Will Beatty (foot surgery) and linebacker Phillip Dillard (hamstring) are out.
Regarding Boss, Coughlin said, "I believe the headaches are gone and so I think he is just going to rest and start a little bit of exercise, just to help him that way. I don't think that there are any real symptoms right now."
Beatty underwent surgery yesterday and Coughlin does not yet know how long the second-year tackle will be sidelined.
"I can tell you that it's anywhere from four to six to eight weeks I've heard from the various research that has been done and the doctors telling us about this injury," Coughlin said. "But as far as exactly what Will will do, we'll see. Will has been a guy that has been…he's had outstanding endurance, he's never been in the training room. I'm talking about a guy that just has been very healthy, so this was a little bit of a shock. He calls himself a quick healer, so we'll see."
Cornerbacks Aaron Ross (foot) and Bruce Johnson (knee), center Shaun O'Hara (ankle/Achilles) and linebacker Gerris Wilkinson (groin) are probable. All practiced fully but O'Hara, who did about half the work.
"(Ross) did better every day this week and so I think he's going to be ready," Coughlin said.
*The Giants, whose coverage teams did not meet Coughlin's expectations in the season opener, will be without their two leading special teams performers from 2009, Blackburn and Bryan Kehl, who was released this week. But Coughlin is confident the coverage units will better acquit themselves in Indianapolis.
"Obviously, it's been an area of focus and we've practiced well," Coughlin said. "Punt protection has been good and it's our cover teams and we'll find out, but I think we'll be better. I think we'll be improved."
*Eli and Peyton Manning were both Super Bowl MVPs while leading their team to championships. Their matchup on Sunday will be the eighth since the start of the 2009 season – and second in two weeks – of Super Bowl-winning quarterbacks, including the fifth including a Manning:
| | |
| --- | --- |
| Date | Super Bowl Quarterbacks |
| Sept. 27, 2009 | Kurt Warner vs. Peyton Manning |
| Oct. 25, 2009 | Kurt Warner vs. Eli Manning |
| Oct. 25, 2009 | Ben Roethlisberger vs. Brett Favre |
| Nov. 15, 2009 | Peyton Manning vs. Tom Brady |
| Dec. 6, 2009 | Kurt Warner vs. Brett Favre |
| Jan. 3, 2010 | Brett Favre vs. Eli Manning |
| Sept. 9, 2010 | Drew Brees vs. .Brett Favre |
| Sept. 19, 2010 | Eli Manning vs. Peyton Manning |
*The Giants are 14-18-1 on Sunday night. They were 1-2 last year, winning at Dallas, but losing to Arizona and Philadelphia at home.