EAST RUTHERFORD, NJ - Andy Robustelli, a Pro Football Hall of Fame defensive end who played nine seasons for the Giants and was later the club's Director of Operations, passed away today due to complications from recent surgery. He was 85.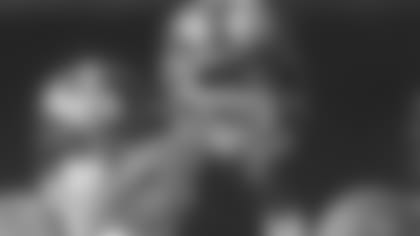 "He was one of the greatest players in franchise history, and one of the finest, most dignified gentlemen you could ever meet," said John Mara, the Giants President and Chief Executive Officer. "Andy was a man's man in every respect."
Robustelli came to the Giants prior to the 1956 season in a trade with the Los Angeles Rams, who received a first-round draft choice. He had been selected by the Rams on the 19th round of the 1951 draft from tiny Arnold College in Bridgeport, Conn. Robustelli played on the Rams team that won the 1951 NFL title.
The Giants won the 1956 NFL championship in Robustelli's first season with the team. They won five more conference championships during his tenure, in 1958, 1959, 1961, 1962 and 1963. Robustelli played on a winning team in 13 of his 14 pro seasons and played in eight NFL championship games.
"Andy was a great leader. When he came to us from the Rams, it turned everything around defensively," said Frank Gifford, a former Giants teammate and fellow Hall of Famer. "He fit perfectly into Tom Landry's defense. Tom Landry was such a leader in putting defense into pro football and Andy was one of the key components of that."
"Andy was part of what, to me, was the best defense ever put together," said Hall of Fame linebacker Sam Huff, who played for the Giants from 1956-63. "We had Andy's experience and we had Dick Modzelewski and then we had Roosevelt Grier and along came another defensive end by the name of Jim Katcavage. We had Emlen Tunnell, who is the best safety to ever play in this league, and Jimmy Patton and Erich Barnes. It was such a great time for everybody. We had the best of the best. And Andy was a leader on that team."
Robustelli was selected to seven Pro Bowls and was named first team All-NFL seven times, two with the Rams and five with the Giants. He was also a three-time second-team All-Pro choice. In 1962, the Maxwell Club selected Robustelli as the NFL's top player, an honor that was then usually given to an offensive player.
Although he was small for a defensive end at 6-feet and 230 pounds, Robustelli was a superb pass rusher who was exceptionally quick, strong and smart. Robustelli was a durable player who played in 175 regular season games and missed only one in his 14-year career. In his last three years with the Giants, Robustelli was a player-coach. Robustelli retired following the 1964 season. He was elected to the Pro Football Hall of Fame in 1971 and was one of the 30 original inductees into the Giants' Ring of Honor last season.
"He was far and away above the other defensive ends of his era," Gifford said. "Andy was not all that big, but he was very quick. With Andy and Tom Landry, it was almost scary the anticipation that they had of what was going to be run. He and Tom were very, very close. Whereas Tom was the overall defensive coach, Andy basically ran the defensive line along with the linebackers. He was the leader. Everyone knew that. He was the leader in the clubhouse. He was quiet, but when Andy talked, everyone listened."
"Andy had big hands and he was strong," Huff said. "The best thing he did was rush the quarterback and that's what he loved to do. He'd beat the tackle one-on-one. A lot of times it was the best tackle in football. And Andy knew I had his inside."
Robustelli was the Giants' Director of Operations – their general manager – from 1974-78, prior to George Young's arrival. During his tenure, the Giants drafted Hall of Famer Harry Carson, as well as such standout players as George Martin, Gary Jeter and Gordon King.
"Andy is someone I looked up to fiercely," said Martin, who played for the Giants from 1975-88 and is now the Executive Director and President of the NFL Alumni Association. "I think he was legendary among all ballplayers, but especially within the illustrious Giants history. He was the G.M. when I came aboard and I was amazed at his intelligence. Andy had such a regal presence about him and people looked upon him with great admiration for his accomplishments. There were many, many times when I tried to emulate Andy, both on and off the field, which is extremely rare."
Martin also played defensive end and said he benefitted from instruction he received from Robustelli.
"Andy was always giving you tips about the game – here's your general manager coming out to give you some words of advice," Martin said. "For a young man, particularly a rookie, those were like words from heaven. Although our styles were different and the eras in which we played in were completely different, one of the things I know I tried hard to copy was the tenacity that Andy had, because it's transferable no matter what era you played in. He had this insatiable drive to get to the ball, whether it was in the possession of the quarterback or the running back or the receiver. Andy was relentless in pursuing the ball.
"There was no pretense about Andy. He was the same whether you were talking to him as a G.M. or a former ballplayer or whether he was one of those great icons. He was just Andy. When he was general manager, everyone called him 'Andy,' not 'Mr. Robustelli.' To see how people – I don't want to say, 'worship,' but I don't think I'm far off the mark – how they looked up to him and how they were in awe when they were in his presence, you looked at him and said, 'Man, I wish I could have that kind of impact on people.' Andy had that magical aura about him. I'm so sorry to hear of his passing and he will really, truly be missed."
In addition to his work in football, Robustelli was a successful businessman in his native Connecticut.
Robustelli was born Dec. 6, 1925 in Stamford, Conn. He played football and baseball at Stamford High School before enlisting in the U.S. Navy at age 18. During World War II, Robustelli served on the USS William C. Cole in the Pacific Theater. When he returned from the war, Robustelli attended Arnold College in nearby Bridgeport. He made his family home in Stamford, where he ran a successful travel agency.
Robustelli's wife, Jeanne Dora, passed away on April 1. He is survived by nine children and their spouses as well as 29 grandchildren and six great-grandchildren.
Funeral arrangements are incomplete.
For more information, visit