EAST RUTHERFORD, NJ - Bear Pascoe is the hardest-working player in Giants camp, and he's enjoying every minute of it. That's not to say the other 79 players aren't toiling at maximum effort through the dog days of training camp. But Pascoe is carrying a load not borne by another player.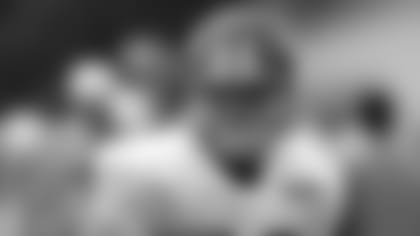 The second-year pro is the only one of the five Giants tight ends healthy enough to practice. Kevin Boss, Travis Beckum and rookie Jake Ballard have hamstring issues and Scott Chandler is battling a hip flexor. So Pascoe is taking virtually all the reps, though offensive lineman Herb Taylor filled in yesterday.
"I said, 'Bear, you need a break?'" Coach Tom Coughlin said after this morning's workout. "He says, 'No coach, I'm great.'"
Pascoe views the other players' muscle pulls as his big break, because he can show the coaches what he's capable of play after play after play.
"It's a chance for me to get better and I've got to step up to the plate and carry the load," Pascoe said. "I'm just doing what I can while waiting for Boss and everybody to get back. I see it as a challenge, and it's a great challenge. I've been having fun and I'm enjoying it.
"I'm the type of guy that the more reps I get, the better I get, just kind of like anybody. So the chance to be able to get more reps, I'm getting better. When it comes to that, I love it."
That's evident even to a hard-nosed traditionalist like Coughlin.
"He's done well and he keeps looking at you with a smile," Coughlin said.
Pascoe said he arrived at camp in optimal condition, so the increased workload hasn't overtaxed him physically. And the coaches, including Coughlin, offensive coordinator Kevin Gilbride and tight ends coach Mike Pope, monitor Pascoe to ensure that he's not getting fatigued.
Many Giants players head straight for the ice baths after practice, believing the cold water reduces muscle soreness and speeds recovery. But Pascoe has eschewed taking a frigid dip.
"I know a lot of the guys do ice baths and stuff like that - I've never been one for it," he said. "I can't stand the cold. I do more with the trainers like the chiropractor and stuff like that - exercises, corrective exercises, stuff like that to keep the body feeling good and keep everything in line. That way when you get out there it doesn't take as long to get loosened up and you're ready to roll.
"My calves are a little tight, but other than that, I feel great. I'm ready to go again, but we'll take a couple hours off and come back this afternoon and get out there."
Pascoe has not just plugged a hole in the lineup. He has played well, with blocks that have opened holes for the running backs and catching almost every pass thrown his way. But he did fail to come up with a catchable ball this morning.
"It would have been nice if he caught that cross-and-turn, but it was right off the tip of his fingers," Coughlin said. "It wasn't the greatest throw, but he should've caught it."
Pascoe agrees. "I mean, it hit my hands - I should catch it," he said. "That's just the responsibility as a wide receiver or a tight end. If it's in our area, we should come down with it."
Pascoe's impressive camp is another step in his steady ascension as a tight end. He played quarterback at Granite Hills High School in California. "I ran the option," he said. "It was awesome. I loved it. Had a cannon like Brett Favre and back then I could actually run. We weren't much of a passing offense. There was one game I was 4-for-17 with 175 yards. Those four passes were down the field."
Fresno State recruited him as a quarterback, but after his redshirt freshman year, Coach Pat Hill switched him to tight end.
"It took some thinking about, because I really wanted to play quarterback," Pascoe said. "But they said, 'Hey, we'd be a much better team with you as a tight end.' So for the good of the team, let's do it. If it's going to improve our team, I'll move to tight end and it turned out pretty good."
A solid 6-5 and 251 pounds, Pascoe could always block. But catching footballs posed a unique challenge, so much so that his teammates started calling him "Ten Toes Pascoe." But he finished with 112 career receptions and was selected by the San Francisco 49ers on the sixth round of the 2009 NFL Draft. The 49ers waived him at the end of training camp and 10 days later, Pascoe joined the Giants' practice squad. He was signed to the active roster on Dec. 4 and played in four games, catching one pass for nine yards.
And no, Bear is not his given name. It's McKenna Sean Pascoe.
"They wanted to name me Sean, Jr., which is my dad's name, and that just didn't sound right," Pascoe said. "So they decided against it. They decided to name me after the priest that married my mom and dad, Monsignor McKenna. And so they went with McKenna Sean.
"Bear is just - I was always bigger than everybody else. Out of all my friends, they were normal size and I was always abnormally large. Being a second grader and almost as tall as an eighth grader."
Pope has apparently found a way to use Pascoe's different monikers to the Giants' advantage.
"We were stretching before practice and he said, 'On one play, I'm going to call Bear and on the next play I'm going to call McKenna,'" Pascoe said. '"We're going to fool the defense.'"
No matter what you call him, Pascoe is making a name for himself in this camp.
"If I can keep working and improving like I am and working hard," Pascoe said, "I think I can earn a spot on this roster. And I'm planning on it."
*Guard Rich Seubert returned to practice this morning with a cast on his broken left hand. He participated in individual drills and hopes to work in team periods this evening.
"I figured I'd go out and start slow," Seubert said. "Do some individuals, get some punches in. You have to realize that we don't hold but we like to grab and obviously with your hand in a cast, it kind of takes away that but I can do technique and I can punch and I can run around and get done what I need to."
Seubert was hurt last week and rested several days, because doctors did not want the bone to shift – which would have necessitated surgery.
"I just saw another doctor today and he said as long as we cast it up, there's no worry about shifting and how's it going to shift inside a cast," Seubert said. "So, that part of it I'm not worried about."
Asked if he was in pain, Seubert said, "Its football, right? Who doesn't hurt this time of year? So I don't worry about that."
Seubert's the kind of player who would never let a little pain deter him from working – or having fun. Before practice he went around the locker room, jabbing defensive players with his casted hand.
"You know how Richie is - a little grumpy old man," defensive end Dave Tollefson said. "I don't think he was checking to see if it hurt his hand when he did it to people, it was just to bug people. Rich is the type of guy that would put little thumb tacks on it or something and freaking poke you with it. He's been here 10 years. He's a tricky guy."
Seubert hopes to be cast-free in the near future.
"I'm going to try to get it off as soon as I can," he said. "So for now it's for my safety, I really don't feel like having the 20th surgery of my career. It hasn't been 20 but it feels that way. So, as long as there's no shifting or anything like that, I'll be fine."
*Besides Seubert, 13 players missed practice this morning, including those who are working once a day – Osi Umenyiora, Jay Alford, Hakeem Nicks, Keith Bulluck and Kenny Phillips. Also sitting out (in addition to the tight ends listed above) were cornerback Corey Webster (glute), wide receivers Steve Smith (groin) and Sinorice Moss (groin) and guard Chris Snee (knee).
"(Snee) had a little swelling in his knee," Coughlin said. With Snee and Seubert sidelined, Guy Whimper moved from left to right guard and rookie Mitch Petrus took over at left guard.
*Ramses Barden and fellow receiver Derek Hagan each continued their fine camps with outstanding catches…Rookie Victor Cruz might have had the best catch of camp, a one-hander of a Rhett Bomar pass. Alas, he was already behind the end zone, so it didn't count. That prompted Webster to yell "long foul ball" several times, meaning the effort was for naught. Cruz had several catches inbounds.
*Aaron Ross played left cornerback for Webster and intercepted an Eli Manning pass for Barden.
*The Giants have changed their schedule for this Friday, Aug. 13. They will NOT have a full practice in the morning, but will instead have a jog-thru from 10:30 - 11:15 a.m. They will practice that evening from 6:05-8:05 p.m.
Leonard Marshall, who won two Super Bowls with the Giants, and author William Bendetson will be in camp Saturday from 1-4 p.m. to sign copies of their book, *When the Cheering Stops, about the Giants' 1990 championship season. With interviews from over 50 players and coaches, along with research like viewing Bill Belichick's original defensive game plan in Canton Ohio, fans can relive one of the most memorable teams and Super Bowls in NFL history.
*Tickets are available for the first Giants Kickoff Luncheon to be held in the New Meadowlands Stadium. The charitable event will be held on Wednesday, September 1, 2010 from noon to 2 p.m. in the Gridiron Club, located between the Pepsi and Verizon gates at the New Meadowlands Stadium.
In addition to introducing the 2010 Giants, the team will honor Amani Toomer with the Giants Alumni Man of the Year Award.
Hackensack University Medical Center and the Giants have begun a partnership that gives fans a unique opportunity to support one of the nation's healthcare leaders while showing support for New York's favorite team. All proceeds from the luncheon and raffle will be donated to a very special program: the Touchdown Fund: Score for Kids, Cardiac and Cancer launched earlier this year by the Medical Center and the Giants and focusing on three core areas of healthcare.
Giants fans can join Head Coach Tom Coughlin and the entire team and the raffle will include a grand prize trip to Super Bowl XLV in Dallas (including round trip airfare and hotel accommodations for four nights).
For more information, call 201-996-3722.
---
Have you seen TE rookie Jake Ballard at camp? If so,does he have a shot at making the team?
Ballard started camp a bit behind the other tight ends, because he missed some of the spring drills while finishing his academic requirements at Ohio State. He also sat out a few practices with a sore hamstring. Despite that, he has made some nice plays in camp. Ballard is big at 6-6 and 257 pounds and you can't teach size. But Ballard faces an uphill battle. Kevin Boss is entrenched as the starting tight end. Behind him, Bear Pascoe, Scott Chandler, Travis Beckum and Ballard are probably battling for two jobs. Ballard faces an uphill battle, but it's not impossible.
If you'd like to submit a question or comment to Michael, click here.
--- ](http://www.nyg2010.com/)**