Q: Midway through your career, what do you try to get, personally, out of a preseason game? You're not fighting for a job at this point.
A: You've just got to get sharp. You've just got to sharpen the tools. It's hard because you know you have a certain amount of plays, it's vanilla defense against the vanilla offense, but that's what, most of the time it's just mano y mano, I'm going to work my technique against this guy, I'm sure he's going to work on his technique against me so I think, for a preseason game, it's just about sharpening the tools, getting back into the speed of the game from an opposition that you haven't seen. And that's pretty much it.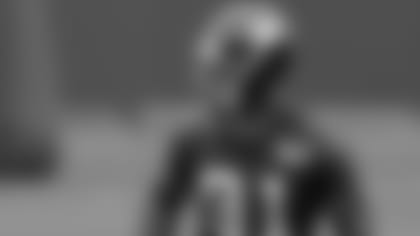 Giants vs. Colts Broadcast Info Q: You've obviously been playing football for a long time but do you have to get used to getting hit again or hitting people again?
A: Yeah, absolutely. Because you went through the offseason, you've lifted weight, you've ran and your body feels great. In camp we don't do a lot of hitting so your body still feels pretty good. And then, those guys aren't going to pull off if you're off your position or that double team is actually going to try to move you completely off the ball so it's different. You don't form up tackle, you've got to practice that stuff, you've got to practice that stuff, you've got to practice getting back to the fundamentals and I think the first preseason game, for a lot of vets, should be strictly to work on your fundamentals, in a football sense. But you've also got the changing personnels from a coaching point, there's so much other stuff from a coaching perspective but just playing the game, I think it's all about the fundamentals and getting back in the groove of things.
Q: Some guys probably like to just skip right to the regular season. Guys like Snee said he wouldn't feel comfortable going out and playing Dallas without getting some snaps. Is that how you feel?
A: The longer you play the less preseason you need but yeah, you need some snaps. I remember Strahan one year came out, we actually played Dallas the first game, he sucked it up, he played but he had no preseason and he could tell. I remember on the plane back he was like "man, that was the worst game of my life" just because he wasn't, you tend to second-guess everything you're doing when you haven't gotten the opportunity get in the groove. You can't do that against a quality football team and still be successful. For me, I think two preseason games would be good. The last two, get your body ready to go, mentally ready to go, your eyes sharp and things like that but I appreciate preseason, I really do. They're kind of annoying when you're just sitting there in the second quarter and you're just watching but it's also fun because you get to see the younger guys compete and try to coach them up because you remember when you were in that position when you first came into the league too so it's a neat experience.