EAST RUTHERFORD, NJ at the New York Stock Exchange this morning.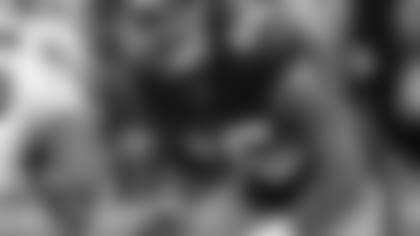 The Giants' left tackle was in lower Manhattan with a group from Project Sunshine, a nonprofit organization that benefits tens of thousands of children around the world. Diehl has worked closely with Project Sunshine since 2007.
The visit to the stock exchange was a first for Diehl. He wasn't nervous until someone mentioned to him that 100 million people around the world watch the opening every day.
"It was awesome to see the different pits, the different companies and how it's run," Diehl said. "I met so many Giants fans who work for different companies in the pits who came up to me and shook my hand and said, 'Go Big Blue' and 'Good luck this season.'
"The ringing of the bell actually started in 1867. So it was cool to be a part of it and be a part of history. You're up on a platform that overlooks the entire trading floor. At 9:29:50 is when the bell officially goes off - it's when I had to ring it. Everyone in the pit was looking up for the bell to ring. When it's time to ring the bell, everyone in the place starts cheering and clapping, hoping it's a good day for the economy and for everybody trading.
"So it was a great experience and it was great to bring more exposure to Project Sunshine. Hopefully, it will help get more people involved in the charity that I love."
Project Sunshine is a nonprofit organization that empowers more than 10,000 volunteers to bring programming – recreational (arts), educational (tutoring and mentoring) and social service (HIV and nutritional counseling) – to more than 60,000 children facing medical challenges and their families in 150 major cities across the United States, as well as Canada, China, Israel, Kenya, and Puerto Rico. Project Sunshine is dedicated to bringing a ray of hope to these hospitalized children.
"Once I had my daughter (Addison) I knew I wanted to get involved with an organization that helps children," Diehl said. "When you have a healthy child, you are thankful, but you know there are other people with children that need a helping hand. All the work I do with Project Sunshine comes from the heart."
If you'd like to submit a question or comment to Michael, click here.