Harlem, NY – Osi Umenyiora is not someone that opposing offensive linemen like to see coming, but the children of Hale House welcomed him with open arms on Tuesday when he joined Red Bull New York forward Jerrod Laventure to distribute autographed footballs and pictures and read holiday stories today at the Mother Hale Learning Center in Harlem. Coordinated by Athletes for Charity, Giants players visit Hale House children every year, presenting gifts and showing that even the toughest NFL stars have as soft spot for the tiniest among us.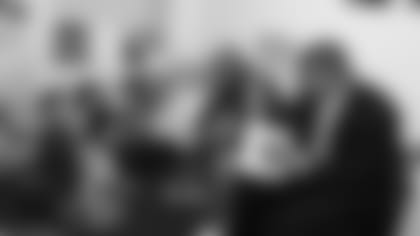 Osi Umenyiora and Red Bull forward Jerrod Laventure visit the children of Hale House in Harlem, NY. (Photo:Yaron Viner)
"The children of Hale House thank Osi Umenyiora, a man with a giant heart, Jerrod Laventure and Athletes for Charity for their dedication and compassion in helping to make this a memorable holiday season," said Hale House Executive Director Randy McLaughlin.
"It has been our pleasure to join forces with the staff and youth of Hale House to align professional athletes to visit with the children. We look forward to the annual visits with the children and the moments that they share with us are priceless," stated Cathleen Laporte, founder and president of Athletes for Charity.
Hale House Center, Inc. is a non-profit organization dedicated to building better futures for children and families.  Founded in 1969, Hale House has extended its services to include the Hale House Supportive Transitional Housing Program for homeless families and the Mother Hale Learning Center—a high quality, yet affordable, educational childcare program.
For more information about Hale House, the public can call 212-663-0700 or visit www.halehouse.org.
Athletes for Charity
Athletes for Charityis a New York based organization aimed at supporting the philanthropic and volunteer efforts of Athletes of all genres, by providing avenues for the exchange of information, fundraising assistance, and the coordination of community service and development initiatives. Athletes for Charity serves as a charitable initiative dedicated towards encouraging the giving of time, financial resources, and information, to improve the collective lives of disadvantaged citizens, advance the common good and support the non profit sector.
Athletes for Charity's work range from the planning and implementation of football camps for youth throughout the United States; holiday toy drives for underprivileged children; assisting with the establishment of athlete foundations and charitable projects; sponsoring youth groups to attend sporting events; coordinating athlete appearances; and special events which include youth and athlete participation at our annual "Bowl with an Athlete," "Back to School" and "Sports Day" events. Hale House is one of a few New York based youth organizations that Athletes for Charity has developed a relationship with, in order to further benefit the populations which they serve. ](http://www.jointheteam.com/)