Panthers Head Coach John Fox
Q: How has Matt Moore developed as a quarterback and how ready is he to be the number one guy?
A: I hope he's ready. We got to see him last year…the last five games of the season. We had a stretch a couple years before where we saw him the last three games of the season so I liked what I've seen, whether it had been then or this preseason and this offseason.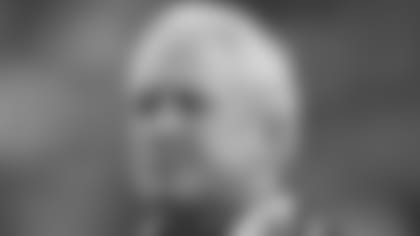 Q: Do you see a big improvement in the Giants run defense from last year when your team seemed to have no trouble running the ball on them?
A: Well, they're definitely different. I think the strength of them is up front, where you can see that just on the roster, they've kept 10 defensive linemen. A lot of them were there a year ago and then some. I think they've had some changes at linebacker and some changes at safety on the back end and they definitely have changed schematically with the addition of Perry Fewell and what they're doing.
Q: How much are you emphasizing what you did here last year?
A: Well, probably no more than what the Giants are emphasizing. We're aware that last year means nothing. The exciting thing about the National Football League – and especially about the season opener for all teams – is that everybody is optimistic and excited, so I don't think that'll come much into play.
Q: Have you been pleased with your defense considering all the new faces and all of the position changes?
A: Yeah, I like the way we've grown through the preseason. I think we're a young football team. In particular there are some guys that have not seen a lot of playing time for us, albeit they've been with us. I've liked their progress as we prepare for the season opener.
Q: Will it be strange to come here and not see Giants Stadium?
A: Yeah, that's going to be really strange. Our media here asked me about going back and again, it's a place I have fond memories of - the organization, the area. I guess we're going into the same parking lot so to speak, but a completely different stadium.
Q: Any injury updates we should know about? Stewart? Otah?
A: Stewart practiced. We only had two guys that did not practice today - Tyrell Sutton and Jeff Otah. Everybody else practiced.
Q: Are you worried about your defensive line with so many new faces and without Julius Peppers?
A: Worried wouldn't be the right word. Like I said, Charles Johnson has played a lot for us, Tyler Brayton has played a lot for us, Everette Brown has played a lot for us. We've got a new addition in Greg Hardy, but three out of those four guys were part of that team that came in there last year.
Q: You were obviously a part of the last game at Giants Stadium. What do you expect the atmosphere to be like this weekend for the first regular season game at the new stadium?
A: Again, just like everybody, you prepare and get ready to win games. The team that does that the best will have a good experience. Hopefully that's us.
Q: Are you glad you get to be a part of this given your history with the Giants?
A: Oh yeah. I think it's going to be odd – I was in New York during September 11th and, of course, that's going to be the very next day, so we'll actually be travelling there on that date and that'll be planted in my memory forever and to open up a new stadium…I'm excited.
Q: How difficult is coaching when you have the end of your contract coming up? Is it a distraction?
A: No. I've had players in the past that have been in their final years and I don't expect anything different of them and I know they don't expect anything different of me.
Q: Last year, you slammed the ball down the Giants' throat with the run game. Are you planning to do that again?
A: I don't know about jamming it down their throats…I think it's fair to say that the run will be a part of our game plan.
Q: How does having an established run game help having a young quarterback?
A: I think it helps any quarterback.
Q: Do you plan on continuing to coach?
A: That would be my intention, yes.
Q: What's the difference with Dwayne Jarrett this season as opposed to the last three seasons?
A: I think he's matured as a player.
Q: How has preparing for the Giants' defense this year been different than for the final game last year?
A: Everybody is different. We're familiar with it because we did play Buffalo last year.
Q: What do you expect from Perry Fewell's defense given that he doesn't seem to have really shown his hand yet?
A: Again, in all season openers you never know what you're going to get anywhere. It's the first game of a whole new team.
Q: How much momentum do you get out of what you did to them last year?
A: I don't think there is any momentum. It's a new season. Seasons are temporary, they come and go, both good and bad. In January, that last part of the season I think, for me personally that was the end of my season so hopefully evaluating it was okay. I don't think you could hang your hat on that and use it as motivation or anything.
Q: What's your experiences in the past when you have embarrassed a team, what's it like the next time around?
A: I wouldn't say the performance I had was embarrassing. I think overall we finished up our season the way we kind of hoped we wanted to start off our season, which was playing well.
Q: When your team embarrasses another opponent, what do you expect from that opponent the next time you play them?
A: I expect them to play very hard, very aggressive with a chip on their shoulder. I expect that. I think that if you don't expect that, you're naïve.
Q: How is preparing for the Giants defense different with some of the guys they got over the offseason?
A: I look at the guys that they already have, and the new guys they plugged in. I had the opportunity to play on the team with Deon Grant, so I know him very well. I know he's a pounder, and he'll pound you. He'll bring it every play. I played against Rolle when he was with Arizona. He's very athletic, can catch the ball as good as some of the wide receivers in this game. He attacks the ball very well. He's a pounder, too. He's athletic, runs around blocks. I think those two guys in the back can create a lot of problems that some other safeties don't do that they do very well. If Ross plays, he's very physical. Webster does a good job, and he's very physical. He's probably one of the best cover corners. He plays good in the zone. He's very smart, very crafty, he's a ball hawk, which can create problems for wide receivers and he makes plays. Three interceptions, 12 PBUs, he's very in tune to be around the ball all the time. He's a very sound tackler as well.
Q: What can you tell about the preseason film of Kenny Phillips, and do you try and test a guy knowing that he already missed a season?
A: To be honest, I haven't watched too much of preseason. Preseason is hard to gauge, and then you look up, and the guy you've been evaluating and watching film on is out. I don't look too much into the preseason.
Q: How's your arm and how's your recovery been this summer?
A: Recovery was doing good until Father's Day when I had a little hiccup. Hey, it's going pretty good.
Q: Do you feel healthy now? Ready to resume your regular role?
A: Yes. Getting out on the field will be an upgrade so, yes, I'm really excited about getting back on the field.
Q: You were quoted over the summer about being bitter about the hit you took from Michael Johnson that ended your season. You said you were going to go after him in this game. Are you still upset?
A: That was kind of taken out of context, and I left an open end, a comment to where it could be taken that way. When Peter King was there, I said 'I got something', not really looking out for revenge but just to be honest, it was a statement that was made to be foolish for a man not to come back and defend himself. At the end of the day, I just have to take a step back and be honest and say that for a long time, I've played this game with a chip on my shoulder and I have to earn the respect and guys don't respect me. I know a lot of guys do respect my game, and I have to respect them and look at my opponent as really what they're doing, which is taking an opportunity to make a living and put food on the table and for me to have respect for the guys that are my opponents.  How they're working hard trying to do what they're trying to do instead of trying to puff my chest out and look for more respect, which I already have. I just need to have more respect for my opponent. For what I said in the summer was shallow, ignorant, immature, and really of no need. I don't need to be that way, and I'm not going to be that way to my opponents anymore.
Q: Did you ever talk to Johnson about that?
A: I never talked about it except what stupid comments I said over the summer.
Q: You guys have played some high stakes games against the Giants over the past couple years, do you think this is developing into a rivalry?
A: I hope it does, and I hope it is. With the Giants and the NFC East, with that division, you say NFC East and everyone knows those four teams that are in there. You say NFC South, and I don't think we're established in a higher rank. I would hope it becomes a rivalry, and I think it's a good rivalry. Anytime you have a rivalry, that means two teams are battling it out.
Q: What's been different with Dwayne Jarrett this preseason/camp?
A: It's hard to say because I haven't been involved in practices as much. I really can't tell you what's different about him because I haven't been able to be around them. I think if I say anything, it would just be me trying politically correct. I haven't had the opportunity to be around the wide receivers too much because I have been doing rehab after my broken elbow.
Q: You haven't put up a lot of points in the preseason, what's been the problem?A: Mistakes. Just leaving plays on the field. We've had dropped balls, overthrown balls, missed routes. I just think error, and I think that's what the preseason is there for, to make those errors so you can have them corrected once the season starts.
Stay tuned to Giants.com for more Panthers conference call transcripts...