Heading into the locker room at halftime in Charlotte, the NFL's worst rushing attack was outgaining the No. 1 passing team.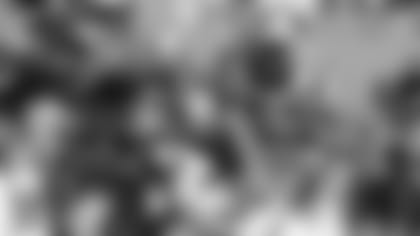 Watch Highlights from Giants-Panthers Both labels applied to the Giants offense going into Week 3, and both totaled just 18 net yards through two quarters. That's the type of game it was for Eli Manning and company against the Panthers on their way to a 38-0 loss and 0-3 start to the season.
After a week of studying film, the Giants entered Sunday with great respect for Carolina's front seven, and rightfully so. They paved the way for 10 quarterback hits, eight tackles behind the line of scrimmage, and seven sacks against the Giants.
Just because it wasn't surprising didn't mean the Giants could stop it.
"Nothing surprising," running back David Wilson said. "We watched film, and we knew what they were capable of. They were in the backfield, and at that point, you've just got to put two hands on the ball and if you can make a play, you make a play. We stuck together the whole time to pull something out of it, but you win some, you lose some."
>> INSTANT ANALYSIS: GIANTS LOSE TO PANTHERS

With just 73 yards on the ground in the first two weeks combined, the Giants averaged 3.8 yards on 16 carries in Bank of America Stadium for 60 yards. Wilson led the group with 39 yards and 11 carries in Week 3 and had a 17-yard touchdown run nullified by a holding penalty.
"We've just to keep in unison, continue to grow together, and don't point any fingers because this is a team sport," Wilson continued. "Everybody makes mistakes out there, and that's when you've got to be a leader or a teammate and help them up and keep them going. We've just got to stay positive and turn this thing around."
Once again, the Giants were fortunate the NFC East had another down week. Three of the division's four teams lost in Week 3 as Philadelphia dropped to 1-3 and Washington and New York remained winless. Dallas leads at 2-1.
>> WATCH POSTGAME INTERVIEWS

But before they concern themselves with the teams on the outside, the Giants have to concentrate on their own play.
"Just trying to keep our spirits up," Wilson said of head coach Tom Coughlin's message to the team. "He's a good coach and has been in the game for a long time. So he knows what we need to hear and he knows how to get his point across. Go back to practice this week and get ready for the Kansas City Chiefs."